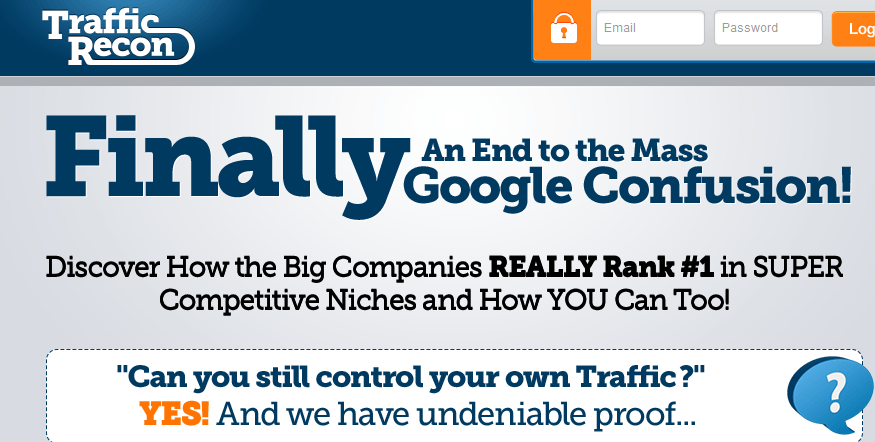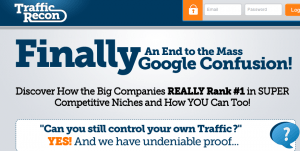 In my opinion, nobody who understands SEO would ever recommend a program like Traffic Recon. Read this review so I can make my case as to why.
Quick Report on Traffic Recon:
Price: $9.95 + upsell and down sells.
Overall Rating: 2 out of 10 stars.
This program is not really a scam, but impractical in my opinion and not for newbies.
So I decided to purchase Traffic Recon and see if what they taught was actually a good way to do SEO. What I discovered sadly is that while there is some focus on good ways to rank high, some of which I endorse, most of the focus is on black hat methods of marketing, particularly link building.
Overall the program isn't something I'd recommend to beginners, nor anyone else for that matter because I don't feel you'll have long term results with it. 
Traffic Recon explained:
A video course that consists of 10 videos (about 3 hours in total) that explains various ways to make a website gain more website authority with Google via various backlinking methods and writing high quality content, although most of the focus is on the backlinking which I am personally against.
There are also 2 upsells after your purchase, one of which goes is reduced to 50% of it's regular price if you decide not to buy it. I didn't buy either and decided to just look at the main purchase. One thing you will be able to do in the members area is buy those upsells in the future. In fact the basic membership level sort of "pushes" it on you.
Details:
The first parts of the video series talk about Google's updates that went on in 2011-2013 called Panda/Penguin which destroyed a lot of sites that engaged in black hat marketing techniques, particularly buying backlink packages for large prices to try and artificially boost their authority with Google.
Eventually when too many websites began using these methods and Google saw that their search engine was being spammed with low quality websites, they unleashed their updates and got rid of sites that engaged in these methods.
What followed was a lot of speculation on how to rank on the first page of Google again and this is what Traffic Recon talks about in pretty decent detail.
Most of the video series talks about how to spot if your site has been slapped by Google and it's updates and how to fix it, then goes into details on link strategies to get your site back up to the top. 
Most of the strategies I saw involved socially sharing your site, writing high quality content, and linking your site to many different areas (not just social networks) to build "natural" backlinks. Unfortunately the only things I agree with are socially sharing your site and writing high quality content.
Can Traffic Recon's strategy work for you?
I will give credit where it's due, Matt the creator of this program does say several times in the videos that writing high quality content is essential. This is truly key to success with SEO. Yet he doesn't really talk about how to do this, and mainly focuses on his backlinking strategies mostly.
But unfortunately aside from the high quality content recommendation and talking about the importance of socially sharing your site, everything else he endorses are in my opinion nothing short of black hat marketing. He even says in one of his videos something along the lines of that we're trying to engage in a mix of white/black hat marketing techniques.
He will also indirectly push those upsells on you again within the members area. One of them is called backlink beast which I'll likely be reviewing very soon. 
I also mentioned earlier that this course isn't really for newbies. This is still the case. If you're new to online marketing, this is not the course for you as it's techniques are intermediate-advanced and you'll basically not know what to do with this "system".
Practically, the strategies in Traffic Recon can work, but even in the best case scenario, in my opinion only in the short run because they are built upon black hat marketing techniques and are bound to fail sooner or later. Leave the black hat stuff out of the equation, focus on writing high quality content and you will have a good chance of getting great SEO results. 
Pros:
Pretty decent content in the members area.

Some good SEO advice, but unfortunately not enough.
Cons:
Upsells.

The information isn't very practical for beginners.

I don't agree with a majority of the program's approach to SEO, particularly backlinking.
Final Rating: Traffic Recon

Red Flag (Avoid)
2 out of 10 stars. I don't recommend this program for anyone. There's too much black hat marketing involved which will never lead to good results in the long run. My #1 recommendation for success online is to apply proven strategies that are white hat and that work time and time again no matter how many updates are released and for that there's only 1 program which does this is, and it's Wealthy Affiliate. 
My final thoughts:
As far as I'm concerned, if you're going to succeed in SEO, you should have 0 focus on black hat marketing techniques, no exceptions. Otherwise, you're bound to have your site fail sooner or later.
You see my whole point revolves around the fact that Google is clearly trying to cleanse itself from sites who try to trick it in order to rank high and a majority if not all of those sites use one or more forms of black hat marketing. What is also important to note is that with every single new update they release, they become better and better at spotting sites who violate their rules. 
And what are the rules? Well basically…
That is really it.
Yet regardless of all these simple rules, the black hat industry is constantly trying to find loopholes to get faster results and this is why you get programs like Traffic Recon who try and find that "golden middle".
While a lot of the focus in Traffic Recon is on backlinking, there are still somethings I will agree with, though if you put it altogether, in my opinion the final product isn't going to be successful in the long run because if it used black hat marketing techniques, sooner or later Google will spot it and it's just not worth it.
Take the longer route when it comes to online business. Follow the rules, write high quality content and you will be rewarded. Try to cheat the system and no matter how "proven" you think it is, you're going to be basically looking over your shoulder with each new update being released. That's not how you build a long term online business.
If you have a personal review/thoughts on Traffic Recon and/or questions about it, let me know! Remember to stop chasing the fast approach to success because it doesn't work that way!