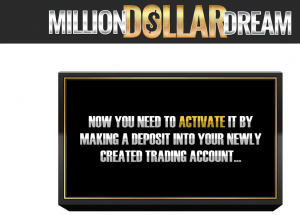 Million Dollar Dream is a popular term people look up online and in doing so can come across different programs promising a pathway to such results.
One of those programs is literally called Million Dollar Dream and sadly, it is a program I am writing a review on to warn you to stay away from it.
But besides that, there is an upside to this post and that is that despite this program not being the answer to actually making the kind of money you want, I happen to be someone who has done it.
I have made over $1 million online and I will show you how I did that, so if you choose, you can learn to do the same thing too (legitimately).
But before I do, in case you DID come to this article seeking an actual review of the Million Dollar Dream program, here's what you need to know:
Quick Report on Million Dollar Dream:
Price: "Free" but then you'll need to deposit a lot of money.
Overall Rating: 1 out of 10 stars (Scam)
The more I keep encountering these binary option scam sites, the more I feel like I'm almost repeating myself about staying away from them. The latest one I've found is called Million Dollar Dream which is pretty self explanatory.
I found out about Million Dollar dream through one of those fake news special report sites that I generally check on to see if there's a new scam being promoted and voila, looking today, this one popped up.
So other than the obvious recommendation to stay away from it, I want to explain why you should avoid any sites like it, why binary options are not worth trying, at least through places like these and more.
Million Dollar Dream explained:
It really is a dream in my opinion if you try to achieve it through this program. All you need to know is that this is an affiliate website promoting a binary trading website.
Once you sign up on the affiliate page which they say is free, you'll have to deposit money in order to receive the system promised to you.
This system will show you when to make bets on stocks and supposedly win almost every single time. This is the same rhetoric I see and hear constantly from these binary options websites and in every single case, not a single one of them has actually proven this to be true.
In fact, I've shown time and time again that it is impossible to predict where stocks will go within the next several minutes, thus debunking this whole theory that there's systems that can help you win at binary options. It just doesn't happen, sorry. 
How these binary scams typically operate:
Binary options is a popular industry that's quickly rising. Because of this, a lot of binary trading websites have sprouted trying to capitalize on this new business.
Many of them are fake and unregulated. But in order to get people investing in them, they advertise themselves and one of the most popular ways they do this is by trying to acquire affiliates to promote their trading websites for them.
In exchange for an affiliate promotion the binary option website, each time a new member joins through the affiliate, they will get a huge commission in return and the more someone pays when they sign up to the binary options website, the more the affiliate can make.
This is one of the reasons when you listen to the sales pitch on the Million Dollar Dream website, you'll hear the person say to invest as much as possible because you will be matched by the binary trade website for your investment. It's all a way to get you "invest" more.
So what has been happening a lot in recent months is that you will often stumble onto binary options affiliate websites promising to show you how you can make a ton of money in little time and they will show you the "secret" to this. But unbeknownst to most people, they don't know that these are affiliate websites. And most of them title their sites in a fancy way, Million Dollar Dream being a case in point. 
And what ends up happening is that they get suckered into this belief that the site they're on is legitimate. Even worse, a lot of these sites promise to show you how to beat the system of binary options by giving you some special strategy or system to help you make the right bets at the right time in order to make money most if not all of the time.
In fact the last binary options affiliate site I've reviewed actually worked up some sort of formula where if you bet a certain way and lost, then reinvested more money, your odds of winning actually went up to a 100% at one point. When I read that, I laughed because it is simply impossible to do!
But this in addition to the most common claim of making thousands every single day is what you'll most commonly encounter on these sites.
Pros:
Cons:
It's another binary options affiliate site.

All the hype about making easy money is just nonsense.

You will need to put in a lot of money to try this out. 
Final Rating: Million Dollar Dream
Red Flag (Scam)
1 out of 10 stars. Another scam to stay away from. The million dollar dream does exist, but it's not going to come from this type of program, not in my opinion/experience.
My best advice for making money online is to try a legitimate program, like Wealthy Affiliate, my #1 recommendation (it's not a binary options website).
My final thoughts:
Here's what I really believe is really going on:
Keeping the whole affiliate site thing aside (by the way, what I am referring to is called affiliate marketing), I really believe there is NO system. It's just all a ploy to get you to sign up to the binary site. It is impossible to guess where a stock is going to go in a short period of time (long periods are possible) and the promise of a system to show you when to bet (call of put) is just an illusion.
Looking at a lot of these systems, a lot of what I see is screenshots of short snippet videos showing you signals on when to call or put which are the only 2 choices you get with binary options. These signals make you think you're onto something special, but as I've explained many times before, just because a binary option goes up/down doesn't mean it'll stay that way in the next second/minute. 
You may get a signal to call/put, but the next minute as your bet is being made, the stock may go down, when you bet on it to go up. It may be the opposite too. The point being here is that these things change SO many times during the day that it is impossible to accurately guess it right in the next few minutes. In fact, all you can do is guess, but no matter what, your odds are still going to be 50/50. No "system" is going to change those odds. 
Because binary options only involve short term bets on stocks and not where they'll be at the end of the day, I feel it it's too much of a gamble to play around with them. Binary options themselves are a gamble, but not really a scam in my opinion. It's the affiliate sites sprouting about that I consider scams because they're giving you unrealistic expectations about binary options. So with that in mind, again I advise against the Million Dollar Dream. In my opinion, you're not going to find it through this program.