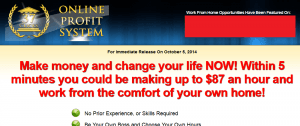 37 Clicks was one of the first work at home scam programs I discovered when I began this website and as time went on and I stumbled onto more and more scams, I found many of them had the same exact icon this program used, and that was one of the ways I was able to identify those other scam programs.
In this review, I'll be discussing the problem with 37 Clicks as well as the many other programs like it that are out there and amassing customers and victims on a daily basis, how to spot them and how to find legitimate options.
Quick Report on 37 Clicks:
Name: 37 Clicks aka Online Profit System.
Price: $97 discounted to $77 (potential up-sells).
Overall Rating:

0 out of 10 stars (scam).
The program known as 37 Clicks in my opinion is just another version of the many copycat scam programs online right now. By my count, this is at least the 20th time I've seen something similar/identical to this and I want to warn everyone who stumbles onto that page to be very careful.

37 clicks in a nutshell:
While this program can be identified as either 37 Clicks or Online Profit System, the main point I mentioned earlier is that I've found many sites like these.
The basic operation I've seen with them is that they'll get you to sign up for whatever price they charge (usually $97), sometimes either promote some sort of MLM and if not that, then most of the time make a claim of making easy money from home via posting links. That or something else but usually one of the first 2.
In many cases, there are tons of affiliate sites which sprout around these scams all hoping to make an easy buck and one of the most popular ways they do this is by posting fake work at home news sites that talk about them. Usually they'll also slap on "As seen on" labels to make you think this is somehow credible. In my case, the way I initially found 37 Clicks was through one of these sites.
And by the way, the number 37 itself is just a fancy way to make it easier to sell.
Often times a lot of programs, both good and bad charge something with a number ending in 7. Just like the whole phrase "lucky 7". I have also reviewed MANY similar programs which used the same exact insignia as 37 Clicks and I've memorized it so well that when I see it, I already know there has to be a connection and that already makes me assume it's a scam.
Now what usually happens is that once you buy, you are most likely going to be up sold more expensive products/programs including coaching or consultation from "experts" in internet marketing. What they'll basically do is sell you high priced packages and the whole belief is that the current program you purchased is just a small piece of what you really need to succeed.
This is a blatant scam.
The bottom lines are this:
There is no easy money here.

Posting links for companies is only a small fraction of the whole story and I stress the word

small

.

There are many sites like these and most of them look the same meaning if ever you see a website like this, alarm bells should go off.
While researching this site, I actually found something unusual and it was that…
There appear to be 2 "official" 37 Clicks sites:
Both have the same insignia which is this picture:
Aside from that when you do a side by side comparison, here is how both pages look:
The 1st version: This is the one I most commonly see with these scams. By entering your name and other information (which I never advise doing on these sites), you are going to enter another page which will talk about all the hype of easy money. By the way, when you enter any info, be aware that any mention of your area and how many spots are left is fake. 
Once you enter the site, you'll see a message from the supposed author of this page which is Kelly Scott. I'm pretty certain this person isn't real. In all the other places like this I've reviewed, random names have been used. Either way, this version has all the makings of a scam. 
The 2nd version: I accidentally stumbled onto this version after I left the 1st and closed my browser window. When I tried to go back and entered the URL, it took me to this version instead. Now one thing that is "positive" is that it isn't as hyped as the first. It actually says there's hours of work needed to dedicate and you don't have to enter a phone number. 
There is also a bit "more detail" on what you're doing. Instead of "just posting links", there's mention that you'll get access to pages where you can post those links on and make money. While this sounds good, it's still far from the actual truth because there's many factors to placing ads and making them run well.
You can't just place an add or advertise any product and expect to earn money right away. There's a lot of things that are missing and without the proper training, it's not going to work. I could bother explaining the process, but I would rather you understand how making money online really works first before anything else.
There is no mention of Kelly Scott (I didn't see any name mentioned) and I wonder if both of these pages are just affiliate sites. The only thing that prevents me from wondering that is that the domain name is the same. There is an extension to both which is what makes different pages appear. It's a confusing web that's common with these programs, but don't bother trying to figure it out. It's just taking away from the main point of it not being legitimate.
So version 2 promotes the same thing, for the same price, but in a less hyped version than the first and that's really the only thing that makes them different. Regardless, a scam is likely on the other end of both sites. 
Final Rating: 37 Clicks (Online Profit System)
0 Stars
Red Flag (Scam)
0 out 10 stars. Always do your research with these programs. They are an epidemic on the internet and here is a list of these work at home scams. Very few places can actually be trusted and Wealthy Affiliate is one of the only good programs I recommend.
My final thoughts: 
Even though I've seen these sites many times, even if I'd never encountered them before and stumbled onto 37 Clicks, I'd know very quickly something was up. It's just too easy with the way things are marketed there.
It's more than enough for me to at the very least inspect this place from other sources. I'm going to add this "program" to my ever growing list of places to watch out for.
I hope this post has been helpful to you and if you have any questions/comments or experiences with 37 Clicks, please let me know 🙂