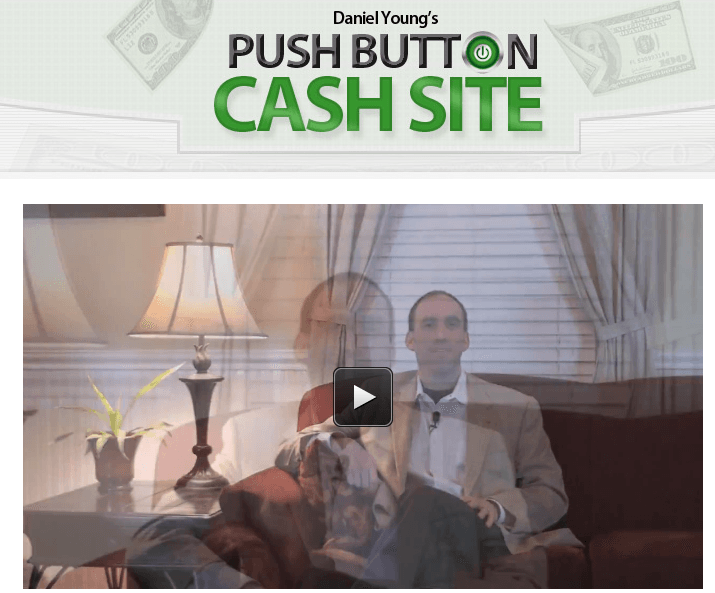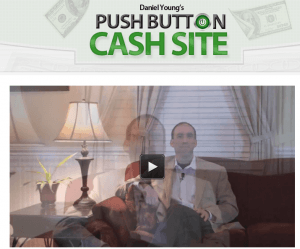 Once you read this review of Push Button Cash Site, you'll understand why it is a total scam (and what to try instead).
Quick Report on Push Button Cash Site:
Creator: Daniel Young.
Price: $47 down sold to $27 with 2 up-sells after purchases, down sold like crazy and then 2 more promotions once you get past them they call "bonuses" which I assumed were free, but I guess not.
Overall Rating: 1 out of 10 stars

. 
This software is a joke and there's a lot of broken stuff and up-sells in this program making it worthless. One of the worst keywords I ever look for in judging scams is "push button" so this program fit the bill right away, but I've been known to be wrong with first impressions so I purchased it. Well after going through it all, it's still a scam and I'm sticking to my position and here's why: 
Push Button Cash Site explained:
The software they talk about on their homepage is nothing more than a tool which collects articles from the internet and posts them on your website making it look like you're adding content daily (and also makes it look like they are yours). You can also add videos using this software. 
The problem however is that this approach to marketing is fake and steals content from article writers without their permission (or even knowledge) and puts it on your site. Also the way it works which I didn't really see can either be:
It takes the articles directly and just copies them exactly as they are on your site which is stealing or plagiarism. 

Or it takes the article and spins it (why content spinners don't work for SEO) meaning it re-words what it stole to make it look like it's yours which is also stealing.
It doesn't matter which of these 2 things happen with this software, it's still wrong. And the videos it adds are nothing more than copied and pasted and while it's OK to put videos on your site from other places if they are public, if it's not yours, it won't add a lot of value to your site. 
As for the articles which aren't yours, it won't stick either because:
Google which is going to be the deciding force in sending visitors to your site will know that it's not your content and will penalize your site by just not letting it show up on their search engine, or in the best case scenario, very high up. In either instance, you'll get no visitors.
If you want to know what makes Google rank your site, read this post on Google ranking factors.
But there's more than just the software to Push Button Cash Site:
If there's anything that could save this program from being called a scam by me, it would be training on internet marketing. This site does have that, but unfortunately that training isn't worth a penny and much of it is going to try and send you to other websites where you'll have to pay more money. In other words, upsells. Get real training on making money online here.
The training area in Push Button Cash Site consists of 8 main videos, one of which is broken down into 3 parts so 11 in total. These videos talk about the starting foundations of online businesses. The things they get somewhat right are the niche part, even though their explanation isn't going to lead to much success. 
From there they'll talk about making a website, buying a domain name and getting hosting and this is where the next offer is going to come up. They recommend one of 2 hosting plans where if you sign up, the plan will build you a website on any topic you like.
The idea of this pitch is that you then use the software I talked about from this program combined with this site that will be built for you and then you basically won't have to do any work, but I already explained why that's not going to work and with this hosting plan that's going to build you a site, it's also another con.
The reason being is that pre-built sites are not trustworthy in my opinion. These sites have the potential to have duplicate content on them which you can get penalized for and even if it's unique, when you make a website, in my view, you have to be the sole creator from the start if you're going to build an online business. And it's actually very easy to get started with building your own websites. 
Another reason is you'll find that you may have to change things around as you become more experienced and this can end up making you work longer on a site which already has a lot on it rather than if you worked on it yourself in which case you'd have a better idea of how/what to change. 
Bonuses provided inside Push Button Cash Site (which aren't free):
If someone sells you something and says bonuses included, would you think that it meant free? I would. And in Push Button Cash Site, there's 2 of them. But when you click on each, one will take you to buy the bonus and the other won't even work because it was shut down. 
Up-sells:
You know it's very sad when reading and watching sales videos on up-sells takes up more time than actually going through the 11 videos in the content section of the site. It shows to me there's more focus on selling than giving you something you can use. 
There's 2 up-sells with this program which offer you licenses on cash making websites. The most expensive on offers you 10, while the smallest is 3 I believe.
Whenever you select "no" on the offer, you'll be down sold that same offer (given a discount). With the first up-sell I had to go through about 3-4 pages of down sells before I went onto the next up-sell which repeated the same formula, after which I finally landed on the page with the 11 videos and the training. 
There's really nothing you get that's good:
Other than the general information in the training which makes up 10% of the site, the rest is useless:
So there you go. Little training, more stuff to buy and a number of things which aren't working like the free website (plus a download in the video section which is also broken). How much value would you put on this? $0 is my estimate. 
Final Rating: Push Button Cash Site
Red Flag (Scam)
1 out of 10 stars. There's no way I see anyone being able to use this program to make ethical money online. 
My final thoughts: 
The program is old to begin with so it's no wonder it was trying to use these shady systems. But as you've already seen, they won't work and even if they did, I already pointed out the ethical issues of stealing content from other sources. Don't do it.