I have a very interesting take on Platinum Resell Rights and how it can be used to make money online, which I will explain in this review of it.
Quick Report on Platinum Resell Rights:
Price: $1 trial for a 7 day period, then $27 every month for up to 2 years (24 months). 1 up-sell of $297 for a titanium package of rights inside the program.
Overall Rating: 5 out of 10 stars
There are a lot of ways to utilize resell rights and this program does simplify a lot of the issues that come with this topic, but there are also scenarios in which not everyone might be cut out for this approach to business.
Platinum Resell Rights explained:
You get pre-made websites which include a homepage, squeeze page, thank you page, a download page, and most importantly resell rights to a lot of different eBooks and products that are basically PLR eBooks. The purpose of having all of this is that it basically eliminates the need to have your own product as well as having your own pages set up because it's basically done for you.
You can use these products, sell them or give them away for free to build your own list, business and anything you want from it, but the limits on how you can use resell rights differ so it's very important to read the fine print, but this is all explained from inside the website quite clearly.
A longer, but clearer explanation of Platinum Resell Rights:
Let's forget about Platinum Resell Rights for a moment. Let's instead focus on the topic of product creation in general. One incredible opportunity with online marketing is to make your own digital products (eBooks) and sell them, and for instance on places like Clickbank.
Making the product isn't really the difficult part. It can be as simple as writing an eBook on a topic you love. The tougher part is when you need to make a website which sells it and the even more difficult parts are marketing it and also having an affiliate program where you can have people sell it for you.
While this is all possible to do on your own and really the most difficult part is the first time you get involved with it, there are the other options available and this is where resell rights come in.
Resell rights are basically products (mainly eBooks) you buy that then give you the right to resell them to other people. Usually you can sell them for your own price, but you will find that limits are often placed.
But the benefit of having resell rights at your disposal of a product is that it gets rid of the need to actually have your own in the first place. This can offer benefits such as not having to worry about thinking up a great program and on the other hand, it can also be bad if the product you are thinking about re-selling is not of good quality or is outdated. My preference is to make your own. 
Note: Unless you own what's known as Master Resell rights, you will need to be careful about how you resell what you buy.
So now that we better understand this topic, this is where Platinum Resell rights comes into the picture. With all the obstacles that come with product creation that I've just mentioned, they basically reduce that worry and give it all to you. One thing I forgot to mention is that they also provide training on getting visitors to your website.
What's given to you for the $1 trial with Platinum Resell Rights:
I'm actually surprised that any program gives away so much for so little. The only other program I know which gives away even more would be this one called Wealthy Affiliate, but it's great to see so much provided while asking for little.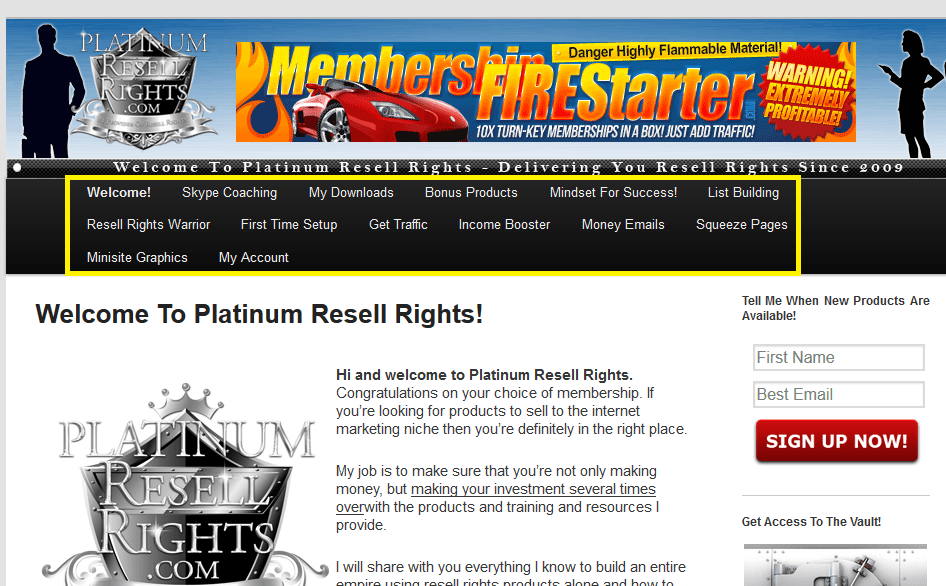 You don't get FULL access to the site and certain things are cut off and only provided as you renew your monthly membership, but for the $1 trial, there is MORE than enough for just about anyone to get a lot of great value out of this.
And that's really why I rated the program so high, plus because there is a lot of practical uses in what they teach/offer:
All of the training, graphics, images, downloads are all located within the yellow rectangle I indicated above.
As you can see there's a lot of menu items to go through and as I mentioned, you don't get full access so some of the items will limit you to a certain amount of training/bonuses. 
Is there enough to start making money with this $1 trial?
Technically yes, BUT the yes side would only favor people who know about traffic generation and this is only given in 1 lesson for the $1 trial with this program. They basically summarize 3 different traffic methods:
PPC, having affiliates and doing SEO. But no steps are discussed and you're only given a basic table of contents which you'll only be going through IF you continue being a member. I'm not mad at this at all, because I'm happy with I already received from them. 
What everyone will get is a default page to use (template), instructions on setting up an Aweber autoresponder, small images to decorate your page (mostly arrows) and a bit more.
One of the other things I really enjoyed about this site was the 2 hour webinar they provide you with where you're told how to build a website that gets people signing up to you and the narrator of that is Chris Farrell, a person whose involved with online marketing and has his own program called Chris Farrell membership site. I've previously reviewed it and did give it a good rating. There is also a transcript available that's underneath that video.
Pros:
An immense amount of information and great value offered for just $1.

There are a lot of things you can use from this site to save a lot of time and money.

Chris Farrell being a part of it does add value.

Depending on who uses it and correctly, it can be profitable.
Cons:
I do not like buying and reselling products personally because there are a lot of low quality ones out there that I feel will not help my customers. I have not reviewed the products on this website, but I always get a bit skeptical when products are resold. To me it says they weren't good enough for one owner to keep so they decided to give rights to resell it to others. It's just like my argument against buying anything with PLR.
Takes some time to get used to the site's navigation. I would have preferred a step-by-step guide for beginners.
Final Rating: Platinum Resell Rights
Green Flag
5 out of 10 stars. You can do a lot with what they give you, but for me personally, I wouldn't get involved just because I'm used to doing things differently. 
My final thoughts:
If I were to ideally choose using this program with my preferences, it would look like this:
I'd make my own eBook on a topic I know very well and use the website's templates and squeeze pages to either give away the book and/or sell it, thus making myself an email list. I would not use the products they have with resell rights. 
But even better (in my opinion), I'd rather have a good, established brand website and sell my own products there or promote affiliate offers I would consider valuable to my visitors. 
Platinum Resell Rights might not be for me, but if you feel the type of business they are involved in is something you wouldn't mind doing, then you have my thumbs up for this program. It is good.