Want to know if Product Rewards is legitimate and if it can make you money?
Then this review is for you. Let me show you what I found out.
Quick Report on Product Report Card:
Price: Free membership.
Overall Rating: 4 out of 10 stars. 
Not a place I'd recommend for making good money, but it's a transparent and honest company, yet the bigger picture is the first point I made, I just wouldn't try to make anything good from this program, it'll take too long.
What makes my review of Product Report Card so strange is that I actually gave it a higher rating than any other survey sites I've ever reviewed (usually 2 stars and 3 at most!). However a high rating for a survey site doesn't mean the program is recommended and in this case, it won't be, not unless you're looking to just make some extra change (literally). 
What is Product Report Card?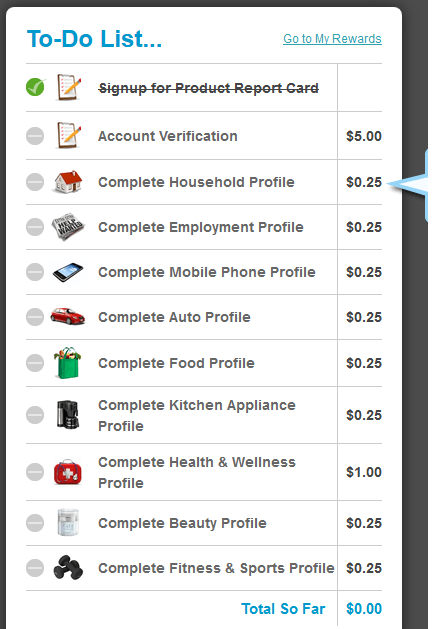 It's actually a really cool survey site considering all things.
You can get $8 to just complete your profile which does involve providing a lot of information about yourself (some personal) and takes sometime to do, but other than that, you complete regular online surveys for various topics and even review actual products that are on the market, some of which you may even have to buy beforehand.
Product Report Card does aim to provide honesty to and from members so it's not going to be the type of site where you can manipulate or fake your reviews just to make extra cash. This is good for the company itself because it gives it more trust value from it's users. 
Can you make a lot or little with Product Report Card?
The problem Product Report Card has which is a epidemic among ALL paid survey sites is that they hardly pay you anything for reviews and answering surveys.
I did see some "good payment" promises on their homepage, one of which actually claimed you can make $150. 
After I clicked through, I saw it was a focus group which last for several days and then it reminded me of my previous experiences with paid online surveys with these sites and that indeed the only places where you'd ever make good money was with the focus group surveys. Everything else was very little. 
So to answer the question, for most cases, you'll make very little with this site. The good news however is that there is only a $25 requirement you need to meet before you can withdraw your money and from what I've researched, I have yet to find a complaint on this company. So if you've got nothing better to do, I guess that may be the only reason you'd want to get involved with this place. 
The process to sign up with Product Report Card is quite long:

What I didn't really like about this site was that there was a very long sign up process. There were 7 steps I had to complete and it got pretty personal in terms of asking about income, my phone number, address, ect…
Luckily no credit card info was asked for and I did provide my credentials in the other departments honestly.
One thing which didn't work for me was the phone verification process where I was supposed to receive a text message with a verification code. I never did and clicked through to make validate my completion manually. Instead I was taken to my account page. 
I very rarely give out my info, especially for free so to enter a site I've never dealt with before and give them so much information was unheard of. I always expect these sorts of things to lead to spam/phone calls, yet I haven't had any thus far and hopefully it won't happen. 
Inside the site were the usual areas where you could go to find a product, review it and take some surveys. In my case, only 1 was available which I did answer (less than 10 questions) and received a message saying I'd be contacted if there were more questions. I didn't see any points or money offered for that so I'm not sure what would come of that.
There aren't a whole bunch of surveys to take either within the site. This is done to prevent abuse but at the same time points to that issue I talked about (the biggest one) and that is that you won't really make a lot, not with these limitations and really you can't blame Product Report Card for putting these rules into place either.
So you can either buy some of the products there, review them and make money that way, or you can keep waiting until a new survey pops up for you to take. You will have A LOT of products to choose from to review on this site. Anything from health (skin, weight loss, fitness) to testing shoes, sneakers, ect…
A link inside Product Report card I was provided took me to a known (bad) survey site:
I only noticed this when I went deeper into the site, but an ad appeared which said I could make $90 for taking surveys. I clicked on it and it took me to a survey page I already reviewed before called Survey Money Machine and that was one I rated very poorly. So if another negative can be added to Product Report Card, it's that they advertise this sort of place.
Pros:
Easy to figure out the members area. You won't be lost.

Transparent survey site. They don't make huge promises on how much you'll make (because it won't be a lot).
Cons:
I think it's a waste of time to spend on these survey sites. 

Sign up process was a bit intrusive, but it turned out to be legitimate.
Final Rating: Product Report Card

Yellow Flag
4 out of 10 stars. One of the few high rated survey sites I've ever reviewed (though not high enough to recommend!). I would say these 5 survey sites are better and one decent one to explore (in that list) would be Paid Viewpoint. But to be honest, none of these options are good for making money from home. If you'd like to see how I do it, then it's through a program called Wealthy Affiliate.
My final thoughts on Product Report Card: 
I doubt I'll ever rate a survey site in a way that makes me give them my thumbs up and it's really a 2 sided coin because on one hand survey sites can't afford to pay out so much money to people to just answer questions and on the other and if they promise that, it's a scam but also because it's never going to be cost effective either (for the survey taker), at least not in my opinion. 
People who think they can make something on the side with survey sites are going to learn the hard way that's not going to happen, even though what you get paid is fair technically. It's not like you're doing major work.