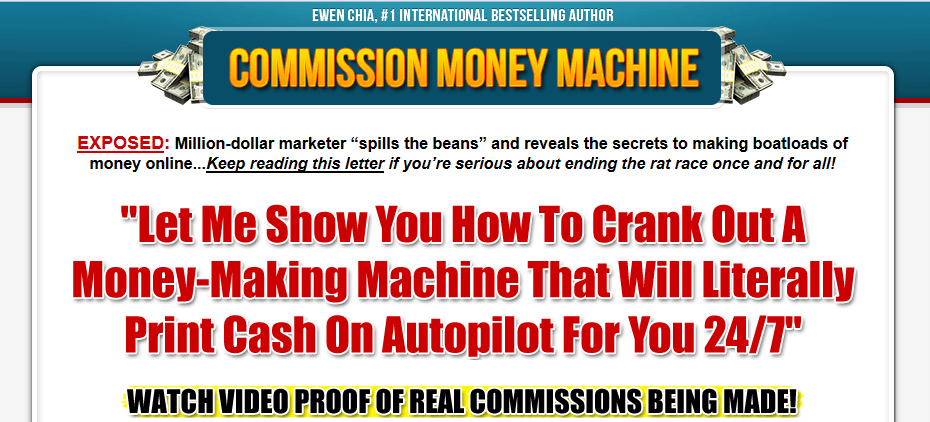 Commission Money Machine is a very old program whose methods may not work as well today and that is why, I did not like it.
Quick Report on Commission Money Machine:
Name: Commission Money Machine by Ewen Chia.
Price: $17. There's also a $47 one time offer, plus a number of promotional offers inside.
Overall Rating:

2 out of 10 stars
It has some good information to work with, but ultimately, it's outdated.
Ewen Chia is a familiar face in the internet marketing world. This particular post will focus on his Commission Money Machine which I did buy as well as why I didn't like it.
Commission Money Machine in a nutshell:
It's basically a combination of an ebook that's divided into 8 modules and videos on each of those modules. The main thing you learn within this program is affiliate marketing whether through SEO, PPC or email marketing. And by the way, for all that, here's the best program called Wealthy Affiliate to learn ALL of that from.
There are also a few up-sells in the members area. Basically once I purchased my program, I had one product promoted to me called CPA Money Machine and once I declined that, I was given links to sign up to a few newsletters (and possibly offers down the line).
Once I reached the members area, while scrolling down, I had at least 5 other offers being promoted to me, one of which was Super Affiliate Millionaire, one of the Ewen's products I have already reviewed. 
The large number of upsells with Commission Money Machine explained:
I took a screenshot to show you just how many up-sells there are before you even see the eBook:
Everything you see in that picture with a red rectangle is a link to a new offer. There might be more, but instead of looking through all of this, I wanted to focus on the main product which you will find if you click on "download" or just scroll down (more offers will appear before you get there though).
Taking away the up-sells, this is what you get:
The eBook and the videos are really the only part of this program worth looking at in my opinion. Like I said, there's 8 modules. Now the way it's done is that you can either check out the videos on it's own, read the book on it's own or use both to get the best out of the program.
If you decide to read just the eBook, just know some of the modules will not be available in text and you will have to watch the video to understand it. 
But as for the eBook itself, it's 56 pages long. As I mentioned earlier is that it covers affiliate marketing and from the very beginning which starts with choosing a niche.
But the direction Commission Money Machine takes is a bit outdated and the reason I say that is because it focuses on finding the niche, finding the specific product to sell that niche, then building a website with an EMD (Exact match domain).
From there, the ebook goes into ways to market that site and that's where you get into the 3 things I mentioned before which were SEO, PPC and email marketing. All of this spans throughout the 8 modules. Rather than explain each module, here's the basic:
For SEO, Ewen talks about marketing your site by chasing specific keywords, writing articles (on directories) on them (linking back to your site) and using other link building methods such as posting on forums and guest blogging.
This is where things are a bit outdated. Article directories aren't very popular anymore nor do they possess the same value they once did. As for forum posting and guest blogging, it still has some value, though I personally don't do it.
The other thing that was directly related to SEO was the part about choosing EMDs. On one hand this still serves a good purpose as it can help your site rank for a specific keyword, but in the long run, I feel it may have a backwards reaction in that it can limit your potential to write about other types of keywords and topics, making your domain name possibly not so relevant to the key terms.
When I choose a domain name, I don't look for EMD's. I look for a fancy title that reflects my niche. As for ranking for keywords, good content and proper keyword research is what will determine how well you rank.
For PPC, there is basic information on using Google Ads and Bing ads which can really provide some amazing results, but if you know what to do. The problem here is that the information is just as I said: Basic. There's no real detailed explanation on how to get started or succeed with it. I feel if you're new, there isn't enough to help you get going off on the right foot. Luckily, I've personally written up a pay per click tutorial you can use.
And finally for email marketing, you're told how to create squeeze pages and attract visitors to sign up, then offer them free info and eventually sell something. The information just like with PPC was very vague in my opinion. You're advised to use Aweber (which I agree with) to collect the list and other than that, there's not much else I would say has good value.
Pros:
Some of the content has value and practicality.

Much of the information is easy to read and understand for beginners (but not so easy to implement and that's the con). 
Cons:
I didn't like the up-sells.

Much of the information within the eBook is outdated.

If I were in Ewen's shoes, I wouldn't charge a cent for this guide. I'd give it away for free. I don't feel it's worth the current price listed.
Final Rating: Commission Money Machine

Red Flag
2 out of 10 stars. The information is kind of obvious for any marketer. There's really no need to pay for it in my opinion.
My final thoughts:
Making a "commission money machine" is very possible through affiliate marketing and if you were to go back a few years, this program would hold more weight. Now, not so much. 
And that's really the problem with Ewen's products, at least this one and the previous one I reviewed: They are outdated. No matter how much info a product provides, if it's outdated, I can't recommend it.