This is going to be a short review of Top Tier Side Income, and this is because the company it leads people to, had the FTC shut it down. So yes, it's not going to be a positive review.
Quick report on Top Tier Side Income:
Price: $7, then $1,000's in up-sells.

Overall Rating:

0 out of 10 stars

.
This "program" is basically another one of those affiliate sites promoting the high ticket program known as MTTB. Except in this case, it provides a cheaper entry into it, but make no mistake, there's BIG up-sells behind this whole thing.
Is it a Scam? Yes.
Alternative recommendations that aren't a scam? Yes: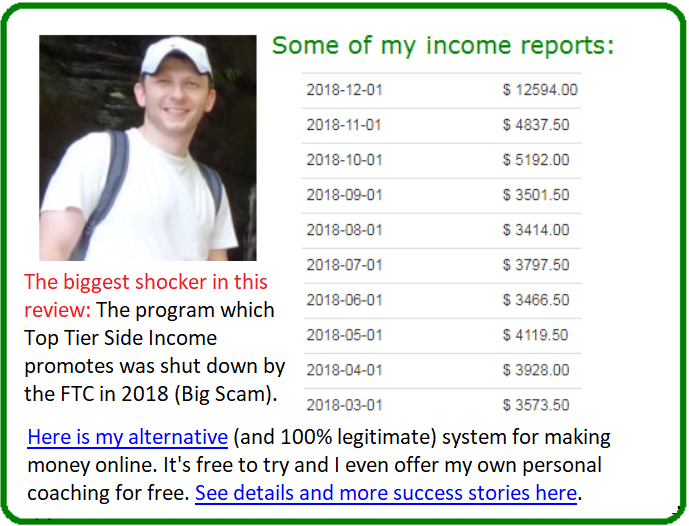 Everything above this sentence is an updated version of Top Tier Side Income, where it and the company it promoted MOBE were exposed and shut down. The remainder of this review is outdated (just a heads up) and talks about this program during the time that MOBE was still around.
Now I do wish to say that when I did originally look at this program, I did not recommend it, knowing about the MOBE connection and what that really was, but I gave it 2 stars and with the post expose, it is now 0 stars. You are welcome to continue reading this review but the whole story about MOBE being shut down by the FTC, is explained here.
What is Top Tier Side Income?
This program is an affiliate of the following 2 places (they're actually one big program):
1) The first is MTTB. It is 21 lessons (or steps as they call it) to building an online business. Here's what you need to know about this program:

Now the last time I dealt with MTTB, that was the case (the $2,000 up-sell). I don't know if it's changed since, but this was a big issue for me the first time I encountered it.
2) The second is MOBE, which is actually the parent of MTTB, and it continues off the 21 steps (if you get beyond them). But just like with MTTB, there's something you need to know about this place too:
Now while the price of this program is huge, it is worth noting that it's broken up into different, optional to buy packages, but each more expensive one holds advantages the previous one did not as well as commission payouts bigger than the previous one/s.
So how is (was) Top Tier Side Income connected to these 2 programs?
What this program has done is that it's taken the MTTB program, which normally costs $49 to join, but made it $7. So you'll go through the 21 steps for a cheaper price, but remember what I said about one of their steps above and the price: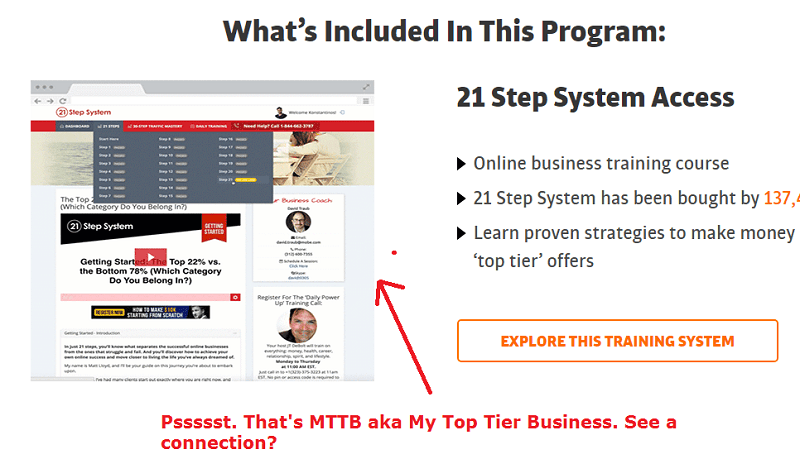 That's really all you need to know about this program and what ends up happening if you join. While it is good to explore this system for a cheaper price (and I have in the past), it is worth noting and pointing out the real price and I can tell you that the $7 will only get you several lessons, most of which from my previous experience with the MTTB program are really hyped explanations of making money online.
While they are true, I feel there's more value offered in other programs I've reviewed, such as:
But if it's not a scam, why is it not recommended?
If you may have noted above, while I gave it a low score, I also said this place is not a scam. What's the deal then? Well there are programs on the internet which can have a combination of things that cancel out the recommendation.
For example: 
You can have an outdated program which I wouldn't recommend, but not call it a scam because it costs little.

You can have programs which lie to you, but cost little or a lot. Those are the actual scams.

Then there's things where you can have a high value program which I would recommend, but end up not doing so because it costs so much.
So in the case of Top Tier Side Income, the issue I have is the last option (high level training, but HIGH prices):
Specifically speaking, the main problem is the price of this whole program and I'm not talking about the $7 entry, I'm talking about the $1,000's in high ticket stuff after because within those huge prices is where the high value training is found.
I personally don't agree with a lot of the sales funneling done by this whole program, but I have said before that their training is good. However, I keep having to come back to the prices for their package levels (plus the monthly costs of each of those levels) being extraordinarily high.
This whole system remains one of the highest priced internet education programs there is and as someone who has seen a part of it, as well as seen other options out there, which also provide internet education, I have to say I think it's far better to try the other programs out there (that are way cheaper):

Final Rating: Top Tier Side Income.

Red Flag
2 out of 10 stars. The ONLY benefit I see is the $7 you pay instead of the $49 if you went into MTTB directly. But it just gets crazy with the prices after. That's just how it is.
My final thoughts: 
You know lately I've actually been seeing a lot of sites promoting MTTB, but their approach was actually a scam because they charged their own, separate price tags to access that program (on top of the $49) and they also neglected to mention they were getting me into MTTB. It was because of those deceptive practices that I called them scams and basically said that they shouldn't be promoting this program like that (or any program in that fashion).
In the case of Top Tier Side Income, they are up front about it and they let you in for LESS, which is why I said it's not a scam. But I've seen that initial training and I've seen the prices and I have to say, I don't want to pay that much and I don't recommend paying that much if you wish to learn the business of making money online.
Now I have always provided alternatives I consider to be much better:
Especially when it comes to pricing and more so the fact that the alternative I keep recommending to anyone looking to understand and succeed in making money online is free to explore and that it actually provides FAR more in value than Top Tier Side Income.
Where the value of the $7 in that program provides what I consider a lot of hype in "training", the alternative program provides incredible, valuable lessons in online education, as well as tools such as free sites to get started. There's actually more, but…

In conclusion, I have to say I'm somewhat happy to see a program like Top Tier Side Income finally promoting MTTB and MOBE in a somewhat honest way. Though they don't mention the higher up-sells, at least they aren't hiding the fact that they are promoting it. 
And while that is somewhat good, it's not just about the promotional style here, it's also about what you get and as I said, the $7 in my opinion doesn't get you much in terms of training, it's spending the bigger money that does and I provided an alternative to not having to spend this kind of money.