Survey Downline does 2 things I find very alarming and makes me question if it's a scam. I will give you these 2 red flags and my review of this program.
Quick Report: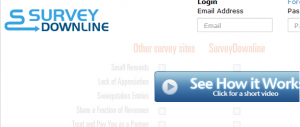 Name: Survey Downline.
Price: Free to join.
Overall Rating:

1 out of 10 stars

.
It's hard enough (ridiculously hard) to make money with survey websites as it is (red flag 1), but add in MLM to the picture (red flag 2), and you've got another layer of difficult to succeed business models all rolled up into this program…
What is Survey Downline? The short an unfortunate explanation…
This program combines 2 types of ways to "make" money online:
1) Taking online surveys for some small cash rewards. And when I say small, I really mean it. Not one single site like this that I've ever had the displeasure of trying has ever produced good money for me…
2) Affiliate marketing (or possibly MLM). If you refer someone into the program and they start taking surveys, you make 10% of their earnings. But considering that these things generally don't pay anything close to good as I said in the first point, you're making 10% out of basically nothing, which is even more nothing…
Is this program an MLM?
If there's anything I dislike more than online survey programs, it's MLM programs, but I'm on the fence in deciding whether or not this program falls into that category or if it's just a regular affiliate program.
They use the word "downline" which is often used in MLM programs, but in addition…
There is a 2 tier system where you are the tier 1 person, and if you refer anyone, that will be a tier 2 person/s and a portion of their success goes to you (10%). Generally MLM programs operate this way, where they take a portion of the efforts made by others, whereas in regular affiliate programs, you get paid if someone joins and buys something, so it's a different dynamic. 
But whether or not its an MLM or not (I actually think it is) is honestly irrelevant because the overall system is where the main issue is at and that is how difficult it is to make it work.
Pros:
-The fact that it's free to join and that you can do this without paying anything is already a risk free proposal (at least from the monetary end).
Cons:
-I don't like that they ask for so much personal info right away. At least let people see the program from the inside before asking them to give out their info like this.
-Survey sites just don't produce good results, not full time, not even supplementary incomes, nothing even close to that. They generally produce people pennies and at best a few dollars, and that after they do hours and hours of work. The cost/benefit is just ridiculously bad. And I say this as someone who has been through this type of system and knows how bad it is…
-Again, I go back to the referral system. Sure it sounds great to make a percentage of your referrals efforts, but if they make pennies, and you make 10% of that, how is that a good deal for anyone? For this type of stuff to actually work, you'd need to get DOZENS of referrals and get all of them working constantly to make that 10% actually add up to anything good, but even then, they get the bad end of that deal as their efforts produce very little for them.
Final Rating: Survey Downline.

Red Flag (Not good).
1 out of 10 stars. This type of system is just not going to work. When people get paid little for their efforts, they will lose incentive and if you try to make money getting other people to do the work, they will also lose incentive for the same reasons and you still won't end up making much. That's the bottom line.
My final thoughts: This is my personal opinion and I really don't like to say this, but…
Let me say that I truly dislike giving ANY program a bad rating and/or saying unfavorable things about it and I believe the people who made this program may have had or do have the best intentions in mind, but the system by which this program operates makes success extremely unlikely.
If you have ANY experience with these sites like I do and/or MLM programs, you just can't argue with this. No system out there will ever pay you BIG money to get your opinion, they will pay you pennies, so why bother?
And then why would you want to bother trying to get other people to do this? It would really be an illegitimate and deceptive way to make money and trust me, even if you made it THIS far, it would in my opinion, never last long enough to produce anything good.
Now if you're the type of person who enjoys doing this stuff, then I suppose there's no issue in joining this site, doing it whenever you want and then seeing where it goes, but do not make the mistake of thinking this type of program will be able to make you good money, it's just not going to happen… 
Alright, then what is a legitimate option for people?
Well that depends on what you're seeking to do. Are you looking for good survey websites?
Well then I really wish you luck as I have yet to find one that actually pays well. There are 5 good survey sites I list here, but honestly, you will still find it takes too long to get results.
The most you'll ever find (like with those 5) are ones that give you honest options and pays you on time, but again, the underlying issue will always be how little you get paid so if you seek to make a good income, you've got to forget about these types of programs because they won't produce it, period.
Now if you're looking to make a good income from home, then there are options, a few, but they are around, it's just that you will have to work to make them get you that sort of income you seek. That's something I had to learn after failing with so many programs like the one I'm reviewing here.
But anyway, the spoiler is that there are good programs around, but they just aren't survey websites and easy money just isn't going to come without you working on it. So here is what I want to say:
After failing at so many other types of work at home "opportunities", that program was the one that changed things for me. I'm sorry if the review I did of the other program wasn't very favorable.
Do note it is my opinion but I don't just toss out rating like this, I have a lot of experience in various ways that people can work from home and Survey Downline is unfortunately (and in my opinion) not one of them.