Project Payday is not a scam and I know people who make this program work for them. But in this review, let me cover better methods to making extra income because in many respects, this program is very outdated for doing that in my opinion.
Quick Report on Project Payday:
Creator: Uknown.
Price: Technically free, but it's actually easier to join it. You just pay the $34.95 sign up fee. There is one up-sell "upgrade" afterwards. 
Overall Rating:

4 out of 10 stars. 
I can absolutely see Project Payday's methods working for some people, but much of the information is MANY years old and it's hard to trust everything they link to.
I also believe the more Project Payday stays the same (doesn't update), and the longer time goes on, the less realistic it'll be to work.
An honest disclosure:
Project Payday has been a program I have avoided reviewing for MANY years and that's because every time I tried, the information and the sheer size of it was difficult to explain and with my lack of experience in that particular field, plus with the way I have seen other people review it, I never could understand the system, until now…
I finally decided to…
Sit down.

Buckle up.

Buy it.
And go through it entirely.
And what you'll find here is a simplified and encapsulated review of the program.
But before we do that:
Project Payday (PPD) explained:
So best explain what and how Project Payday works, I have to first talk about the industry it's in:
There exists an entire industry online which has referral programs they offer people. If you refer people into one of these programs, you can make money and/or get some stuff for free. 
The way Project Payday works is that they teach you 3 different ways to make money in this specific industry.
How Project Payday works. The 3 methods explained:
Let me just say that these 3 methods are a bit meticulous to understand, so if you do get confused by it, just skip over the confusing sections and/or ask me questions about the system. This operation works, but its understood better when you practice it.
Method 1: 
Let's take an imaginary site (based on ACTUAL sites that exist) that gives away a free XboX 360 to you, but only if you refer 10 people into the site.
Let's suppose you want to make this work, but can't find the 10 people to refer to the site, so what they do is head to certain forums where you can find people ready to sign up under you.
But how are they going to sign up? Well the person interested in getting sign ups (you) is going to pay them and YOU are going to the person who gets paid.
In method 1, you are the person who goes to these forums. Then you contact people who are looking to get referrals so they can get that free prize and they pay you for it. 
How much? Well the examples in Project Payday said $5-$50 for EACH person that asks you to sign up, but it depends on the person paying and how much what they want costs too. I don't see why it's not possible to technically make a few hundred or even thousand doing this every month. 
If you take a product that costs $500 which the person can get for free if they refer say 10 people to it, they would need to spend less than $50 per referral to make a profit. $500 divided by 10 referrals = $50 per referral so you'd probably find that person is willing to pay you no more than $30 to sign up through him. That way he'll only spend $300, save $200 and get that product which would otherwise cost him $500.
It's worth it to these people to pay you because they actually get a huge discount in the end.
Method 2: 
It's associated with method 1, but now we're switched around. Instead of you being the person that gets paid to sign up, YOU become the person looking to sign up people, pay them and save a lot of money. 
The question you may be asking here is, what if I'm not interested in the "free" product being advertised? Well the point Project Payday makes here is that if you can elect to refer people into programs that pay you cash instead of offering you products.
If a cash offer is $200 and you need to get 10 people to sign up in order to claim it, you would go to the forums I mentioned (Project Payday gives you a list) and advertise that you'll pay people to sign up under you. In this case, you would want to pay people under $20 so you can make some money. 
If you can get 10 people to sign up for $1, you would have made $190 ($200 reward – $10 cost to get it). If you paid people $5 to sign up, you would have made $150 ($200 reward – $50 spend to get referrals). And by repeating this process, you can make more than you would with method 1. 
Method 3: 
This is an add on to method 2. But now instead of getting cash, we can get the prizes and then sell them for money. 
So let's take an example of a $500 product, if you managed to only spend $300 to get 10 people to sign up and saved $200, you can then take that same product, sell it for $500 and that's how you would make money.
The first method is the easiest out of all 3, but you may want to move up the ladder as you become more experienced.
Optional Method 4:
You can actually promote people to join Project Payday and get paid $1.00-$2.00 per sign up depending on the membership level you're on. 
Diving into the Project Payday site itself:
You can sign up for free, but then in order to access the training which I'll get to, you have to either complete an offer which I tried doing, but it never went through so I was stuck paying the $34.95 to go further.
If you can successfully complete an offer, you can get into the training without paying. 
Completing an offer means you have to sign up with one of the websites they are promoting. In my case, it was Swagbucks. Once you're past the up-sell I mentioned above, you're in: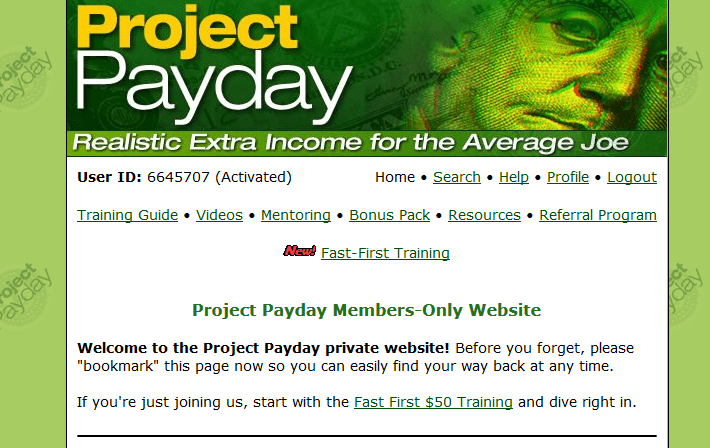 This is where I will go over everything you see starting with:
Training Guide:
There are 6 sections of training here covering everything I mentioned in regards to the 3 ways to
make money and extra ways to succeed in it. Each section has tons of resources and there are videos that basically provide the same information you would find if you were reading it, but it's there as an extra.
You'll also find several sections on ways to implement the 3 methods I explained above through places like social networks (they actually use MySpace as an example) and marketing through friends, traffic exchange networks, article directories and a bunch of other sources. 
There will be a lot of things within the training that you will not understand and that's why you have the choices of things you can use.
If I were to do this, I'd experiment with each, find one which is easiest for me and work with that until I was ready to try another. 
The majority of your training within Project Payday is going to be in the training guide and it took me a few hours to
read through and really comprehend everything.
In the last section, you're going to get a whole list of places, sites and forums where you can implement the 3 methods. The list is pretty gigantic. 
Some important terms you'll need to understand are:
Greens:
These are basically indications when you've completed an offer. There is a huge focus on collecting greens to make money because they represent people who have signed up under you.
IFW:
This means "Incentivized Freebie Websites" or basically sites that pay you in cash or prizes if you get people to sign up.
Videos:
I counted about 14 videos in this area, but as I said earlier, it's basically the training in video format. I preferred reading, but that was my personal approach.
Mentoring:
I avoid anything with the word mentoring because I never really trust it. Here they say you'll connect with successful Project Payday users who will share their tips for success.
In PPD's case, I wouldn't be surprised if this was legitimate, but since I have been mentioning one alternative all throughout this review (Wealthy Affiliate), it happens to be that mentor people within that program, so if my alternative is something that interests you, check out my review of Wealthy Affiliate and I'll show you how you can get free coaching from me on the topic of affiliate marketing, which is how I make money.
Bonus Pack:
This costs about $20 and gives you books which I believe are PLR that can "help" you improve your success with Project Payday. Personally I don't like PLR and wouldn't recommend it.
Resources:
You get links to third party organizations where you can make extra money. One or two of them were survey sites which I always stay away from. But they did advertise a place called Traffic Brokers which in some ways is similar to Project Payday. I did give that place 5 stars out of 10.
Referral Program:
Goes over method 4 of making money by promoting Project Payday.
Fast-First Training:
This might be the first thing people check out when they join, but you have to sign up to get training. Where it goes from there is a mystery to me because I didn't try it. 
Pros:
1) There are a lot of ways to really make decent money with this, even quickly. Though, I wouldn't put everything you have into this.
2) I would say method 1 of this system is the easiest to work with and it will add up to paying some good money.
3) I have at least 2 friends that I know of who make money with Project Payday and it works for them and pays a few bills.
Cons:
1) A lot of the things they recommend doing to get visitors are extremely out of date so I think a lot of doors have closed since their 2006 testimonial videos, plus the updates on the main page which were in 2014, but that's for international (Canada) users trying to work with this program.
Most of the other stuff is many years old and I'm still making money online via my Wealthy Affiliate alternative. And by the way, I can probably bet there's more Wealthy Affiliate success stories than there are success stories within Project Payday, and this is mainly because there's more users on WA and the other fact is that PPD hasn't been updating as much, which decreases the odds of it working with time.
2) I think promoting this type of stuff on social networks to friends/family might seem like spamming.
3) I don't know how many of those third party sites they link you to with the offers are credible/legit. 
4) Be aware that if you use method 1 and sign up to trial offers and related things, you may be charged for some of them. Be very careful and read every term of the site/offer you sign up with.
5) Another big issue is that it doesn't seem like Project Payday's methods are being updated with other, newer methods and I see that the opportunity to make money shrinking if it doesn't update itself. Like I mentioned above, certain methods are out of date.
Final Rating: Project Payday.

Yellow Flag
4 out of 10 stars. In 2015, I'd say there are much less ways to succeed with this program than when it first started, but it's still there. Personally I will not be doing this stuff and believe in more stable approaches like Wealthy Affiliate's methods.
My final thoughts: 
There are a bunch of programs that still exist today that have been out for many years, but through the time they've existed, they have not updated their training or methods and slowly this has eroded their practicality and made it more difficult to make money with them.
This is what I see with PPD, although it is still a legitimate program. 
I am sure there will still be people who make this work very well for them and even if it's a little money. I don't see there being a lot of potential going forward with this and if that's something you're looking for, PPD might not be for you and you may want to consider online business as an alternative.
But if you're fine with just this type of outcome, then give PPD a shot.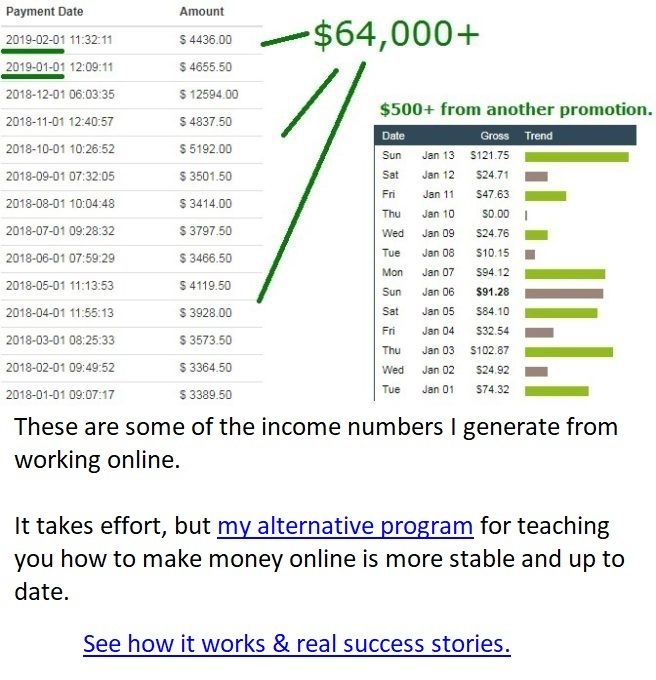 I also would love to hear from REAL Project Payday users and what they think of this review as well as their results with it.