Quick Report: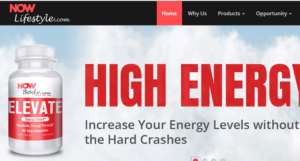 Name: Now Lifestyle.
Price: Free membership, but that gets a limited amount of exposure/opportunity to the site. You can upgrade from one to 3 different membership levels, one is for exercise tips, one is for getting an autoresponder to promote the program and one is for the "reseller program".
Each of these memberships costs anywhere from $100 a year to $250 a year, but they also have a monthly membership cost of $24.97 for EACH membership. However, you can also elect to join ALL 3 membership levels for a discounted $50 a month.
Overall Rating:

3 out of 10 stars

.
The program is OK, nothing too special and the opportunity to promote it and make money is pretty good, but, as an affiliate who makes money for major companies, I have to say that there are cons within this program's opportunity. I'll explain them and show you other ways you can generate money from home.
Recommended? It's a 50/50 thing, but I personally won't be joining. Here's what I recommend people join:

What is Now Lifestyle?
It's a combination of a fitness/health program mixed with an opportunity to promote that program to others.
From the fitness/health side, you can become a free member, get tips in video format on various health related topics and/or upgrade to a higher membership for yourself and your family ($24.97/month) and get "expert" advice and/or even purchase health products from this company. Here's what it looks like:
Then there's the business side, where you can become a partner/affiliate and promote this program to other people seeking to improve their health. Here's what that looks like:
You can also check out the opportunity for free (just like with the health advice), but to move forward and start promoting it, you will need to purchase one of several things:
1) You need to purchase their autoresponder program to communicate with your leads. This is also $24.97 a month.
2) You need to join their reseller program so you can promote their products for a commission. This is another, separate cost of $24.97. Here the "benefit" is supposed 100% commissions and added to it is a 90% re-buy commissions meaning if you sold a product to someone, got the first commission and next month they repurchased it, you can make up to 90% off that.
3) They also have an MLM program you can where you can build a down line, however at the time of this writing, that opportunity is sold out. I personally stay away from any type of MLM company because I don't like getting tangled into their complex compensation formulas and all (they are usually pyramid schemes) and normally, I'd review this part of the program in a negative way, but because I don't know the details of it with regards to Now Lifestyle, I can only speculate, and so I'm leaving this part out of the review.
Can you make good money with this opportunity? 
To answer this I have listed several pros and cons, but ultimately, I recommend you finish reading this review because I will be providing a way you can make income from home with ANY program out there on the internet. 
Pros:
-I like the fact that you can check out the "back office" of the program from both the fitness tips and business side for free. I explored this area for a bit and did at times enjoy the content.
-If you refer people into this program for free, with all the free tips and content, you are more likely to get referrals to upgrade and make you a commission. But you need to know how to market to specific groups in order to do this.
-Joining the entire program for $50 a month isn't that big of a deal. The benefits for that cost are way higher in my opinion. Normally I don't like the idea of joining any affiliate program or opportunity and paying money, but in this case, it's not a big deal. In fact, I'm part of a program called Wealthy Affiliate that's $49 and it's benefits such as free hosting, training on making money online, the opportunity it offers and a plethora of more things make that a no brainer.
Cons: 
-OK so one of the things I see as an issue is that the tips they offer for example in the fitness department aren't all that new. What's stopping someone from looking up free health/fitness tips on Google, YouTube or free forums? Probably nothing, so the next angle to get people into Next Lifestyle would be the opportunity…
-If you're going to make money off this program, you will absolutely have to pitch the re-sell opportunity, otherwise people aren't going to want to join a website that gives them tips they can find for free. That's not exactly easy, because…
-The free tips offered in this program in the marketing area weren't exactly great. The most I got out of it was that you should post on FB groups and forums, and they do show some vague stuff on each of those methods, but ultimately, I don't like that for the free membership, there was very vague training. I suppose an upgrade to their higher tier membership unlocks more training. But still, they could have done better here.
-You do need to keep in mind that in order to promote this program, you have to upgrade in one way or another. Having 3 different memberships, that being 1 for fitness seekers and 2 others being for those seeking to promote the company could be a bit confusing, so the safe thing to do if you want to get the most benefit out of this program would be to just upgrade to the $50 a month and get access to all the opportunities (not the MLM one since that appears to be another purchase). 
Final Rating: Now Lifestyle.

Yellow Flag
3 out of 10 stars. There are good tips for fitness people, but above all, this should be looked at as a money making opportunity and from that point of view, it's OK, not a scam, but I know there's better opportunities in this same field and I'm about to explain them…
My final thoughts:
Ok so as I said before, I'm a promoter for big companies that's made many sales online. While I generally like Now Lifestyle's business approach, I feel that people who enter this company should do so only if they believe in this business and want to make money off it, and not just the fitness tips. If you want the latter thing, just look up free videos/sites on the subject and forget Now Lifestyle.
As for the business side of things, you can go other routes besides Now Lifestyle since I feel their marketing training is a bit lacking. For example:
You can start a fitness blog on getting six pack abs, connect with programs like Beach Body, Amazon, and other places for FREE and start promoting their products without having to pay a monthly fee.
Ultimately though, here are my main points:
If you're looking to join Now Lifestyle to make money online, it can work, but their training needs to get better if that's going to happen.
Even if your goal is making money online, you can do this from other programs besides Now Lifestyle.
The KEY to success online is good marketing training and here's the only place where you'll get more than you need for that:

With the training in that program, you can go out as an independent promoter/affiliate and make good money online. That's what I have done and this is one of the reasons I remain a freelance affiliate and am not tied down to any affiliate program that "forces" me to promote their company. 
So bottom line: If you're going to make money online, get good training from that program I just recommended and then decide if you wish to promote Now Lifestyle or any other program. With the education you're going to get in my recommended program, you're going to have the power to succeed with any program you choose to promote, be it Now Lifestyle or something else.