Every MLM program I look at always has core problems that stop me from joining. Was this the case when I looked at My Daily Choice? Let's find out.
Quick report on My Daily Choice:
Price: There's numerous membership levels that range from $59-$599 and there is a $20 "activation fee" when you get your page from them.

Overall Rating:

3 out of 10 stars

.
I honestly like their products, but there is no price list for them.
I guess you have to join them to find that out, but aside from the products, it's the compensation model that's confusing (one of the core issues I usually see in MLM programs) and overall, I have never had a high opinion of MLM programs in general.
My Daily Choice has not changed my mind on this matter, so this is what I recommend: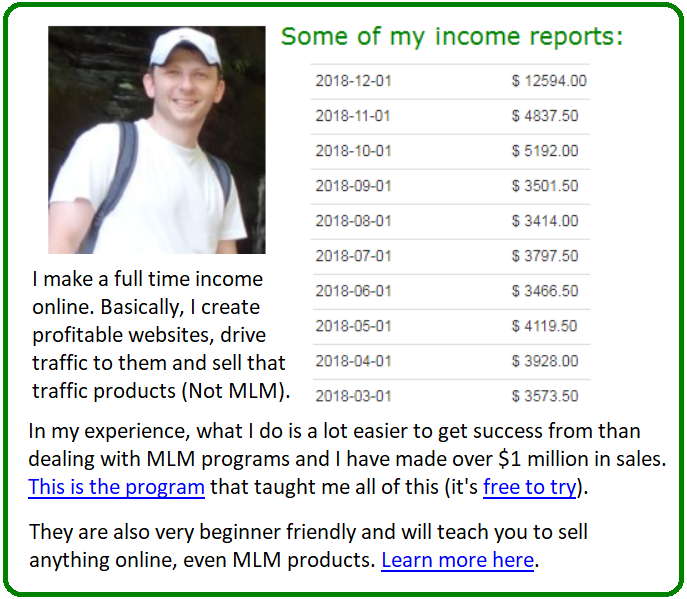 What is My Daily Choice (MDC)?
It's an MLM program that sells health products ranging from weight loss and anti aging sprays to healthy oils. It also offers from my understanding a 10 tier referral program (down line).
The 2 ways to make money with this program are to:
Sell the health products they have as a retailer.

And/or get people into MDC directly and build a downline with that. 
Info on the health products My Daily Choice offers: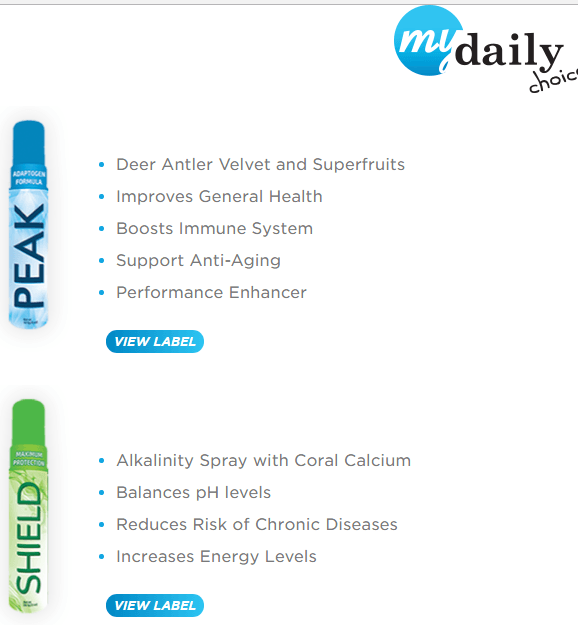 As someone who knows a good bit of info on health products, I took a look at the sprays and other health products this MLM company offers and I will say I was impressed.
There is indeed good health value in taking them, but the problem is, there's no price list for any of them. Look up the products on the product page and all you get is a link to the ingredients and nothing more. 
Usually my experience with MLM programs that have products shows that they are usually very overpriced. However, I don't know if that's the case here.
I will definitely say that if you're a consumer, there's plenty of competitor products you can buy that are similar to My Daily Choice's products and more than likely the same in quality (if not better).
From my understanding looking into this MLM, you can't really buy the products independently (like a customer visiting a store). There's no checkout cart, only links to the ingredients like I said before.
This leads me to believe that you can only start to try, buy, and sell the products only through joining the program (illustrated by the price range above). This leads into the next section of this review:
The membership levels of My Daily Choice:
Each membership level (there are 9) provides you with a certain number of t
heir health products. Also it is noted that by being a member there, you get 25% off the products to buy, meaning you can then re-sell them for a pretty good profit to people as a direct seller. 
The higher membership level you choose to join = the more benefits you get. These benefits are explained in their compensation model and basically the way it works from my understanding is that if for example, I become a member of My Daily Choice, and join the lowest tier membership, I can still promote the program to others and if they join and buy a membership too, I'll get compensated a certain amount.
Now if I were to originally join a higher tier membership, then by promoting it to people and then having them join in and buying it would actually pay me more in commissions so naturally the incentive seems to be that if you pay more, you can earn more.
Let's briefly talk about the compensation model:
I try to keep all my reviews about MLM programs and their compensation models as short and simple as possible because most of the time, they are a web and "unwebing" them as I like to call it is a long, frustrating process that often I don't decode entirely.
I will say that MDC's compensation model is moderate in terms of complexity. Let me tell you, I've read some seriously difficult compensation models in the past. The more difficult it is to get, the less I am inclined to recommend the program…
The short explanation in MDC's case is that there's 10 tier levels of people who can join and you get compensated an X amount for each. As I said before, if you join a higher membership initially, you get compensated more once you start filling in the 10 tier model with referrals.
And yes there are other mentions of contests, bonuses and free stuff offered for people who meet certain sales and membership quotas. 
I will not go any further into this because it's still a complex thing to understand and I would recommend that if you're serious about joining MDC, that you carefully read the compensation model, several times if you have to truly get it right (and I'm not even sure I did).

Final Rating: My Daily Choice.

Yellow Flag
3 out of 10 stars. Personally, I'm not going to be joining it. I'm not a fan of the compensation structure and if I were to recommend succeeding with this program, it would be to directly sell their products as a retailer as an affiliate (see how I've done as an affiliate marketer for companies).
My final thoughts: Is My Daily Choice a scam?
No I do not think it is, but legitimate programs aren't always good programs either. I don't like that (as I see it now) that you need to be a member before you can buy the health products they have. This feels too binding to me.
Plus recruiting models in MLM companies are always things I avoid and suggest avoiding because they are complex, hard to succeed with and often not worth the effort to rise in the hierarchy of it (affiliate marketing is better).
As someone who sells various products online, I stick to none MLM type approaches:
I find a product I wish to promote and then I can choose whether to buy it or not, then sell it as an affiliate (here is the difference between MLM and affiliate marketing). There is no one forcing me to join anything else or pay extra then be required to pay more extra money to promote it and this is one of the underlying reasons I very much dislike MLM programs.
Also as a successful seller of online products, I will say that whether or not you're into an MLM, selling the product/s in my opinion is the more successful route than selling the opportunity and trying to get people into the system. So as I said before, if you're going to make money, it should be easier that way. 
So if you wish to not join My Daily Choice, here's my advice:
Join the Wealthy Affiliate program to help you be successful at promoting MDC. It's a training platform where you learn to sell products from any company. I learned from that program and personally chose to NOT sell MLM products or their opportunities. Instead, I sell things to niche audiences and this has made me a substantial amount over the years:
I've made about a million dollars selling products directly to people. Products such as: health books, diet programs, electronic products, sports wear, drones, and much more. All of my sales are called affiliate sales and there is no MLM or downline in the equation. 
But if you wish to still join My Daily Choice, then I also have advice on that:
I seriously believe that you need to focus more on selling their products than their opportunity, as the sales would be more consistent. Identify which product/spray you want to sell, then find a niche audience that wants it. For example, they have weight loss sprays you can sell to people interested in dieting. This formula should produce good sales for you.
If you have no experience in niche marketing or making sales in general, again I still recommend this program to teach you this:

The best thing about this program I recommend is that whether or not you choose to get involved with My Daily Choice or not, you can still use the tips to sell their products and/or switch to promoting something else.
My recommended program, Wealthy Affiliate teaches you to sell anything online and make a living off it, even if it's from an MLM company.