Quick Report: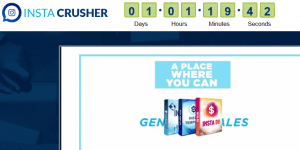 Name: Insta Crusher.
Price: I got it early, so it was $7 for me, but apparently the price will go up, which if it does, I will NOT recommend it. Plus there's 3 up-sells and being that I hate upsells, I didn't get them, but their prices are: $17 (Pro), $25 and a final one for $47.
Overall Rating: 3 out of 10 stars. The only reason I give this program a nod (and a little one at that) is because of it's price, you do get some beneficial info, but a bunch of it is extremely basic stuff on growing an Instagram account and there's so many links as well as a cheap looking eBook with bad screenshots that overall, there's more bad than good in my opinion…
Insta Crusher in a nutshell:
This is mainly a guide on growing a business/following through Instagram. I had at one point briefly experimented with doing such a thing, but later decided to put it off because my website and SEO were taking up too much time.
However while I was doing that, my knowledge about IG grew a lot so when I purchased this program with an interest in seeing if I could learn something new, I was mostly disappointed, being that the info I had already known as attained through free content I found on websites and YouTube videos and that will ultimately be my advice for anyone who seeks to grow an IG following, to just look at the tutorials that are free out there and consider this program secondary because in my personal view, you won't learn much new stuff…
Anyway, back to the program and review…
Remember, the purpose is to grow an IG channel. From there the key is to convert followers into buyers, and lead them to landing pages that sell them stuff or have them sign up to an email list, the usual marketing strategy that is pitched on most internet marketing programs…
Now the idea of growing your IG channel, at least within the Insta Crusher tutorial is as follows…
What you'll learn inside this program (the summary):
-You first create an account and do all the verification necessary.
-You then decide on a niche topic to center your page/channel on.
-From there, the goal is to find the big players in the niche market, and you can do that several ways as the program instructs, but my personal opinion is that the way I learned it is the best and that is simply to just browse IG to find channels/people who are within the same niche as yours, then see how big their following is. In many ways, the strategy inside this program also recommends similar stuff…
-Followed by that, you will utilize the same hashtags these big channels do. Now this is where I have to stop and say this may or may not work.  It may work if the competition of the hashtags you find is low but if it is not, then you're not really going to gain much from this strategy and the recommendations this program suggested on how to structure hashtags is probably not going to work unless you have a big channel/following. Here is a tutorial on IG, hashtags and competition that you should check out.
-Then there's also strategies involving buying "shout outs" from big channels that's recommended and something I had no idea existed before Insta Crusher informed on it. It's basically like paid advertising: You approach a big channel and ask them to recommend your IG channel for a payment as far as I understand it. It's costly, very costly in fact, but it can result in an initially faster growth of your channel.
-Then there's other things recommended such as buying other people's IG accounts which was also a surprise to me, but its basically like buying a turn key website in which a channel that already has success, sells that channel to a high bidder and let's them take over. Certainly not a bad idea…that is if you can afford it as this is arguably MORE expensive than buying shout outs.
-Other than those things, there's also tips on using hidden linking tactics like Bit.ly, growing your channel via sharing stories, creating enticing bio's, and images that are clickable and really, just basic stuff that anyone can figure out from using IG on their own or just checking out the most popular tutorials out there on places like YouTube (do that).
-Now there is also a 32 page eBook that goes into the summary and basic strategy of what I explained above, but I've got to be honest, it is at times explained in such a vague way with VERY horrendous looking screenshots at times, that it's hard to make out what is said or shown on the screenshot. 
-I didn't really enjoy reading that eBook because many times it felt like I was reading from a cheap repurchased PLR book and there were numerous spelling errors and missing parts in sentences which made it feel incomplete. Now I'm not a perfect dude who writes eBooks, but these are minor issues that can easily be fixed by the creators of this program to add value to the Insta Crusher program, and I certainly hope they'll change it.
-Other than that, there is also an analyzing software tool available which helps you figure out which channels in your niche are the biggest. To be honest, again, I have to point back to regular, research in which you find those channels on your own and just follow them. It's not that hard to do…
Final Rating: Insta Crusher.

Yellow Flag (currently ok…)
3 out of 10 stars. Again, I only give this the 3 star rating and a SLIGHT recommendation ONLY because it's currently priced at $7. Anything higher and I would NOT recommend this program, stick to regular YouTube guides on this stuff, seriously. This program is not exceptional and I could find more negatives than positives as of now.
My final thoughts: 
I'm certain the creators of this program worked hard to make this, but honestly, there isn't any major new info within it which changes the game when it comes to IG marketing. 
I personally have done enough of it to understand the basics and that's really all that I "re-learned" when I looked at this program and some of the strategies listed were in my experience a waste of time. Now I will not claim to be a master at IG marketing, but I will say that if you're tight on money, absolutely look at all the free content out there, especially on YouTube regarding it, you're going to find incredible info like I did that will help you grow your channel.
That being said, for now, I am personally going to stick to SEO as I find it far more reliable in terms of marketing still and that's where most of the money can still be made at in my opinion.

IG is an experiment I am slowly working on from time to time on other secondary sites I've set up but I do hope this review has helped you better analyze if Insta Crusher is good for you or not.