When it comes to making money, I have doubts on any program that uses words like infinite. Yet if you look at Infinite Leverage System, they are making some big claims.
So it is a real thing or a scam?
Well this review will explain why I don't particularly trust this program and I'm going to show you the red flags that I almost instantly spotted. So let's begin.
Quick Report on Infinite Leverage System:
Creators: Doug Wellens, Greg Chambers, Chad Stalvey and Mack Zidan.
Price: Free 7 day trial, then $51.91/month which gives you limited access to the back office and an "optional" 7 traffic packages that range in price from $200+ to $4,000+! Plus if you read the terms, you will also have to pay additional fees if you choose certain ways to get paid by this program.
Overall Rating: 1 out of 10 stars.
A big pyramid scheme in my opinion and while there will be successful people in it, this is not a program most beginners will be able to leverage (pun intended) because there isn't much training.
Also the prices are insane. I think the program is a scam and should be avoided, especially as it gets older because it's going to get more and more difficult to make money with it.
What is Infinite Leverage System?
It's an MLM program which provides you with tools and traffic packages that you can buy to refer other people into the site.
I've heard about Infinite Leverage System a bunch of times over the past few months and after going through it, I can understand why there's so much hype. It reminds me of Empower Network which in some ways is similar to Infinite Leverage System in how they are marketing themselves, but very different because while EN offered "training" for high prices, Infinite Leverage System just offers traffic packages for high prices and no real training.
The only type of training you get from inside the site is just navigation on how to use all of it's tools. If there is going to be any tips on succeeding, it's either going to have to be through you and that's only if you are an advanced internet marketer or if you're not, you will need to be part of a team or have a sponsor who can help you succeed inside Infinite Leverage System. 
Since this program is still very new, you're going to be seeing a TON of promotions for Infinite Leverage System and many hungry IMers (internet marketers) telling you to join their team. I hope instead of listening to the hype, you'll read this review and get a non-hyped realistic understanding of what this program is all about.
Infinite Leverage System's Compensation Plan explained:
One of the things that's good about Infinite Leverage System is their comp plan, but only from the point of view that it's easy to understand, which also made it easier for me to think it's a pyramid scheme. 
You can refer any amount of people you like, but have to pass up the 2nd, 4th and 6th referrals to your upline (your sponsor usually). Then every 5th sale after the 6th sale is made also goes to the upline, so 11th, 16th, 21st, 26th, 31st ect… will keep going to the upline. Your downline will also be apart of this structure. 
This is the easy version.
The only hard part is when you get into the traffic packages. There are 7 of them (not including the main membership package of $51.91 a month). Here is a screenshot of the prices of each package and how much you can earn: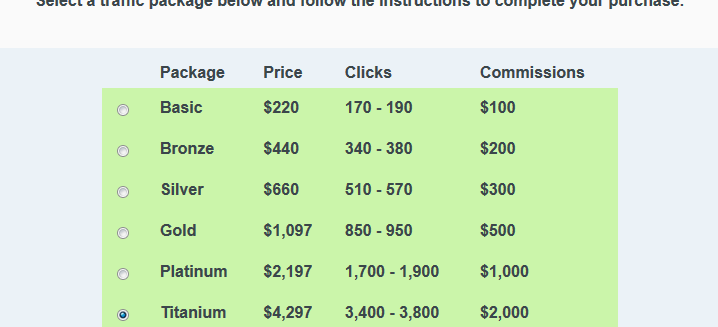 In order to earn the commissions of ANY of these packages, you are required to first buy them. When you add this into the compensation plan, if for example you refer someone who then buys a Titanium package ($4,297), but you haven't purchased it yourself, you are not on that level and the commission of $2,000 will go to your upline and only if they also purchased that level and if they didn't, it'll go to their upline that did. 
This is also for the other levels. If your referrals buy ANY package above a package you have not yet purchased, you will not get the commission. That's the comp plan and I'm not surprised by this. This is how they always get people to buy the most expensive stuff.
What does a 7 day trial and then $51.91/month with Infinite Leverage System actually get you? 

Spoiler: Very little!
This is the back office (screenshot above).
From the moment you enter it, you are given a video and PDF to a "Bootcamp" ebook which is 16 pages long and just explains how to use the back office. There is also a tab in the menu called "Training & Support" which has videos saying the same stuff.
There is nothing in terms of real training that you get in Infinite Leverage System and that's why I said only those who are experienced marketers or those with good sponsors will actually get anywhere.
In terms of tools, you are given affiliate links, 5 different opt-in pages and Click Brilliance.
What is Click Brilliance?
It is a tracking tool that lets you do split testing and monitor clicks to your projects promoting Infinite Leverage System. Apparently, Click Brilliance is a part of the membership levels and if you refer someone to Infinite Leverage System and they don't buy any traffic packages, they will still have Click Brilliance and that pays you $20 a month. At first I though Click Brilliance was an up-sell, but it is included with the ground level membership. 
So the smallest commissions you can make are $20 and the highest is $2,000, but that's only if you purchase that package yourself. 
I think all of the things you get as a normal member are overpriced. Why pay over $50 a month for stuff you can technically use for free. A lot of affiliate programs, including scams like Five Dollar Funnel that I've reviewed in the past gave you a lot of the same things Infinite Leverage System gives you, but for free! This is affiliate links, opt-in pages and while most don't have tracking tools like Click Brilliance, you can always use Pretty link if you have a WordPress site or Google Analytics, both free tools. 
Time is against you with these businesses:
Every new MLM program that hits the industry and grows quickly usually does it in the earliest stages when very few people know about it. The niche market is pretty wide open and everyone who is interested in making money online is more easily convinced to join it. That's why most sales will be made early on.
The problem, besides that in my opinion Infinite Leverage System is a pyramid scheme, is that as time goes on, the same market becomes very competitive and saturated especially since new people start entering and promoting it and if they keep using the same means such as the traffic packages, I believe the effect dies out slowly.
Most of the money made will be done so by the big fish and the Infinite Leverage System program will also make their biggest profits of selling these traffic packages which I don't even believe in. I only use Bing and Google Ads because I have more control.
Final Rating: Infinite Leverage System
Red Flag
1 out of 10 stars. This is not a program for beginners and you shouldn't pay that kind of money for the regular membership, and the traffic packages, especially when you can't really see where the traffic is coming from. 
Pyramid schemes only really benefit the few who know what they're doing and the money they make is funded of those who naively follow them into the scheme, never mind the ethical issues with this. It always turns into the many funding the few.
I recommend avoiding Infinite Leverage System and the hype behind it as well as online MLM programs in general.
My final thoughts:
When I look at Infinite Leverage System, what concerns me most is that I believe it's a pyramid scheme. You're not really given anything but an opportunity to promote the program and everything else costs a lot. And with lack of training plus extremely expensive package options to "potentially" get anywhere in the business, what do you think the odds are you'll be a success story? I don't think it's good. 
Sure you don't have to use those packages and can just stick to promoting the regular membership, but if you're on my side here, you will see that it's not worth that price and the traffic packages?
Why funnel people into the same overpriced system, so that they can then repeat the same process? Why do this!? 
If it's the money you're after, go ahead, but if it's money you value over people, you will never agree with my position on anything I review and you're only going to hurt your reputation and business as time goes on, trust me. Put people first and the money will come.
Note: Infinite Leverage System has changed named apparently to Traffic Authority recently and I did review it.