I asked if Traffic Plus can make money because it's very old and since traffic generation methods evolve, let's find out if this program was able to keep up!
Quick Report on Traffic Plus: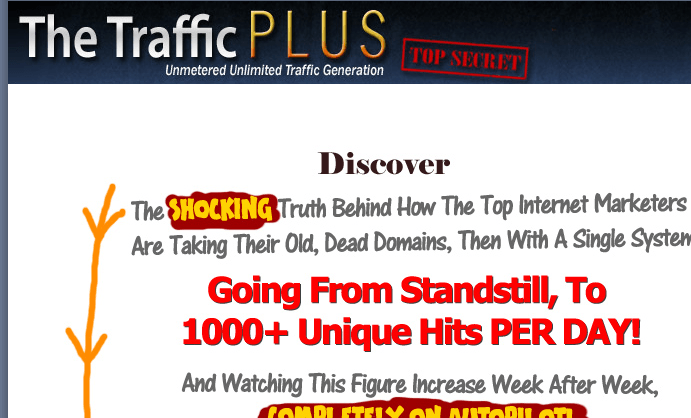 Creator: Bill Taylor.
Price: $37. Not a single up-sell!
Overall Rating: 4 out of 10 stars.
I though it was a guide on cheap and black hat traffic. It turned out to be a high quality book that emphasized real methods to build a strong online business. Yet it's age is it's biggest con.
When I first purchased this book, there was no link provided to the download and I though I was scammed. But I emailed support and they got back to me within a few hours and told me they were updating their site (not their eBook) and told me everything was OK. I am glad it turned out ok and it also showed me there was actual support there!
What is the Traffic Plus?
A 59 page eBook showing you more than just how to get visitors to your site. It also explains niches, finding your right audience, keywords, connecting with them and a lot of great ideas. But connected to those great ideas is a lot of extra weight. 
The Traffic Plus is one of those unfortunate reviews where if it was just updated by even a few years, I have no doubt it would be so much better than it already is. Yet there is a lot of unnecessary and outdated information you simply don't need anymore and it's only going to get in the way of your online business's progress.
Some highlights of the eBook:
1) Bill really gets into a lot of details on building a long term business that's really based on high quality content.
2) In 2009 a lot of internet marketers endorsed a lot of black hat marketing and the great news is that Bill is not one of those people. Even back then when black hat was in it's golden age, Bill supported a white hat approach.
3) I love his idea about building an email list and instead of just promoting over and over, to link your content to your email list, have them look at it and leave comments to offer it more value. This is the kind of tip that in 2015 is going to be excellent for any blogger. If you have a website that gets visitors and are leveraging any form of list building, this method is only going to make your blog more popular, especially with SEO!
4) Bill divides his traffic generation tips into 3 parts:
Cold 0 which is instant traffic where he just explains how you let search engines know about the blog, quick traffic where an example is linking your content to your email list that I just talked about and perpetual traffic which is more aimed towards the long term. The long term in this case would come from the first 2 tips being used to let your site get higher ranked organically.
5) One of the tips that really is timeless is that you should write about things in your niche that are hot.
Bill recommends Google trends, seeing what's happening in the news and Twitter to see these things. I also recommend adding Google Alerts to that list. Sign up for those things to be informed of what's happening around the topic your site is about. Usually topics that are new are low in competition and writing about it a good way to get high rankings quickly.
You also get bonus eBooks:
They aren't written by Bill so I feel they are just PLR. There are 7 of them. I did look through a few and they did not seem to be too outdated. One caught my eye which was a book on using "dirty marketing tricks".
Again, I though it was just some bad marketing examples and I was wrong again. It was a book on using controversy, shocking titles, testimonials and other "tricks" to get people to be attracted to read your content. I don't mind using these things as long as the hype is met. 
4 examples of where the Traffic Plus is outdated:
1) Building blogs to link back to your blog site (or landing page). This still works, but it's in my opinion a waste of effort. The content you can build on other sites can all be invested into your main one to build the authority there.
There is nothing wrong with sharing your blog and content with other people and letting them link back to you, but focus all your efforts on one site.
2) Using Squidoo. Squidoo isn't even around anymore and even when it was, it was difficult to deal with. In 2009, it was actually an amazing place, but as new terms came about, Squidoo would later become a nightmare to deal with.
3) Using Pingomatic. A service that lets other sites and search engines know that you posted new content. This stuff is also irrelevant now. If you use a WordPress site, any publishing of new content lets search engines know right away that you've done this.
4) Using article marketing. A little over 5 years ago, like Squidoo, article marketing was at an age where everyone who knew online business utilized it. But as they took a plunge from search engines, this form of marketing died out very slowly. In 2015, you shouldn't even bother with this.
There were a few other examples but I had never heard of them before. Some of them included programs to socially connect with other people and let other social networks know about your site. It's just not necessary.
Final Rating: The Traffic Plus.

Yellow Flag
4 out of 10 stars. If Bill could update this eBook, I'd love to re-review it again. Right now a lot of it's tips will add a "plus" to your traffic, but a lot of others will either do nothing or be a minus.
My final thoughts:
I think The Traffic Plus was an eBook ahead of it's time when it first came out, but everything has to evolve, especially the make money online industry and this is making this eBook lose it's quality. Unless it get's updated, this eBook will become less and less needed.