I did purchase Ewen Chia's Fast Track Cash and I have to say, this review is not going to be recommending it, due to several issues I discovered while going through the program.
Quick report on Fast Track Cash: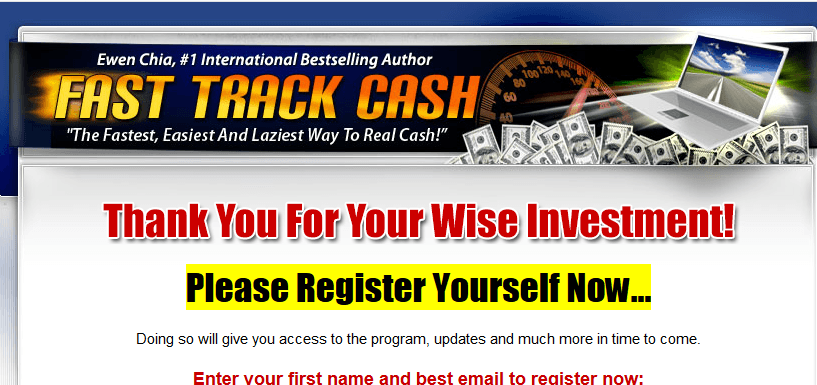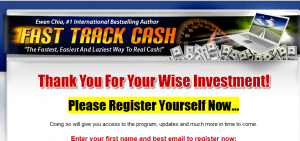 Creator: Ewen Chia.

Price: $27, with 3 upsells.
Overall Rating:

2 out of 10 stars

.
Although I learned a few new things, as a whole this program is really not that special. I have personally been using many of the same things it teaches in my own internet marketing sites and videos, even before I learned about Ewen's program.
Recommended? No. Save the $27 and just read this review. I'll tell you what it shows, and more importantly what I recommend, which is this:
What is Fast Track Cash?
It's basically 15 videos centered around making YouTube videos, getting them views and promoting affiliate programs in the description of the videos you create and/or to linking them to an opt-in page. I have done this personally on some projects and here are my affiliate marketing case studies.
But in short, it's mainly about getting traffic in YouTube, which by the way I have a guide on. Here is my YouTube guide on getting traffic (it's free).
As I've seen with just about every single program of Ewen's that I've purchased, the info is honestly not that awesome. As I said, I've already been using these strategies on my own, even before I knew about Fast Track Cash.
Here's details of Fast Track Cash (What's inside Ewen's program):
You get 15 videos and here is a summary of each and what is taught:
Video 1:
An intro into what you'll be learning (YouTube marketing).
Video 2:
A small video explaining the strategy. You also get some case studies.
Video 3:
You learn how to sign up with affiliate programs. In the video, they use Clickbank and show you how to get links from them to put into your YouTube videos.
Video 4:
It's an add on to video 3 where you also sign up with affiliate programs, but here it's a tutorial on signing up with CPA offers and you're given a sample promotion to see how this all looks.
Video 5:
You are shown how to do launch jacking, a form of marketing where you promote products before they become mainstream and too competitive to rank under in Google or YouTube.
By doing so, you get high rankings quickly and thus a lot of traffic when the product itself gets launched and has traffic looking for it, meaning if you make YouTube videos on an upcoming product launch, when it gets launched, you're already positioned in high spots on Google and YouTube so you will get a bulk of the traffic and possibly sales for it.
However, one minus here is that you learn about upcoming product launches from sites that release products related to making money online, so if you're in a market not related to this, there's no resource to show you where to look to find product launches for other subjects.
Video 6:
Here you are shown an optional way of making videos and that is through PowerPoint presentations. Some people do not like to show their faces or talk on camera, so this is an option you can use to make videos and still get views and possible sales.
Video 7:
Here you are shown how to use a program called Camtasia to record the screen. You can use this program to also create videos such as ones where you review products and show the audience what is happening.
Personally, I have used Camtasia before and purchased it's main package which is about $300. I used to like it. But now I prefer ShareX, a completely free program that does the same type of stuff.
Video 8:
Teaches about SEO optimizing your video by placing tags in your videos as well as in the title and description. Nothing special here. Just know how to find keywords and place them accordingly in your videos as well.
Video 9:
Ok so this is the only part of my experience with the program where I was confused. You are shown how to literally copy and paste a small part of other people's content to your video. Now while Ewen does mention not to copy too much for fear of getting penalized, the question I ask is, why would you even copy a little bit? That is still a form of plagiarism. Honestly, this part of the training is where I had to disregard the advice because I would never tell people to do this…
Video 10:
Here Ewen shows you how to use Fiverr to get traffic to your YouTube video. He recommends a particular seller who for $5 will send massive likes and traffic to your video, artificially boosting it up, thereby having it appear higher in the YouTube search for whatever keywords you selected which will then lead to more natural traffic/views.
But here's the thing. I cannot vouch for this approach since if you were to do something like this in Google, you'd get penalized and since YouTube is owned by Google, I suspect the same may happen. This is another strategy I would stay away from.
Video 11:
Here you are shown how to find popular YouTube videos and look up which keyword tags they are using. This is actually one of the better methods I found in the program, but in all honesty, if you know about keywords and finding them, you will probably not find much use from this strategy.
Video 12:
In this video you are shown how to make thumbnails for your videos to make them look more appeasing for YouTube browsers.
Video 13:
If you're shy and don't like talking, this video may help you. It shows you programs that will turn whatever text you type into automated speech to put into your video. I have to admit though, it is rare for these types of videos to look and sound good. People like authenticity when they watch videos, and this, at least in my experience does not produce high quality videos.
Video 14:
This video is simple and explains how once your videos become more popular that they'll attract comments and that you should engage with these people as this activity does affect your views and ranking in YouTube. 
Video 15:
This is the last video of the program and it just explains that you should be active with your YouTube efforts and post videos frequently to get more views and sales. 
And that's about it. Aside from the upsells which I didn't get, you also get a pitch to promote Fast Track Cash to other people as well as banners for this promotion.
Final Rating: Fast Track Cash.

Red Flag
2 out of 10 stars. Honestly, this program was a bit poor in quality and a bit vague, plus there's aspects of it which I did not view as good strategies for increasing views such as using other people's content.
And again, I too have used this strategy on my own way and I wrote a great beginner's guide to YouTube here. The great thing is that it only involves using free traffic methods as well as free programs to record the videos and do affiliate marketing.
My final thoughts: Ewen's programs are not scams, but here is the main problem:
They are also not good either.
He also cross promotes his other programs/products (many of which I've bought before) and is also now engaging in promoting a high ticket program where the costs are quite high to join.
Overall, I am never satisfied with the level of training I get from Ewen, and I believe that beginners may have this issue too. While some of the concepts he teaches in his programs are legitimate, they are mixed with outdated and poor quality training's which may absolutely affect the overall results people get from using the strategies.
At this point in time, I have not and probably will never recommend a program by Ewen Chia. Like I said, they aren't scams, but there's more factors to success than JUST a program not being a scam, it also has to have good, comprehensive training and I don't see that here…
If there's any other programs you know that are made by Ewen Chia which you would like me to review (I've reviewed about 7 so far so I'll provide links if you need reviews on the others), let me know below!