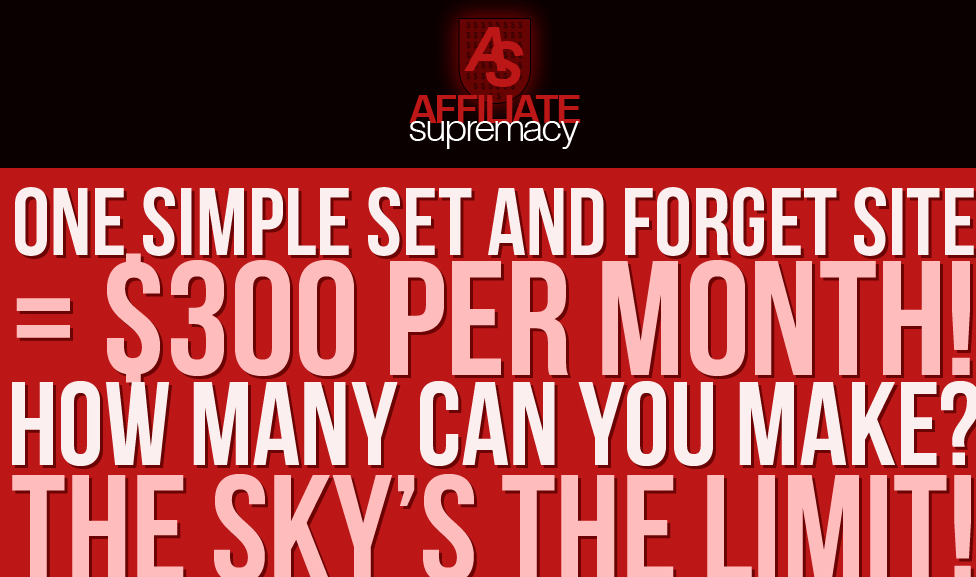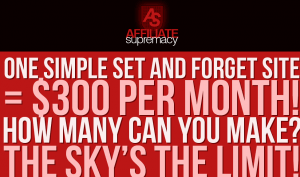 Quick Report:
Creator: Affiliate Supremacy by Craig Dawber. 
Price: A little over $9 and one ridiculously jaw dropping up-sell for $47 that I have dedicated a part of this review to, because I just can't believe a supposedly good marketer can even come up with this…
Overall Rating: 4 out of 10 stars
You probably won't learn anything new from this guide and I can teach you basically most of it through my own tutorial on affiliate marketing here. 
Affiliate Supremacy in a nutshell:
Affiliate Supremacy is a very new product that has been selling pretty well on JVZoo and that's how I found it. It's a very basic (but very well decorated) eBook on affiliate marketing. It talks about niche finding, basic promoting, list building and ways to create a good optimized website that can make you income. 
You also get basic instructions on creating a website, but without much images to show for this, especially during the technical parts of the book. I think this is very important and needs to be added.
Everything you get from Affiliate Supremacy:
The main Affiliate Supremacy eBook is 84 pages long.
I agree with generally a lot of the stuff Craig recommends doing within it and generally it is up to date on most of the strategies it recommends. It's a good read for beginners, but otherwise, I found nothing new. Whenever I read these types of books, I am always reminded of a tutorial I wrote up that basically explains the same thing. 
You also get 2 bonus eBooks with your purchase, one called the List Building Manifesto (96 pages) and another on article marketing (56 pages) to be added to with list building. At first I though both of these books were PLR, but it's actually written by Craig and he did a good job so I added an extra star to this review because of that.
There are also 2 outgoing links in the area where you get these books and they lead you to some other program I assume Craig is associated with. I didn't go to either of them because I assume they are just another promotion.
The up-sell fail:
I don't know if there is a better way to label the up-sell Craig tries to pitch you, but fail is certainly one of the words I'd use. I didn't buy it, but he gave more than enough information to show me what I would be getting, which is a great thing because transparency is needed on sales pages and Craig does do that, but on the other, what he's trying to sell is just a disaster waiting to happen in my opinion.
The up-sell is a 10 niche site package "deal" where you get pre-made websites with content, keywords and affiliate links. The way Craig pitches this product is by using an example of how Google changed it's indexing criteria for mobile devices and started awarding websites higher search engine results if their website was mobile friendly. 
This is absolutely true and I've also made the change to my site in anticipation of this event. But he uses this change to pitch his program and these pre-done websites are using a mobile friendly theme. So where is the actual disaster? 
Well if you've been in marketing for sometime, you may have noticed the following keyword phrase: pre-made websites with content and that should scare you. 
If people buy and use these sites, this means there's multiple sites out there using the same content and if you didn't already know, that's something Google does not like. They don't like it so much that they'll slap your site for what's known as duplicate content. It is black hat and won't work.
It doesn't matter how many sites you get from this package or any program which sells you this kind of thing, 10, 100 even a 1,000. As long as the content is the same and it's already been indexed by Google somewhere, they will find it and punish the website for it. You don't want this to happen.
It's shocking to me how Craig can even do this. If he is a great marketer, surely he must know about what can happen if people use these pre-made sites, right? I guess not. Not unless he has some trick to prevent Google from spotting that and the only thing possible for that is to make the page hidden or request it not be indexed, which then defeats the whole purpose of SEO. So it's not going to work.
Never, under any circumstances copy content or buy content that says it's already pre-made for you, no matter how pretty it looks or how much money the sellers say you're going to make. The only thing you're pre-making is your website's demise! 
Pros:
Lots of content to read and some parts of the 3 eBooks are very well written.

$9 is a pretty good price for this stuff.
Cons: 
It's not as detailed as I would like it to be. 

The only support email you get is in regards to feedback and testimonials and I feel it's a limited thing to have if you start to have questions when trying to take action with this book's recommendations. One of the only places that offers you excellent support no matter how many questions you ask is Wealthy Affiliate and that's a program that far surpasses Affiliate Supremacy:
Final Rating: Affiliate Supremacy

Yellow Light
4 out of 10 stars. This program has good information in multiple places, but there are better choices, like Wealthy Affiliate.
My final thoughts:
Craig did put a lot of work into this book, but I really can't award that with my recommendation because in spite of the content you get, a few things are missing, but they are very important to have, such as great support.
One of the problems with really long eBooks like this is that no matter how detailed they are, a lot of times, including in this case, much of the information is generalized which means those who are usually new will have questions, and a lot of them. 
With Affiliate Supremacy, there are several sections such as the one on pay-per-click which is very broad and that's a topic that needs an extremely detailed explanation.
Even though there are 100's of pages to read from all 3 books, the end product seems incomplete to me. That's how I feel about it.