The surprising thing about Ultimate Spinner Pro is that despite how "smart" it claims to be, it's foundations of creating content can create a massive problem for rankings and I'll explain that in this review.
Quick Report on Ultimate Spinner Pro:
Creators: Joshua Zamora & Rahil Ahmed.
Price: $19.99 (One upsell after purchase and 1 in members area).
Overall Rating:

2 out of 10 stars (Very risky to use for SEO).
The name Ultimate Spinner Pro was really enough for me to understand what the product was all about, but because I've done reviews on programs like these before, for the sake of not repeating myself, I decided to buy it. The program is not a scam and I will provide an inside look, but the bigger picture is the negative implications that can likely come from using this type of software for your website and SEO.
Ultimate Spinner Pro in a nutshell:
It's a software program you download to your computer that is meant to be used as a content spinner. There are many features within the program itself which do make the process of finding and adding content pretty simple as well as spinning. 
The purpose of this software is to basically make content creation much easier but I will explain why I can't recommend this program very shortly. 
An inside look into Ultimate Spinner Pro:
Access into the members area after my purchase was simple and there are a lot of videos available that explain the program, how to use it, the features it contains and more. Instructions were rather simple to understand and there were also bonuses offered. I'll go through each area first before explaining the program itself:
Home: Provides a welcome video on how to get started with Ultimate Spinner Pro.
Download USP Here: Just provides a video and download link to the software. Installation/insutrctions are pretty simple.
Must have: Leads into an up-sell for $15.15 for some sort of ranking system or program. I didn't bother buying it. 
Bonuses: Provides more videos/tutorials on SEO strategies and a download for PLR articles. I didn't get too deep into the PLR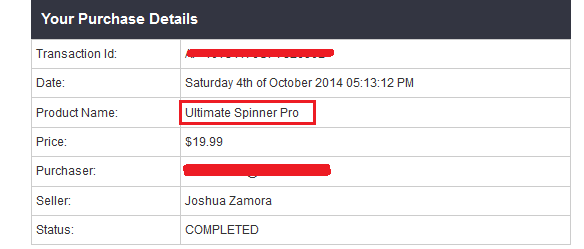 content, but I did look at some of the tutorials on SEO.
Some of it I agree with and it's actually pretty standard, like putting a keyword in your title when writing content and focusing on high quality content. 
Other information included putting relevant YouTube videos on your page and making your keyword bold in the first paragraph. Like I said before, some of it I agree with, some of it I don't. 
Get USP Free: You're provided with an affiliate link to promote the program to others. They also provide you with a message to attach.
As for Support & FB Group, it's basically what it sounds.
ASEO: It's a course that explains how to make your site become an authority site. It's 44 pages long. I browsed through it and there is definitely a lot of information that in my mind is correctly written like niche selection, finding keywords and other things. What I absolutely did not agree with was the mention of backlinks. Joshua's approach to SEO in my opinion is still applying old methods that Google has shown to punish in the past (and still does).
This is actually one of the main reasons I am not going to recommend Ultimate Spinner Pro. But overall the book itself does have great content (with the exception of backlinks). I do believe you'll get more in-depth directions and planning from sources like these, but this book is still good in my mind.
Now onto the product itself:
Ok since the spinner itself is the heart of this program, I want to separate it into it's own section. The plus is that the software does what it says it does. It's fairly simple to use and as I said before, you do get video instructions showing you exactly what options are available and there are many including the ability to translate content you find and have into whatever language you want.
Now one of the things that's available besides the options to spin your own content is to do what's known as "scrape" content from the internet. There is a spider icon that does this, but there's also an option to find content based on things like:
Keywords: You enter a keyword and content is found that contains it.

Categories: You enter a category or sub category and it also finds content based on the selection.
3 important issues I see with this program:
1. The content you pull up on the web mixes in together. Although there are many editing options available, if you pull up content from the web from different sources and combine it all into one piece of content to put on your site, the end result is going to look messy. 
Basically if you pull up content on say dieting, you may get various pieces of info to put together, but when you try to read it as a whole, you're looking at reading material that isn't organized and bounces on different sub topics related to dieting.
This in my opinion makes it hard to read. Content should flow easily meaning it's easy to read and is organized. 
2. The very nature of pulling up content, copying it and then spinning it is plagiarism in my view. This has been one of my biggest arguments against spinners. When you pull up content from another source and use it as your own, unless it's done with the consent from the original writer, it's wrong. Not to mention then spinning it and using it as your own is also wrong.
3. You're not going to see long term results from this. Google doesn't like sites which use this type of software. It's an approach to marketing that's black hat and many sites have been punished for doing this. And yet there's still programs coming out that continue to preach the same methods we already know are going to land you in hot water when it comes to SEO.
Pros:
There is some good material on the site.

Joshua and Rahil are nice guys and I can see they're trying to provide some good quality content with his product.

The program does what it promises. The implications it has is another story…
Cons:
This is a software which I feel is not going to help you in the long run.

I feel there your site may get Google slapped as a result of using spinners and some SEO advice they talk about (backlinks).

Some up-sells are present. One after you buy the program and 1 within the members area.
Final Rating: Ultimate Spinner Pro

Red Flag
2 out of 10 stars. There is no scam to this program, but the things it does can be damaging to your website. I am a firm supporter of using white hat marketing methods. No spinners, no shady backlinks, nothing of the sort. This is what training from my #1 recommendation, Wealthy Affiliate has taught me and it still works to this day and will continue to do so.
My final thoughts:
I really hate to give this a red flag. I know Joshua and Rahil are good guys and I know they really put in a lot of work when creating this software, but because I know what happens to sites which use these types of things is the reason I can't recommend it.
The only other thing I can say is that unlike the other spinners I've reviewed, this one offered a lot of good material on SEO, although it was mixed in with information that I though was bad. Excluding the backlinks and the actual software itself, the rest is good information.