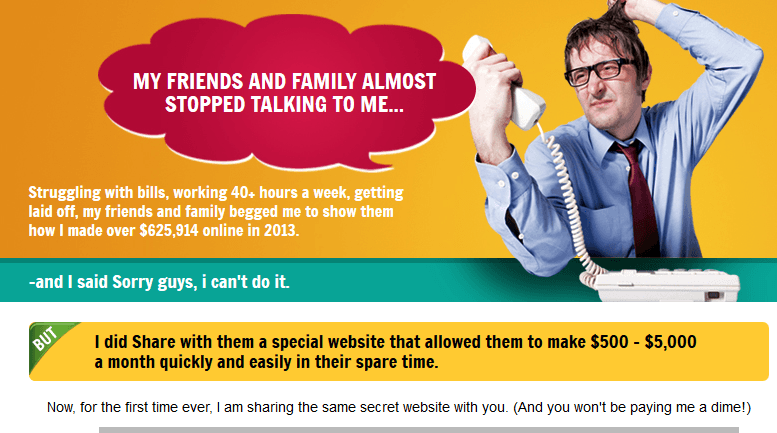 If you run into a program called Dan's Success Plan that looks like the image to the right, read this review so you can see why I don't recommend it.
Quick Report on Dan's Success Plan:
Creator: Dan apparently (no last name).
Price: Unknown.
Overall Rating: 1 out of 10 stars (Scam)
This isn't the first time I've visited a site like Dan's Success Plan and the previous times I had encountered pages like it, I discovered they were a scam. Is this the case for this program? I believe so. 
Dan's Success Plan in a nutshell:
I believe it's just a funnel to get you involved with some sort of company or MLM for a low starting price. I've seen this before.
I tried to sign up on the site to see how far this would go, but the page either kept erasing my email or when I finally managed to sign up, it referred me back to the homepage, thus I would have been left wondering what's really up. "Luckily", because I have already seen sites like this in the past, I knew what to expect. 
Understanding how this program really works:
There is a lot of hype on the sales page and what you're told is that you'll be shown a "secret website" that generates thousands. To find out what it is, all it will ask you to do is sign up. However, what you expect to be free is just going to lead to something like this:
You'll be led into another page which vaguely shows you the site as well as more claims of how much money it's supposedly making. However this information is a clever way to get you to want to see more and this is all being done to lead up to a sales process. In this case, we're talking about a tool kit you'll get for "free". It's even mentioned on the site. Here is the screenshot:

This sounds like a nice thing, but with the previous programs I've reviewed that are like Dan's Success plan, the tool kit is free, but not the shipping and handling and this is how they get you. What usually happens is that they'll sign you up for reoccurring charges and this may actually end up happening before you even get the tool kit or even have time to test it.
While I did not go deep enough to find out if this were the case with Dan's Success Plan (because it wouldn't let me), the previous programs I reviewed:
All did this in one way or another. In fact, the way they tried to sell you their system was nearly identical to this one:
They show you a video of how much money they make (which I don't believe).

They tell you there is a secret website they'll show you for free if you sign up.

They give you 4 steps showing how to get started. 
Where have we seen this all before?
Oh right, Dan's Success plan. I mean if you need more proof, here is a side by side comparison of how they site looks. To illustrate this example, I'm going to be comparing this program to Eric's Success Plan. First we have the picture at the very top:
Couple of things to note. The text is pretty small, but I'll quickly explain:
1. The text is pretty much identical. Same claims on how much money was made, how friends/family stopped talking to them.
2. Same promises on $500-$5,000 website. 
3. Same picture of the man on the phone grabbing his head/hair. 
4. If nothing else, the name itself is similar.
I mean how much more obvious can it get? And there's more.
Besides the very common text you will see among both pages, there are also the 4 steps which are nearly identical. The same claims about signing up for free, getting a free site/tool kit, seeing if you want to partner with the guy after you reach the $5,000 mark. This is all seen with Eric's Success Plan.
I could put up a screenshot to prove it, but I think what I've shown/said so far is enough to prove my point: It's a scam. The ONLY difference in the 4 steps listed on Eric's Success Plan is that they say this:
Now this is not mentioned in Dan's Success Plan, but I felt it necessary to post this because it may also be the case with this program. It's not uncommon for you to receive sales calls in the guise of "business coaches" when signing up with programs like these. It may very well turn out that Dan's Success Plan does not do this, but I wanted to provide a possibility because it can happen. 
Pros:
Cons:
A lot of hype.

I don't even know who the real Dan person is!

Sales figures show "results" years ago, not modern days.

Very similar to previous scams I've reviewed before. 

The free claim is just a stepping stone to a sales angle.
Final Rating: Dan's Success Plan
Red Flag (Scam)
1 star out of 10. My previous experiences with programs like this are more than enough to deter me away from this. Plus even if this was a unique programs, there's many red flags that I see. I don't believe this is a legitimate program and the only place I recommend that works is this one Called Wealthy Affiliate.
My final thoughts:
If there's 1 thing you should take from places like Dan's Success Plan, it's that sites which hype themselves up but don't give much detail on what you're getting is something to stay away from. With this program, you're told about secret pages, limited time spaces and other things which in reality are nothing more than a way to increase the odds of you buying.
I don't like these methods of selling. I prefer to give people the realistic angle and letting them decide and what's ironic about that is that it works.
Truth beats hype. Hard & smart work beats chasing easy money. This is what my years in this business as well as proper training has taught me. Anyone can become successful online, but it's not going to come from some "secret website" like you're preached with this program. That's just marketing.
If you have a personal review of Dan's Success Plan, let me know below!