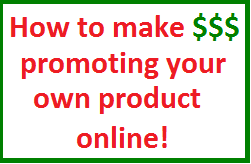 When you own a product, one of the best ways to sell it is online and in this post, I want to talk about 3 profitable ways you can do that.
I'd like to be a bit "non-traditional" with this post too. Up until now, most of what I had explained in terms of making money online involved affiliate marketing which for those of you who don't know is promoting and selling other people's products for a commission.
Most people who don't own a product and enter the online business world in my opinion should follow this approach and it's personally something I do to this day.
However because it's never a 1 size fits all approach and there's more than 1 way to succeed in this business, I'd like to provide you with another approach that is also commonly used and that is selling your own product.
While I don't recommend you do this unless you possess very good knowledge in a particular field, there is massive potential and benefits (as well as negatives) in selling your own product and in this post, I'd like to cover 3 specific ways to sell/market your product online.
Before I get into the methods specifically, I'd like to mention how simple it is to create and sell your own product on the internet. I've personally created, sold and have seen other people make tons of money by simply selling e-books which they wrote. Of course, prior to them being successful at doing this, they implemented very good pre-marketing techniques to create hype for their product (such as email marketing) and in many cases acquired other affiliates to sell the product for them.
The point I want to make here is whether or not you own a business, a tangible product or not, you can still have and sell a non-tangible product like an e-book and make great money with it.  So considering we have this down, let me cover 3 particular ways you can sell your product online.
Method 1: Make an official site selling the product.
Apply the very same methods affiliates do when selling someone else's product. While there are different approaches to this, let me give you the one I consider best which I was taught by a place called Wealthy Affiliate:
Find a niche that's interested in your product and then make a website promoting that product. Now when it comes to marketing that product, you can utilize various methods such as SEO and/or paid marketing methods like pay per click to sell your product to that niche.
The key here is being very relevant. If you wrote say a relationship book, make sure to only market this book to a specific relationship niche.
This method is all about doing the marketing yourself, but I would only recommend you try it when you have already successfully marketed someone else's product as an affiliate using these same methods. If you have, then it will be much easier to re-apply the same techniques on your own product. Get training here.
Method 2: Create an email list and sell the product to them.
This method is very similar to the first one, but it's different because you utilize the same tactics above, but for a different purpose: to create an email list. This is actually something most if not all the successful product owners do.
The acquire a very large email list of potential buyers, create a product such an e-book then sell that book to their email list. This can also have tremendous profits moving forward because you can release more products and sell them to the same audience.
The key to making this work is to again be very relevant, but in addition, in order to gather an email list, you have to have a website which already has visitors coming to it. Then it is key to either sell them your product up front or have them sign up to your email list, earn their trust by providing them with valuable free information, and then selling them your product later on. The latter can have greater benefits because those who subscribe to your email list will be more likely to trust you and as such be more likely to buy.
Method 3: Let affiliates sell the product for you!
Now this will require that you give affiliates a piece of the pie when it comes to commissions and honestly, the more you pay them, the more likely they are to sell it for you. A lot of vendors (product owners) only want to pay their affiliates a small portion and this actually kills the incentive for them to sell it for you.
Price your product in a way that even if you divide up the profits, that affiliates still get a good chunk. My rule of thumb is 50/50 at least! Make it fair. If affiliates are doing the hard work of selling your product, be kind enough to reward them greatly for this as this will only help you in the long run!
Ways to make this method work:
To have affiliates promote your product will require that you have an affiliate program on your website. Having this set up requires programming knowledge in my experience and is really a complicated task that's going to be expensive to set up. But the good news is that there's places which will handle this for you and the rest is pretty simple to set up.
One popular place which does this kind of stuff is Clickbank. What happens with them is that they will check out your product, your site and see if it meets their terms of service.
If it does, they'll provide you with special links to their check out cart. You can then provide those links to affiliates who are members of Clickbank to then make their own unique affiliate links and sell that product.
The good news is that all the technical stuff is handled for you. By going through places like Clickbank, if an affiliate makes a sale, you don't have to worry about figuring out how much they get. Clickbank does all of this automatically. I was and still am an affiliate for this program and have helped a number of product owners make more money because I worked to make the sales for them. As a result, I made over $500,000 through Clickbank alone.
Now while it is true that per sale you'll get less, if you have a lot of affiliates working for you, in the long run, you can make much more and work less. So it's really a trade off. I say if you have a good product and sell it for a good price, you can and should have affiliates sell it for you.
There are so many more options available for selling your products online:
Now obviously most of what I mentioned here is just the beginning. This post was meant to give you ideas to work with and to show you how much potential there is in marketing your own product online.
When it comes to the question of being a vendor vs affiliate, I personally prefer affiliate marketing (for now) because I feel there's more freedom in that. If there is a product that is not being sold well, I could easily promote something else.
If you're the vendor and your product isn't selling well or is getting a lot of refunds, it's going to be much more difficult to fix this issue. At the same time, both approaches while having many similar methods of marketing have amazing potential. Again I recommend you start with affiliate marketing, see how the business works and then if you have a product in mind that you want to sell, apply what you learned from affiliate marketing.