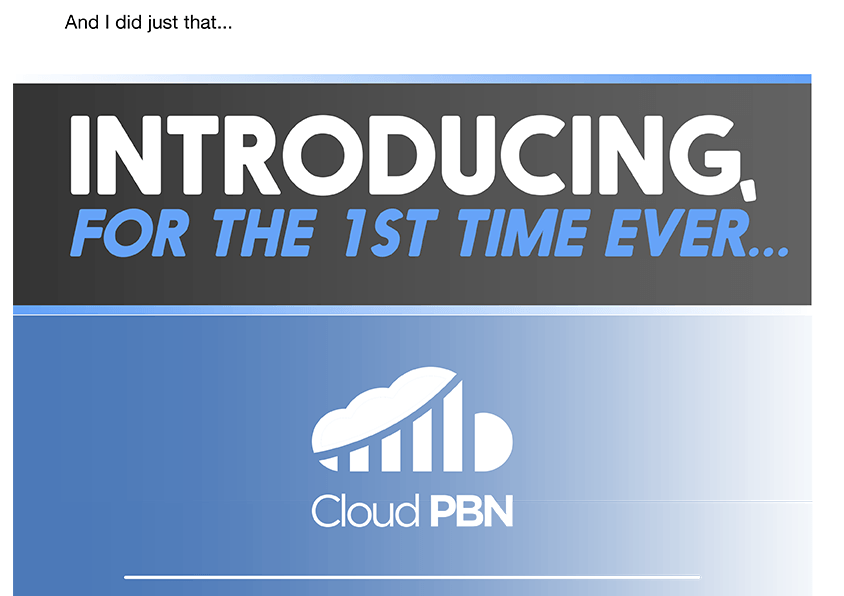 The goal of Cloud PBN is to help your website rank better, but does it actually make this possible? Well in this review, I want to say it can, but not long term in my opinion.
Quick Report on Cloud PBN:
Creator: Wyatt Jozwowski.
Price: $57, $67 & $77 (one time). Maybe potential up-sells.
Overall Rating: 2 stars out of 10.
It works, but can have bad long term consequences.
The idea of Cloud PBN isn't exactly new, but it does have a new spin on the concept that automates the process and while it can work, I'm going to explain why the long term results of using this approach to SEO can and probably will be very negative. In other words, I personally wouldn't use nor recommend it even though the system isn't really a scam as far as I saw.
Cloud PBN explained:
It's an automation software that creates PBN's (Private Blog Networks) and links them back to your site giving it backlinks. This process is supposed to give search engines the impression that your site is good enough to rank very high for competing keywords. 
The whole process is very simple as shown in the sales video. You have your own website, then use the Cloud PBN software to create small blogs that target specific keywords. The software then creates those blogs and adds spun content to them and links back to your site through a content spinner. This provides your site link juice and helps it rise in the SERPS (search engines).
Technically it is possible to rank on page 1 of Google for a very competitive term quickly and based on the sales videos I saw, the keywords that were targeted were pretty competitive. For example, in the sales video, Wyatt talks about how he ranked on page 1 for a big keyword "Clearwater SEO". I personally looked up how competitive it was using my favorite keyword tool, Jaaxy and this is what it showed me:

Technically the keyword isn't too competitive (notice the green light), but ranking on the first page in days is quite a feat. And usually in my experience anything that ranks that high for a competitive term usually indicates black hat marketing may be involved which is what I believe the case to be with this software. This is ultimately why I will not risk using this program. 
Would I recommend Cloud PBN? No and here's why:
As I said earlier, the concept Cloud PBN uses to rank sites high isn't exactly new. What I meant by that is that a few years back when black hat marketing was very common in the SEO world, one of the most common things was link building in a way that would later be considered low quality.
Basically a lot of people in order to boost their website/s rankings would either:
A) Buy link packages from third party companies who would then take the website, spread it across their websites/forums/blog networks, and link back to the main website. The more links the original site in question would have, the more links the main site would have, the more weight it would be given in terms of authority and would thus be ranked higher. 
B) Some people would create and/or pay others to create private blog networks related to their site's topic, fill it out with content, link it back to their main site and this would also be a form of backlinking which would also boost their ranks.
Unfortunately for them, this approach would later be considered very low quality and sites which were linking back to the main site's to give them link juice would have their value depreciated greatly and even to a point where it would be "toxic" to have one of those low quality links/sites linking back to yours. 
In other words, this approach to SEO became a thing of the past and any site thereafter which was caught doing this would sooner or later be spotted and penalized. To this day, there's still people and programs engaging in this form of SEO and while it does have initial results, the long term consequences are almost always the same: You will get caught and your site will get punished with being ranked low. 
What Cloud PBN basically does is automates the process of example B I mentioned above and even though it does make it easier to make backlinks, it's still an approach to SEO that I already explained is not considered safe nor high quality by Google. 
More reasons I'm against using Cloud PBN:
There's also the other part of this software which I don't like which is the spun content being created on those PBN's which Wyatt said is unique content. I hear that a lot from similar programs but in all cases, I consider it plagiarism because the content is taken from another source and re-worded to look unique.
The final product, though spun and "unique" isn't grammatically correct and in most cases is just too tough to read, but it's also taken from people without their consent. I consider that plagiarism and am totally against it. Let's not forget that Google is also against this sort of stuff.
Pros:
You can get high rankings quickly, although there will be the other side of the coin.

Sales page is pretty transparent which is not something you often see these days.
Cons:
Most of the results you will get from using this approach to SEO are likely to fail in the long run.

Search engines do not like this sort of stuff to be used. It basically tries to trick them.

A lot of black hat marketing methods used which I personally do not approve of. 
Final Rating: Cloud PBN

Red Flag
2 starts out of 10. While it can work, the results will be initial and long term wise, it's too risky to do this sort of stuff in my opinion. If you want to build a long term online business and not worry about being penalized by Google, here is my #1 recommendation, Wealthy Affiliate for making a successful website.
 My final thoughts:
The sales video for Cloud PBN really said it all and because I've reviewed programs like this before and have seen what it's approaches can do for websites long term, I believe it's not going to work out in the long run.
Also Wyatt did mention how this stuff is used by SEO Companies which I agree with, although I'm a huge critic of theirs not only because they overcharge for services but because they also use this approach to SEO which is very risky in the long run. 
There are people who use this approach over and over, get a website up and running, have it rank high via these sorts of methods, get it punished by search engines, then repeat the same process with another. While this can work, it feels more like a hustle than anything even remotely related to a real online business and I just can't approve of this.