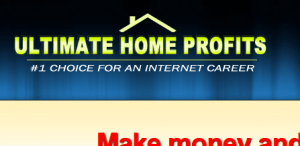 Ultimate Home Profits turned out to be a disappointing buy that frankly can be interpreted as a scam, because of how it's marketed, its "creators" being fake a number of other things I'll get into in this review.
Quick Report on Ultimate Home Profits:
Creator: Ultimate Home Profits by Michelle Robinson and possibly also Cami White? 
Price: $97, but by hitting the back button over and over, you can decrease the price to $47. There are 2 up-sells following the purchase, 1 VIP type package for $147 down sold to $79 and the second up-sell is a coaching call for $19.97 they say is valued normally at $379. How much time you get to talk to the "coach" is unknown.
Overall Rating: 1 out of 10 stars.
Maybe if I purchased the up-sells, it would be better, BUT for the regular Ultimate Home Profits program that was $47, there's just not enough training or specifics to really help you in my opinion. 
Ultimate Home Profits in a nutshell:
It's a membership website where you get very basic lessons on drop shipping, how to market on e-bay, and also affiliate marketing. Aside from this, the rest of the website has additional resources that appeared blank for me. I first though they weren't working, but I think it's because I didn't purchase the up-sells that they didn't show up.
I also believe Ultimate Home Profits is possibly recycled over from Excel Cash Flow because I saw several instances within the program (including the up-sell area) where the name itself was mentioned as well as that programs creator, Cami White. 
It's entirely possible they took some or even all of the framework of the Excel Cash Flow program and copied it over to this. For example (look at the grey text at the bottom. See it?):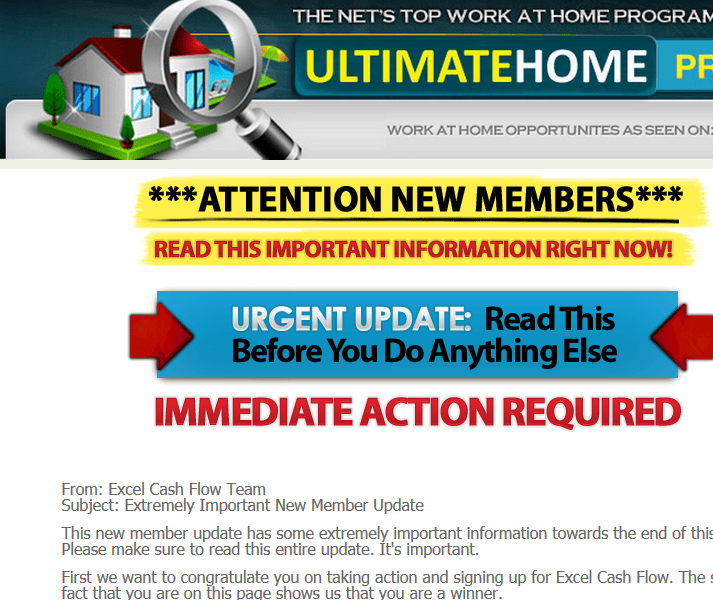 You can find that information somewhere in the members area, which I'll give you a tour on right now, but before I do I think it's also very important to share that these types of programs are usually pitched across work at home special report sites that are commonly scam pages that are fake.

The best way to explain this program is to just walk you though every menu item you see in the image above.
Welcome: It's just a video and number to call to schedule. But there is also a link to this area which takes you to a place which offers you a "free" site but ONLY if you pay for hosting (that's the catch).
Getting started: There are 3 sections to this place: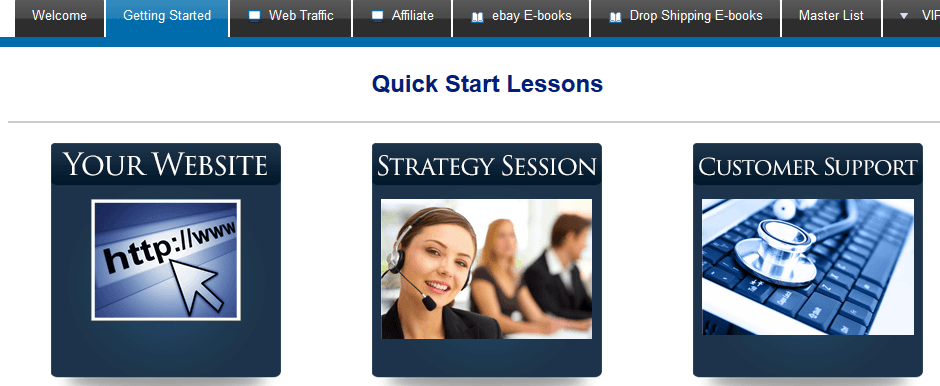 An image which says your website and links to the same offer you get in the welcome page.

An image that links you to a the same number to call as you also see in the welcome page, nothing more.

A customer support image (gives you a support number to call in case you have questions).
Web traffic: This section has 12 videos and the goal is to mainly teach you about list building, an all too common and at times outdated approach to making money. The training in this section is divided between how to use a program called Aweber for the list building part while the rest "teaches" ways to generate traffic for your website.
Now teach is really not a good word to describe these methods. You don't really learn many tedious things, just really an overview in each video of the different traffic methods. I can personally use this sort of information because I have experience with online business so I'm familiar with what they're trying to explain, but anyone who is very new is going to have problems in my opinion…
Affiliate: This section is also a broad explanation of affiliate marketing. There's 5 of them and you learn about things such as making affiliate links on Clickbank, compiling keywords for product promotions as well as how to take websites you're aiming to promote for, copy them over and add a web form to them so you can collect emails. 
Ebay books: 3 PDF's on ebay topics. One is 46 pages and the other 2 are both 10 pages long. Underneath these books are 5 videos related to the ebay topic, but I couldn't see them. I would just get a blank window show up. As I said earlier, I think it's because I didn't have access to them.
Drop shipping eBooks: There's only 2 here, one is 25 and the other is 19 pages. Drop shipping is very different from traditional affiliate marketing, but it is a business option many people do enjoy doing.
The Master List: It's just 2 things:
A list of the top 10 selling products on Clickbank which you can actually see on their main website by simply visiting marketplace. Also just because it's in the top 10 doesn't mean it'll sell like crazy for you.
These products and their topics range around the money topic, but if you don't know them, how are you going to sell them? I'm just saying this list isn't really important. As long as you have a topic you really like, you can always find products and hot selling products surrounding that.
There is an index of affiliate markets also listed and there's close to a 100 of them. Again in my opinion, this doesn't really help much if you don't know what you want to promote. 
People seem to mistake quantity as being some sort of definition of value or wealth. In a way it is, but if you don't know what to do with it, what value does it have? None. Therefore you need training on HOW to use those sorts of things and the training in Ultimate Home Profits is just too broad. Here's some real training from my top program Wealthy Affiliate!
VIP: Well this is the up-sell section and there's 3 parts to it, but all of them aren't accessible to me. 
Final Rating: Ultimate Home Profits
Red Flag
1 out of 10 stars. Nothing ultimate about it in my opinion, although that doesn't include the parts of the site which I wasn't able to see. 

My final thoughts:
Can it be argued that Ultimate Home Profits is a scam? It definitely can and based on just the things I saw, the quality of the training in there, the price ($47, but possibly $97 for those who don't know there's a discount!) and especially the money making claims this site makes, I would say it's a scam. 
If you take all of the content inside the site which is basically just the video training and exclude the up-sells, consultation call and hosting offer they give you, you really don't get a lot in my opinion. The videos do take sometime to listen through, but the practical value you can extract from that and really use is very little.