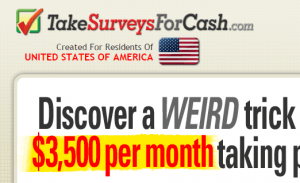 Whenever I review survey sites, I warn people to stay away from them in general, but mostly those which charge you to join. Take Surveys for Cash happens to be that type of survey site, and in the process, it is a scam.
This review will explain why.
Quick Report on Take Surveys With Cash:
Creator: Jason White. 
Price: Starts at $37, then downsells to $12 if you click the back button, then there are 2 additional up-sells after the purchase is made, one for $37 and another for $24, both of which I did not buy.
Overall Rating: 1 out of 10 stars
Even at $12, there is nothing I found within this program to show it's worth buying. Even the good things aren't good enough to pay for it. 
While browsing through some popular selling products on Clickbank, I found this program being in the top 10. I also spotted a few other survey like websites on that list. These things are popular, but they don't work as well as they are hyped up to be. 
One very important thing I want to point out is that just because Take Cash For Surveys sells well doesn't mean it's good. You're basically getting ripped off and odds are you don't even know it, so I'll explain exactly how it's being done.
Take Surveys For Cash explained (how it works):
Nearly every single scam paid survey site I've investigated has done the exact same things this one is doing:
Here's the MAIN point: This place is NOT a survey site. It just links you to them. 
It also promotes a binary options (generally these are scams) offer on the members page right when you enter and provides a bunch of eBooks on making money online, all of which are outdated and really not something you could make good use of. In the end, you're going to be spending money on stuff you won't use and paid survey sites you'll probably never make ANY good money with.
What Jason White is doing isn't new and sadly isn't what I consider legitimate either. It almost feels like the same scam is just being copied and pasted:
You're shown checks and easy "tricks" to make thousands every month. 

You're promised to learn the secrets of making money with paid surveys. 

The end result is ALWAYS the same: VERY little pay and info you probably will never be able to put into action. Read my story with paid online surveys to see why this is the case.
Let's take a look inside Take Surveys For Cash:
Well once you get passed those annoying up-sells and finally get to the members area (Watch out for the phone number "requirement" which I didn't enter), what you'll get are 6 steps:
Step 1: This is just going to introduce you to the system and explain how things work. Basically you learn how to find those surveys and take them.
Step 2: This should actually be step 1 because it's the FIRST thing you see when you enter the members area. It's an offer to a binary options program (Verified Traders they call it) which is going to require you deposit a huge sum of money. I don't doubt Jason White is going to on the receiving end of that investment.
Step 3: Just explains the obvious: Companies pay people to take surveys and all that kind of stuff.
Step 4: The only obvious tip you really get here is to register with as many companies as possible to earn as much as possible. The other things they recommend is getting some sort of program to auto fill in your registration so you don't have to re-type it every time you enter a new survey site.
Step 5: This is where you'll have to select your country and it'll give you a list of surveys. I live in the United States, so that's what I chose and here's a small snippet of the list I got:
And this information is NOT confidential. All of these sites can be easily found on Google. It's available for the public to view and join. I always criticize sites like Take Surveys For Cash because they ask you to pay for this information.
Step 6: This provides you with a few eBooks on making money through things like blogging, websites and other obvious things. You would think there's a goldmine of information here and there is, but sadly most of it is very old and there's not enough specific explanations on what to do. 
This is where you're going to have a million ideas but no place to actually start. I'd be lost if I were a beginner and read these books. 
This is where that illusion of value comes into the picture. Unless you can do something with those ebooks, they aren't very valuable. The only place I recommend learning how to make money online seriously is here in a program called Wealthy Affiliate. There's a place where you can actually put information to GOOD use.
And that's basically it. Altogether we have free information, eBooks you probably won't be able to make money from and an offer to a binary options program which I have never trusted. This is what Take Surveys For Cash amounts to.
Final Rating: Take Surveys For Cash
Red Flag (Scam)
1 out of 10 stars. This style of scams has been going on for years and now you know how it all works.
Other survey scam sites which do this EXACT same thing:
Click 4 surveys. Read my review of Click 4 Surveys. You're going to feel a strange sense of familiarity (considering you read the whole review on this page) and that's because most of what they do on their site is exactly the same as what Take Surveys For Cash does. 
Get Cash For Surveys. Oh look, another name for a site that sounds similar, but is it just the title? No, it's actually the whole program. In this case (yet again) we have websites that look like clones. I also created a review for Get Cash For Surveys after I entered their members area and well, it's basically the same exact thing. 
And then there's of course ANY other survey site where you have to pay. It's all a scam. The only survey sites that are ever worth joining are those that are free, but 99% of them won't make you good money. 
This is a VERY hard lesson I learned about paid online surveys when I first found out them and maybe just like you are now, was reading online and though I could make this work for me. Days wasted and $67 later, I understood what I fell for. And what I should have done is research this first, which is why I congratulate you for being on this page right now. Your skepticism may just save you a ton of time and money.
Is there ANY survey site I recommend? Not really. The only one that's ever come close is Paid Viewpoint, but I always warn people to keep their expectations in check. Finding a person who has ever made a good living through paid surveys is like finding a unicorn…