This is a review of Paged Profits Formula. I happened to get it so I am going to show you how it works and what you need to know.
Quick Report on Paged Profits Formula:
Creator: Unknown.
Price: $19.95 then 3 upsells.
Overall Rating:

3 out of 10 stars
Though I didn't buy the upsells from Paged Profits Formula, I did purchase the original product and in this review, I'm going to explain everything you need to know about how this program works as well as if it's worth trying. There were some good things about it, but also a couple of bad ones as well. I'll give you all the details.
Paged Profits Formula (PPF) in a nutshell:
The program was created by Sam Mann. The main focus of this program is to find local businesses anywhere in a country, find if they have a Facebook page and offer services to them such as building them a cover photo.
For those of you who don't know cover photos are backgrounds to your profile page on FB. A lot of people have begun to use this option to decorate their profile page and businesses often do this as well in order to advertise themselves better.
Paged Profits Formula seeks to take advantage of that by finding them and offering to make these cover photos better looking. In addition PPF also teaches you to help offer businesses more likes. I'll explain how all of this works when I get into the modules.
The whole purpose of the program is to find as many businesses as possible and try to sell them an idea to better their FB page and gets more likes. If they are interested in doing business, you can charge them whatever you feel is fair and then instead of doing the service yourself, you go to places like Fiverr where such services are offered for cheap prices, pay someone to do it there, and then keep the difference.
In other words, let's say a business which is on FB wants to get a better looking cover photo or more likes. You would charge them say $50 and then go on Fiverr and have someone do that service for say $10 altogether and keep $40.
This is how you make money in this business and while it is possible to have a good online business out of this, it's going to be a numbers game in the longer run, plus I don't agree with some of the things PPF endorses.
Inside the Paged Profits Formula formula (members section):
Here is an inside look once you buy the product: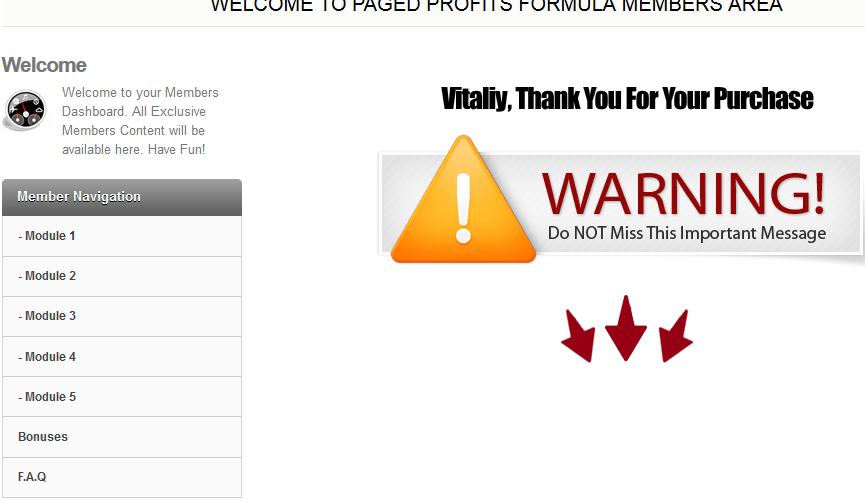 The most important part of the program is on the left (the 5 modules). The warning sign you see to the right is just a welcome video showing you how to get started.
Now the modules cover in-depth what I explained above as to how the program works.
Each module has anywhere from 1-3 lessons which contain a video and PDF version of it.
Overall you're looking at about less than an hour worth of video time altogether.
Module 1:
Explains the basics of PPF and finding niches. You'll learn how to find businesses in places like the U.S & Canada using search sites like Yelp & Yellow Pages.
The idea here is to find local businesses which offer specific services, thus making them niches. You'll then narrow down which specific places have little competition. The less competition and more people per city, the better.
Module 2: 
Here you learn how to take your selected niche and then filter it out on Google through a search "code" you're given. Basically you copy/paste the search term provided and fill in details of the local businesses.
For example, if I found there's tons of say Malaysian resultants in a particular  city, I would take that search term, fill in the blanks with the specific restaurant and hit search. The results would provide me with Facebook pages of every restaurant that fits my search.
Module 3: 
Once you find a list of businesses from module 2, the key then is to individually contact them and offer your services. The way PPF teaches this is to send them a message asking them a question, inciting them to respond and then offering services such as helping them make a better looking cover page or getting more likes like I talked about earlier.
You will get pre-made emails to send out. The idea is to keep sending out as many as possible to as many businesses as you can find. Again it's a numbers game.
Module 4: 
This will show you how to get paid via through places like PayPal. This module also covers what to do if a business decides to work with you and allow you to make their cover page and/or give them more likes. 
If this happens, you will then go to places like Fiverr, find people who offer those same services, pay them to do it the job, give the end result to the business owner and keep the difference. 
Now this is where I have some negative views and my main argument is that some of the stuff you offer to do like offer more likes on FB is too artificial. You basically pay someone on Fiverr to get likes to someone's page. It just rubs me the wrong way and I feel this process should be natural. 
As for making better looking cover pages and paying someone to do it. If they do it well and the business owner likes the end result, I'm ok with that.
Module 5: 
Basically summarizes the whole process in modules 1-4.
Pros:
It's actually not a bad idea. I like the concept of finding businesses this program uses.

I do believe there is potential to make good money with this. 
Cons:
I don't know how long this method can last. I see sending out so many similar emails to businesses as spam, although Sam advises to send out less than 100 a day.

The whole paying for likes on FB is not something I endorse. 

I feel there's not going to be a lot of businesses responding to your emails. That is why you'll have to contact as many as possible.

There's upsells.
Final Rating: Paged Profits Formula

Yellow Flag (Decent program)
3 out of 10 stars. There is good potential behind the business idea, but I feel there's better ways to make money online. See my #1 recommendation, Wealthy Affiliate.
My final thoughts:
As often as I see repeat ideas on making money online, Paged Profits Formula really does offer a new approach which I have never seen before. And while there is very good potential behind it, I feel if you're going to make this work, you're going to have to invest a lot of time and effort into contacting businesses. 
Now one thing I didn't see from PPF was taking things to the next level with businesses you sign with and that's helping them improve their exposure online through SEO and PPC. Although such things are mentioned in passing while I was watching the video, I feel there is massive potential in offering those extra services and in order to do that, you would have to know how it works. This is where places like Wealthy Affiliate come into play which show you how this is done.
You can use that knowledge and help local businesses succeed, while keeping a piece of the pie. It can definitely work. I personally have done it before and can tell you there's amazing potential behind it if you know what you're doing.
Now to once again summarize, I like PPF's approach, but I feel there's better ways to find businesses and advertise to them. This just seems like too much work in emailing so many places. But if you do make this work, don't neglect the opportunity to also take it to then the next level like I mentioned.