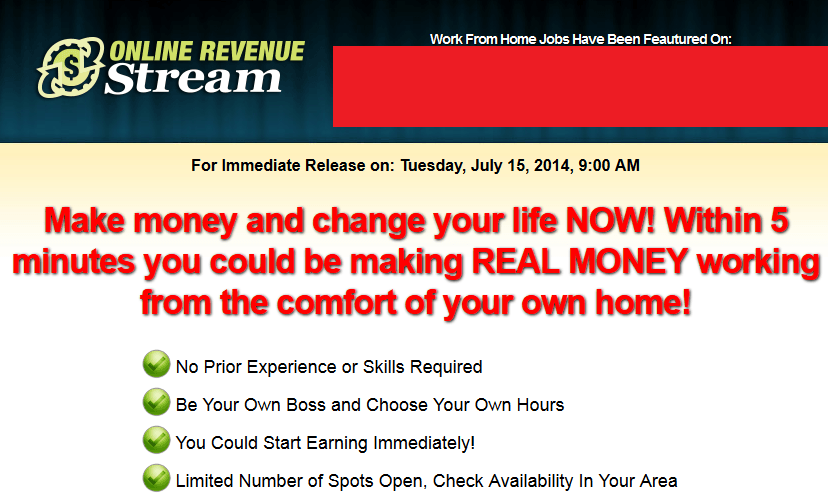 I don't have the most favorable review (scam) to give of Online Revenue Stream, but the good news is that I will show you what's better.
Quick Report on Online Revenue Stream:
Creator: Unknown.
Price: $97 (And likely up-sells).
Final Rating: 0 out of 10 stars (Red Flag. Another link posting scam)
Online Revenue Stream explained:
Online Revenue Stream is just another one of the old copycat scam sites sprouting left and right which promise you riches for doing seemingly minuscule work. They claim that you can make great money posting links for big name companies who are "desperate" for it. 
I have seem the same text, the same claims, the same duplicated websites over a dozen times like this before and in every instance it turned out to be a complete scam. With Online Revenue Stream, it's no different and I will be advising anyone who stumbles upon that site to click the back button. 

How I find these scam websites: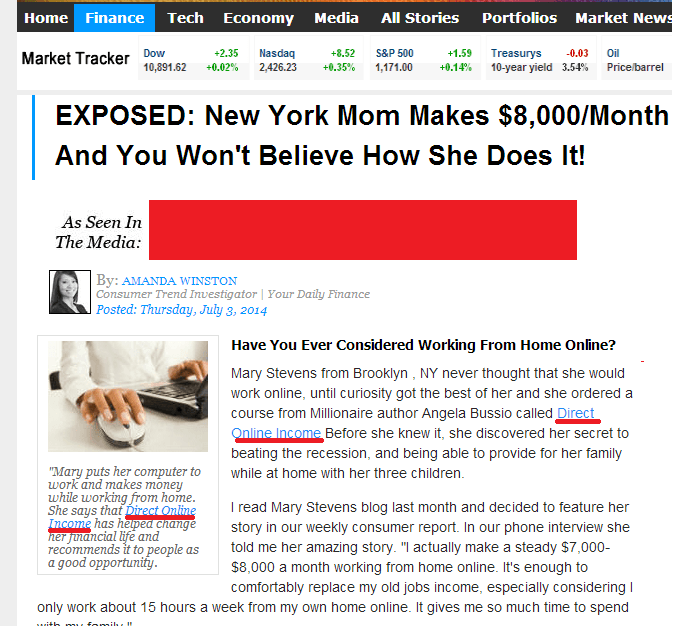 Generally, I've always found these scams from sites which look like this:
Whenever I stumble upon a these work at home special report sites or any other promoting known scams I've reviewed before, I bookmark it immediately.
I also add it to my work at home scams list page too for reference.
I do this because these pages are the ones which usually advertise the scams and what also happens is that they often change the name of the scam they promote. Here's another example called Top Jobs Reviewed.
So what happens is that I actively re-check those sites I bookmarked and if they promote a different program, I immediately hop onto my site and let people know about it. Long story short, I stumbled onto Online Revenue Stream through one of my bookmarked scam sites.
The faster I can inform people about these places, the better and safer the internet will be.
What you need to know about this particular place:
1) The pictures they post on their site are usually taken from other sources and not in anyway related with the person writing up the website. They just want to give you a false connection.
2) Their "As seen on" icons are also a false connection they try to make you believe. They always put up videos of work at home news reports which are aired on major networks and give people the impression their program is somehow connected with this news report. This is false. 
3) They use coding to identify which area you're visiting their site from. For example, if I live in Ohio, and I go to their site and sign up, they will say there are spots available in Ohio and I can act now. This is just coding and another deceptive tactic.
4) The promises of link posting are sugar coated like crazy! They make you believe it's so simple anyone can do it (I'll explain below what the truth behind this is).
5) They also say they'll give you a 1 on 1 consultation. These almost always mean you'll have sales calls trying to get you to buy expensive internet coaching packages. NEVER, ever go for this! Here is a screenshot of how this is written on their site:

Is there any truth to what they claim?
In spite of this place being a scam, it does touch upon a theoretically true way of making money on the internet: Posting links for big name companies. Unfortunately it's the sugar coated version and unless you know the real truth, you'll likely to be scammed by this place or others like it.
The truth is that it is possible to make money online posting links for big name companies, BUT there are VERY important missing details. So here's the basic idea (the transparent version):
You create a website (Not that difficult.

Here's how I make my own websites

in less than 1 minute, without coding experience).

You get visitors to that website (It's a process that builds up).

Once visitors come to your site, you can post what are known as affiliate links on your site which promote products from big name companies like Amazon. If people buy those products from your affiliate link, you make money.
There are more details, but this is really the meat and potatoes of it. Here's the full explanation of how to make money online.
Pros:
Cons:
It's a scam.

Expensive coaching likely to happen.

Hyped and deceptive marketing.
Final Rating: Online Revenue Stream
0 Stars
Red Flag (Scam)
0 out of 10 stars. Just another copycat scam site. Avoid. If you want to truly find out how to make money online, here is my #1 recommendation and that is Wealthy Affiliate.
My final thoughts:
As long as these scams continue to sprout, I will continue to do my best to catch them as soon as possible and inform my readers of it. In addition to that, if you're reading this now and know of other sites like Online Revenue Stream, please let me know in the comments section below. And remember, I also have a list of the other copycat scams I've reviewed thus far. Also please inform anyone you know who stumbled onto these places about what they really are!
Now as for the ability to make money in this business, I can tell you right now it's completely possible. I've been making money online for over 6 years now. What I can tell you is that if you're looking to get into it to get rich quick, you're in for a disappointment. That's just not how it works (at least not at first).
Making a consistent and sustainable living online, whether supplemental or even full time as I do takes time. This can be weeks/months and how fast you see results generally depends on 2 factors:
1) How much work you put into it.
2) If you have the proper guidance that shows you the RIGHT way to do it.
Unfortunately #2 is very hard to come by because there are just SO many scams out there. I've reviewed over a 100 products thus far and only rated about 5 or 6 of them as legitimate, with Wealthy Affiliate being one of the best and most newbie friendly.
My advice is if you're going to get involved with this business is not to look at it as a get rich quick scheme, but as an online business that you are building up. There is a lot of potential in this business and you can make a lot, but it is not going to happen through very little work that places like Online Revenue Stream like to give you the impression of. It's going to come as a result of hard work and putting into action proper guidance. That is how you do it.
That being said, if you have any personal experience with this program or know others like as I mentioned before, please let me know about it!