When I first started in online marketing, the first keyword tool I ever used was Google's keyword planner. But it had many limits and I needed alternative tools. I found 2:
Today, these 2 keyword tools are the only ones I use above all the rest and the name of the first one is called Jaaxy. I honestly think it's the best alternative to any tool out there because the plethora of information and insight it offers is unmatched, but in this article, I will only compare it to Google's and the second is the Keywords Everywhere.
Firstly, let me start by saying Google's keyword planner (tool, whatever you want to call it) still has some major benefits worth noting. Here are some:
Pros:
1) It is completely free to use the Google Keyword Planner, but you are first required to sign up with Google Ads.
2) Since Google is the go to search engine for most people, the data offered there is probably the most up to date you'll get.
Cons:
The thing about the cons is, the more I use my alternative keyword tool, Jaaxy, as well as the other one, the more of them I find in this one. So here goes:
1) Keyword data is extremely vague to say the least. Look up general or specific terms and in the best case scenario, you'll get data which is in a wide range and if the term gets few searches, it'll tell you there's no data found. 
2) Second and just as important is the data on competition only reflects PPC competition, meaning the number of people who place ads. As someone who does SEO and focuses on organic rankings, this competition info is absolutely useless to me. 
3) It's become harder to access this program over the years. Before there was a single site you could go to in order to look up data, now you have to log into an Adwords account before going there. 
4) There is a bid option recommended near each search term you discover which suggests that if you do PPC, then you should pay so and so per click and I find from my experience, that suggestion is ridiculously inflated, very often.
5) Sometimes, you are not given similar terms in the search results. If I do a search for something like "make money online", I'll only get vague data on the term, no other suggestions and I'm left to figure it out on my own. Sometimes it does work though, but I would prefer it happen every time…
6) They also make you select some sort of product category in addition to your search which kind of complicates things. I only want to do a search and nothing more, it doesn't have to be this difficult. 
7) I would argue that the lack of evolution and vague information provided by this program directly or indirectly led to the marketplace demanding better alternatives and this is why a lot of people end up going elsewhere to do their keyword searches, including myself.
And that finally leads me to my 2 alternatives and where it's better:
So Jaaxy is my main preferred option as you already know (I'll get into the other option shortly). I can't even begin to tell you the plethora of profitable search terms I've found over the years thanks to it and it has helped me with not just my SEO campaigns, but also my PPC campaigns, greatly in fact. 
So let me give you some details:
Whereas the Google keyword tool (planner) provides very vague data, Jaaxy is quite possibly the most accurate. Let's do a side by side comparison of even a vague term to see the big, obvious difference: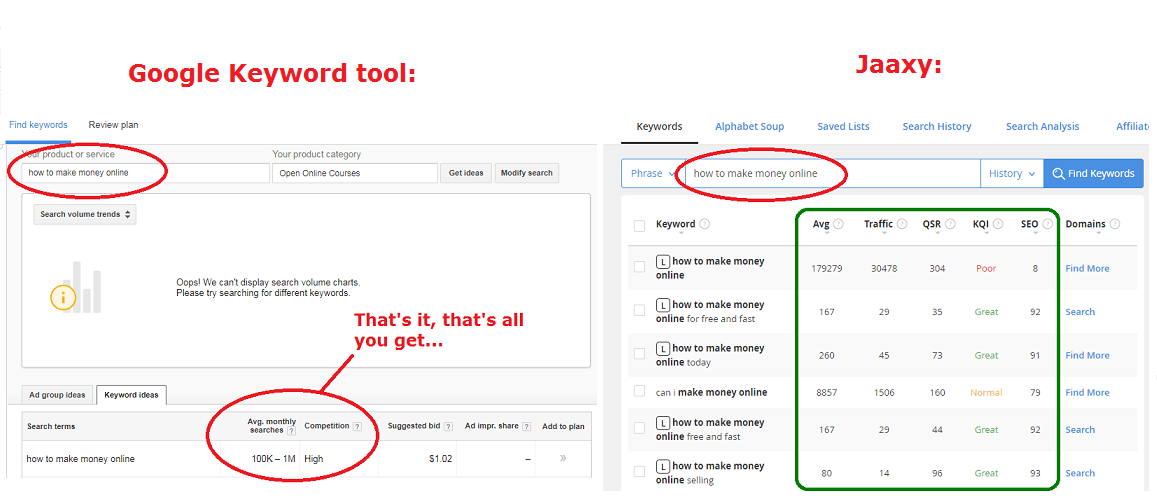 I apologize for making the image a bit smaller, but this is to showcase all the extra and ACCURATE info you get from Jaaxy. Basically, one gave me vague results, while the other gave me much more insight. I have much more details and better proof) on the perks Jaaxy offers ere.
Furthermore:
Jaaxy provides me with related searches.
So if the term I find isn't to my liking, I can always look up other terms automatically provided to me. This allows me to have way more brainstorming ideas happen without having to dig to deep. Like I said above in the cons, sometimes Google's tool will show that, but in my case, it didn't. And I did a pretty vague search which should have technically shown me similar results. Perhaps I should have provided more concrete info in my queries, but even if that's the case, it shouldn't be that hard to do a little research…
Now the other big thing I criticized Google's tool for was not showing me competition. Jaaxy does and the competition it shows you is the SEO competition, a big and important factor in considering whether or not it's useful.
Now what is one to do if they want to look up PPC competition? Honestly, I'd say it won't matter, just use the terms Jaaxy provides you and it'll be enough if you have smart PPC campaigns set up. And if you're not familiar with how to do it, here's a great tutorial on pay per click that'll have you spending pennies on ads, not dollars.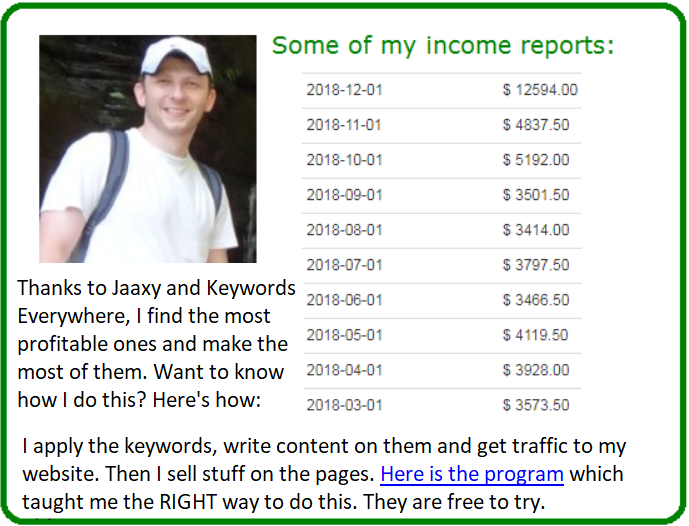 So let me summarize. Jaaxy is superior because:
The data it provides is much more thorough, in-depth and more open ended. 

The data is much more closer to accurate than any other.

You actually get real competition numbers. 

The program is updated to reflect the most present keyword data.

Even when the term you look up has little searches or competition, you get similar searches and/or ideas to work with so you can better find that golden term.
You can use this tool for free for 30 searches, but there is a small fee to it, after, and one I personally and happily pay because the info and value I get has provided me with smart choices in the search terms I wanted to target that led to profitable results.
It is also very easy to use. I think beginners to keyword programs in general will find this one to be quite simple and even fun to explore.
Overall, this tool's obvious benefits save anyone who browses for profitable keywords time, energy and helps them make smarter choices about the search terms worth blogging about, advertising on and so forth.
About the second alternative to the Google Keyword Tool: Keywords Everywhere.
As for the second alternative, Keywords Everywhere, I write about all it's benefits here.
The main thing that this particular program helps me do is brainstorm a multitude of KW's very quickly, which I then take and examine more thoroughly with Jaaxy, allowing me to choose the best one/s in the process. And like I said, with these 2, I don't need any other alternatives.
My final thoughts:
I'll tell you something extra, I've used Jaaxy on numerous occasions to set up Adwords campaigns. It was just so easy to use it and export the search terms I found that it really made the process quite quick and easy.
I really wish Google had evolved their tool. They do a wonderful job of updating their algorithms to make sure people get the best results and if they put in that much effort to helping people find good, profitable keywords, they would easily conquer this marketplace, but because they haven't, the only king as far as I'm concerned is Jaaxy and it is my recommended alternative.
I'm sure there's other alternatives people have tried besides these two and I have to be honest, over the years, I have too, but nothing is better than Jaaxy so far.
In terms of ease, fast learning curve, simple to understand data and the possibilities of using the data to make smart choices in your SEO and PPC endeavors, it is the best I've come across so far and like I said, I have HAPPILY been using it for years. So has anyone else who has tried Jaaxy.
Update: Keywords Everywhere is not free anymore.
I explain the updates and new pricing of Keywords Everywhere here, but overall, it is still a great alternative to the Google Keyword Planner. But still, Jaaxy is the one I would recommend if you want to know my top recommendation.