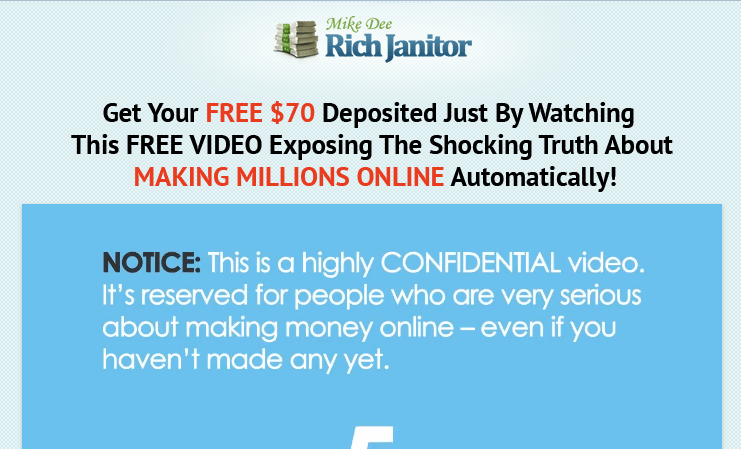 There's 2 words I'll use to describe Mike Dee's Rich Janitor for you: Mixed bag. And ultimately, in this review, you'll see why it's not recommended.
Yes I purchased it and yes I will give you folks an inside look within this review, so let's do this:
Quick Report on Rich Janitor:
Creator: Mike Dee.
Price: $27 with 2 up-sells after purchase ($97 then $197) and 2 (I think) more offers after you buy. Certain strategies involve buying a website or registering with third party websites, most of which are free.
Overall Rating: 

3 out of 10 stars. 
This is the sort of product where I was conflicted. At first I though it was a scam, then saw some good strategies, then some ethically questionable, so I settled on giving this a yellow light.
While a lot of what Rich Janitor talked about in it's member's area was very familiar to me, there were a lot of new things I learned, but while some were very interesting, I found some to be quite shameless so when you read this review and I talk about those grey area marketing methods, I'm going to advise what I personally believe to be the more "ethical" way of doing it. 

Rich Janitor in a nutshell:
It's a website which shows you a lot of different ways to make either "a lot" or just some extra money online from about 20 different strategies, some of which will cost you extra money.
A lot of the methods involve using Clickbank and promoting programs from there (through affiliate marketing) and from my experience, you can make good money from Clickbank, but Rich Janitor would not be the program I'd take advise from on this matter, as it's my #1 recommendation, Wealthy Affiliate that helped me reach that goal.
Anyway, within Rich Janitor, some of the methods I feel are outdated and spam like so I can't say they'll be able to work, but some I haven't tried and out of those new ones I saw, some of them were actually pretty genius. Again, this whole program is truly that mixed bag I talked about, but ultimately, it tilts to the negative side.
Rich Janitor, the inside look:
If you look to the right, this is the members area screen (dashboard). I'll be going over some of what's there including the up-sells. The first thing I'll be covering is the icons to the top left of that image.
You may not be able to see it due to the size, but there's 4:
A Home page which is nothing more than an intro.

A video software icon under that.

Then underneath that an option to make a website.

And finally a notebook like icon which isn't that important to read. It's just 5 PLR books. 
I won't bother explaining the PLR books or the home button because there's not that major so we'll stick to the 2nd and third 3rd icons and what they are:
Let's start with the video software (remember it's #2 out of the 4 above):
You can choose to do 2 things:
Create a custom affiliate link and message and use the software to select nice topics. Then the software will find popular videos based on the topics you chose and you can comment on that video and insert your Clickbank affiliate link. A lot of this is done on auto pilot so it's comfortable, but it looks like spam to me really. 
The second is the ability to have Rich Janitor give you videos that have your affiliate link within the description to help you market various Clickbank programs again. Just like with the custom message form, you also select from a variety of topics and the software will choose a video for you. And again, I have to say, I feel like this is spam as well. 
The second thing we have is the ability to make a website. You're going to be encouraged to sign up with Godaddy and make a domain name. The only real software in this section is just one that helps you select a domain name and let's you know if it's available or not. You are then shown how to set things up from a video.
I didn't find too much value in these programs and feel like you can do it on your own. As for websites, if you've never experienced making one, I wouldn't go this route (at first). I'd start off with a more comfortable way to make your website. That option will provide you with a free site just to get your hands "dirty" before moving forward.
Onto the next phase of the training (#3 of the 4 options above):
This covers the left hand side. Now we'll move to the right hand lower side of the dashboard which covers specific marketing methods and extra ways to earn cash.
Again, I won't go over them all for a few reasons (nothing selfish I promise), but I will cover enough to help give you an idea of what's going on. You will see another screenshot to the right. Some of the topics are cut but that's not a big deal.
Some of the usual methods (which I already know about) included:
Article marketing:
You were told to write articles on article directories and link them to your site to get traffic. This method is very outdated and really doesn't work well. 
Blog marketing:
You find blogs related to the program you're program (in it's niche subject) and post your affiliate links in the comments section.
Again, another outdated method as you'll RARELY find anyone who owns a site and allows comments to let anyone post affiliate links OR links for that matter. It can still work but your best bet is to provide a valuable comment to the website owner which Mike Dee does talk about doing.
I do blog marketing and my #1 recommended program, Wealthy Affiliates teaches this extensively. In fact, this blog is an example of the product of their training.
Video marketing:
Just a tutorial (video) on making videos using free software and uploading them to popular video sites. That's actually what submit video 1 and 2 get into details on.
Forum Marketing:
Really the same thing as blog marketing, expect you find forums to put your affiliate links on plus get in contact with people privately. I personally don't like Forum Marketing. It's really a grind more so than actual marketing.
Product Creation (

where it gets questionable

):
Talks about making your own product and having affiliates sell it for you.
You can really create
a product (PDF for example) based on something you REALLY know well, like a solution to a problem, or you can follow how Mike Dee showed it (and this is where it can get unethical in my opinion) where he shows in a video how he copies and re-words text from a person who talked about solving a certain problem (through a free source by the way) and then takes that information, puts up for other people to promote and uses that as his own product.
I couldn't believe what I was watching because in a manner of speaking, that's basically plagiarism and theft, no?
It maybe not be something Mike endorses (I certainly DON'T!) but why in the world would you even show this in the first place? You're teaching people how to copy and steal other people's work that they put up FOR FREE online and then sell to others.
Never do this. Always write your OWN unique work. 
Now some for methods I never heard of but liked:
Seized cars marketing:
A very surprising method I've never heard of before, but there was an ethical issue I found again.
Basically in this method you connect to a website Mike shows you which is associated with Clickbank and send visitors to that site looking to buy cars. You send visitors there via an ad like website where people can find what they're looking for.
So if you send someone there and they buy a car, you can get paid a commission. Really not a bad idea and I found myself nodding while reading, but the problem came when Mike started showing in his example him pulling up images of the car he was using in the example.
The problem there is that the images he was putting up were not the same as the one being promoted (I didn't even see images there) so the problem in this example is that a person who sees the ad thinks they're getting the type of car that's appears in the image while it's entirely possible it won't be. Again, something I do not endorse doing. 
User testing:
I have heard about this vaguely in the past, but this is a site where you can get paid a pretty decent amount to look over websites people have created and get paid to basically review it. It's sort of like a focus group, but you just review websites. This strategy I like because it can provide the chance to make an extra buck. 
There's a number of other methods I haven't mentioned, but by this point, you should have a clear picture of what Rich Janitor is all about. So let's wrap up this review:
Pros: 
Some interesting and practical methods of making money. 

Video tutorials within members area are pretty clear to understand. 

There is a number available to contact Mike (I haven't tested this).
Cons:
Some methods are very unethical.

There's also a lot of methods which are outdated. Unless they're updated, they would be a waste of time.

Other than some money here and there, I don't see there being a long term business out of this, just a grind.

I wouldn't recommend many of this program's strategies to people. There's better ways. 

There's a few up-sells.
Final Rating: Rich Janitor

Yellow Flag.
3 out of 10 stars. If you decide to join, if you decide to follow some of the questionable strategies I talked about, PLEASE be ethical. Most of the other training is really a waste of time, but I did learn some new good things. Overall, I can't recommend this program.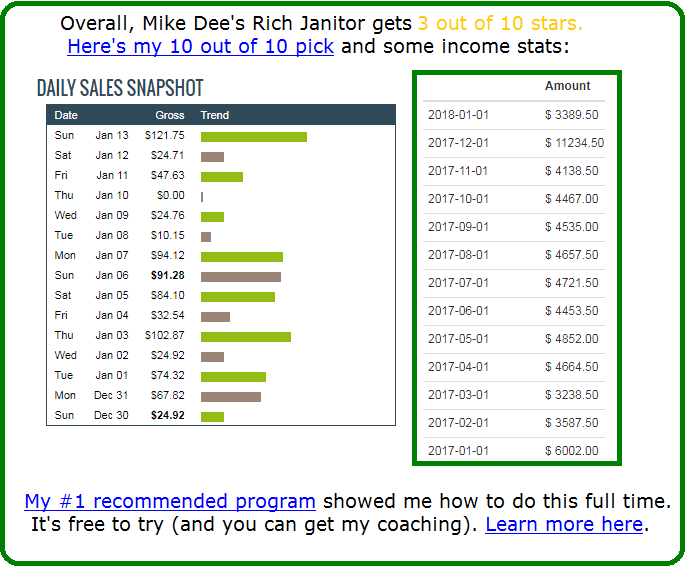 My final thoughts:
Even with relatively low quality programs, you can always learn something new. With Rich Janitor, I definitely did gain some new knowledge on ways to market online. Aside from the ethical issues and some outdated strategies, you do have some good stuff left, but not a lot.
If there's any questions you may have on this program, let me know since I now know it all 🙂