The very title of the Infinity Downline program is suspect because it implies that you can keep promoting it to an infinite amount of people, which is literally impossible and that was one of the first questionable things I noticed about this program going into it.
In this review, I'll be talking about this and other issues I spotted, plus if it's a scam.
Quick Report on Infinity Downline:
Creator: Unknown.
Price: Initial cost to enter members area is free. $25/month charge to be able to get paid for referring people, plus A LOT of offers within members area that while optional are really annoying to describe.
Let's just say it's like a huge store that sells programs and services to promote the Infinity Downline business and there are a lot of them that I do NOT like. 
Overall Rating:

2 out of 10 stars

.
I would never use the system and the tools within Infinity Downline to promote the actual program and many of them don't work anymore plus, in my opinion, I think the whole program is a pyramid scheme.
Instead I'd use the ones which still have value and apply them to real business models, but even then, it's not worth the price, time or effort.)
Infinity Downline in a nutshell:
This is going to be a short explanation so brace yourself:
Join the site.

Pay to get paid for referring people.

And your membership also gets you TONS of tools and "training" to help you promote it.
That's Infinity Downline.
And that's a big problem because pyramid schemes typically operate this way in my opinion because all you do is promote a digital system to others and there's no real product, it's just an opportunity. I mean look at the Wikipedia page on pyramid schemes. They are literally describing Infinity Downline if you think about it.
From the moment I entered the site, I felt as though I was watching some sort of cheesy commercial on TV. I didn't want to buy it because I had a bad feeling, but I was able to enter it for free.
Inside the free member's area, I tried signing up for the $25/month package just to see the training that I would get access to, but unfortunately, I couldn't even do that because the merchant of the program wasn't able to accept payments. I have no idea what's going on. 
All I know is that I can't go further than what the free membership provides and to be honest, that was all I needed to see to decide why Infinity Downline is not the program for me. 
Is the Compensation Plan of Infinity Downline confusing?
Not really and I hope I got it right because if I did, it even more so made me not want to promote the program.
They call their comp plan the reverse two up system where 2 out of all people you refer into the program get passed up to your upline. 
So if I were to refer say 20 people to the program, 2 of them would go to the person who referred me into Infinity Downline (by the way, you can't join the program unless someone sponsors you). 
Out of the 20 people I'd refer, 18 (who paid) would provide me with $25 payments (per person) each month.
They say the payments are made directly to you. I'm not going to question this part. 
Now let's say the 18 people refer another 20 people each. Out of each person who refers 20, 2 of their referrals will pay me directly, while the other 18 will remain with the original referral so now if you multiply that, that's 2 X 18 which means I'd get 36 paying me another $25 each month.
And this continues on and one. I don't know how many levels there are to this MLM, but if it really is infinity, it's going to be tough to measure and impossible eventually.
Folks, we gotta cover the pyramid scheme question again:
Yes I believe that this program is that. I did not see anything within the members area of this program which proved to me that what they show you to do actually helps people build real online businesses.
All you learn to do is use the tools they provide and to promote Infinity Downline. Can you use it to promote something else?
Yes you can, but this isn't taught so I doubt most people will even try that. Programs which are pyramid schemes tend to only show you one way to use different marketing methods to promote only themselves. This is what Infinity Downline's system does. 
Summary of the marketing methods within Infinity Downline:
There's a BUNCH of stuff you can find in the members area, but most of it is priced. I'll go over most of the things you see in the picture, beginning from Program Stats:
Program Stats:
Allows you to join 7 programs within Infinity Downline. Each of them is priced differently and it looks like you have to buy them before you can promote them. 
25 Self Development: $25/month

100 Wealth  Development: $100/month.

1,000 Wealth Advantage Elite Package: 1 time payment of $900 + administrator fee of $100 (total $1,000).

250 Fitness Advantage Elite Package: 1 time payment of $225 + $25 administrator fee ($250).

3,500 Network Marketing Elite Package: 1 time $3,150 + $350 fee ($3,500).

50 business development: $50/month

Admin Membership dues: $9.95/month. This last one might be a hidden fee they don't tell you about. 
View Downline: Shows you people in your downline and what they purchased. 
Email downline: This area uses an autoresponder to email any of the 7 categories of downlines I just explained. It's a good way to keep in touch with your people.
Payments earned: Basically shows how much you earned for the 7 packages above (if you purchased 1 or more of them).
Mark Payments: Allows you to cancel subscriptions of your downline/s.
Make Payments: I couldn't see this since I wasn't allowed to pay to access the program.
Daily Leads: You buy packages to get people to sign up from different sites to your Infinity Downline. They claim you can get 100's or thousands of opt-ins for each package. Prices in this section are anywhere from $25 to $100.
They also provide you with 14 bonus PLR books. Probably outdated stuff.
Scripts: You get emails that you can send out to leads of your own. Many of them are very spam looking.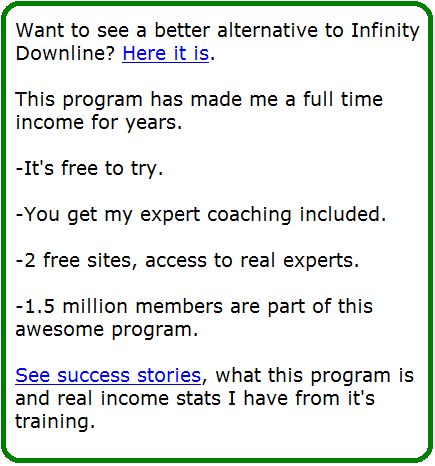 Premium tools: About 10 different programs/services/training tools (you have to buy them) that help you promote Infinity Downline better. One of them is the daily leads service.
Low cost tools: This is where you'll find most of the advertising products and services. I feel like there's more than a 100 all ranging from making ads on websites to even advertising on local newspapers for states, all with the purpose of you promoting this program.
Post cards: You can buy business cards here.
SEO Rank: If you have a website, the service in this section takes you through some third party site that's supposed to get you ranked very high on search engines for about $40/week.
Now this is very important so read closely: I went to read what this service had to offer because first impressions made it sound like black hat and what they say is that they'll rank your site for 20 keywords. 
What type of keywords they'll rank for isn't made clear which is a very important piece that's missing because the types of keywords you get ranked for is essential. There's tons of keywords you can get high rankings for, but no one will search for it, so it's going to be a waste of money.
The $40 week option is the cheapest they had with a $399 for one month being the highest. I don't trust these places and would never advise them. Anyone that claims you can pay to get high rankings for keywords isn't telling you something. I know how SEO works, and this isn't the right way to do it.
Webinar replays: I think this is the ONLY place where you could actually access free content. There were a number of webinars, all dated at 2009. You could download and listen to them. This is another important piece of Infinity Downline and it's not good.
Dated training usually doesn't work well as years pass. That's what I did notice about this program before I even got to these specific area. When I saw 2009, I nodded knowing why I felt so many things felt like they were too old to try.
Phone broadcasting: You get pitched a program that lets you call people and pitch to them the program.
Infinity Capture lead pages: You get different pages to use to promote the program.
Power of 4 media pages: Basically an extension of the Infinity Capture lead pages, but it has a turn wheel and shows 4 pages on the main site changing positions. It just looks fancy.
Audio Library: Asks for a $25 payment which as I said I couldn't make.
Video Library: Same issue as audio library.
Pros:
There is really a TON of stuff in the members area and I do like that you can see it for free. It can provide a lot of resources and ideas for promotions of programs.
Cons:
Most of the stuff inside Infinity Downline costs to join including the services. There's potentially thousands you could spend and even waste in the process. 
 Very spam like and outdated training/marketing.
Final Rating: Infinity Downline.

Red Flag (Scam)
2 stars out of 10. The program a feels like a black hole sucking money out of people and teaching them to refer more people into a system that just keeps doing the same thing. The services in my opinion and the practices are also things I am against (promoting pyramid schemes). Get me away from this place!
My final thoughts: 
Looking back at everything I looked through and learned, I am glad I wasn't able to pay for the program. People can still make money with this, but at the price of ripping people off and sending them to this program is not worth paying.
A pyramid scheme no matter how much money it can make people should not be promoted and that's what I believe Infinity Downline is.