I meet A LOT of people who at the time of starting their online business or at least trying to make a popular page get stuck on what to create their website about.
Some even lose their minds just thinking about this and as someone who has been in that type of position, I know exactly what to do, in order to fix that so here I would like to offer 5 tips which I believe are absolutely golden for helping you get past this obstacle.
Here are your 5 tips:

And you should apply these tips in this order:
Tip 1 (start with this): Start with listing a single or several hobbies.
Normally, I tell people to pick topics which they love but let's be honest, if you have a hobby, you already have a topic you love, so I guess this is just a more clearer way of saying it…
Tips 2: Make sure that hobby is a niche. 
Simply put, the less general and more specific the hobby, the more "niche-y" it is. 
For example:
Saying you love to be healthy isn't a niche. Saying you love staying in shape and know how to help other people do it is a niche because it is more defined (here is help in finding your niche).
Saying you love technology is also not a niche. Saying you love flying drones and giving people advice on taking care of theirs or getting into this hobby IS a niche.

Quick intermission:
So by now through these 2 steps alone, we've address 2 things:
We've narrowed down something you actually like.

We've created a clearer picture of the topic we like.
As we continue to progress into the next steps, we are going to create an even clearer picture, because so far, this is the brainstorm stage, the remaining tips will start to actually frame a page out of this and build it so it gets lots of attention.
Also, if you want to brainstorm more about niches, I have 100 niche ideas that you can use.
Tip 3: A quick checkup: Is the hobby you chose something you know a lot about? 
So this question can really have 3 answers:
1) Yes, you know a lot about it.
2) No, you don't, but you like it a lot.
3) You know something about it but aren't sure if it's enough to write about. 
The good news is that regardless of which of these 3 answers best identifies your situation, you can absolutely go from saying options 2 and 3 to 1, where you are an expert on it by simply…
STUDYING IT. 
Most people who become interested in some sort of hobby either aren't interested or know about it at first or at the very least decide they want to learn about it because they have an interest in it so at the very least, what I'm trying to say is that the beginning point will ALWAYS have you starting with scenario 2, where you know little to nothing, but with that interest being your fuel, you will study enough about it to reach that 1st scenario.
For example, let's put a number on this…
I recently got into flying drones. If my knowledge on it when starting out was 1 which represents me just being interested in it and 10 being that I become an absolute expert in it, then right now, I'd gauge myself at a 4 or 5 because I took the time to study this, experiment with this and read up on and watch material to improve my interest and knowledge in it. 
Now if I were to make a page, that 4 or 5 in experience would really carry over well. In fact, the information I put out at the current level I'm in would be very informative and interesting to my niche audience who also likes drones, but like me was or is starting out at that 1 point.
And you can do this too. But hey, don't be lazy about it. With the internet being the way it is, you have more than enough resources out there on Google and YouTube to find out about whatever hobby you like and become an expert in it.
Now the scenario I just listed really is me personally going from the #2 point above to #3 and with more experience and testing, I can easily go to #1 and become an expert in the niche overtime. You can too.

But if you already are an expert and at that #1 point, then here's the next tip for you…
Tip 4: How ready are you to write and create content out of this hobby? 
Here's a good gauge: 
If you're not ready to put yourself out there with either writing that amount of content and/or showing yourself/recording yourself, you may not be ready to start a page. 
The thing is, I assume you're worried about what to create your website about not just because you're only interested in blogging, but because you probably want this to make you something and if that's the case, then you need to be prepared to do this type of work.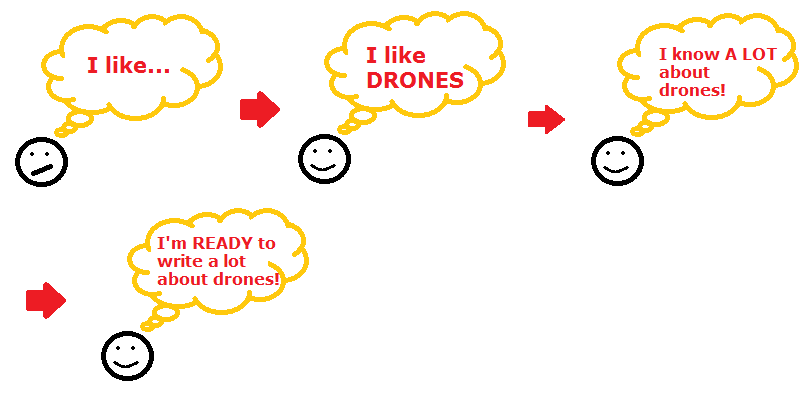 Tip 5: Once you're set and ready with the other 4, do the following to materialize everything…
So let's recap:
You've got the hobby in mind.

You love that hobby.

You're either knowledgeable about it ready to study up on it to be knowledgeable enough.

And you know the type of work it's going to take for that idea of yours to become a website and possibly a successful business. 
The planning stage is over, now it's time to execute that plan. But what to do you?
Well the best way to materialize all of this is to obviously start yourself a page and start blogging about that hobby/topic, but you can either go ahead on your own and begin writing/making videos, which is fine, or you an maximize your efforts and have each little thing you do bring you the most return in the form of visitors and money by marketing this plan correctly.
In other words, instead of saying, blogging about your hobby, you're now blogging with keywords in mind that attract the correct and maximum amount of audiences to your page, thereby minimizing the effort you need to put in.
And you're also writing in a way that captures the interest of your future audiences that they'll love your site and will buy from it. 
To really ensure all of this gets done the best way, I would recommend the following:
My final thoughts:
Honestly, if you really use these 5 tips and use them on only 1 topic for now, you're going to see that it's not that hard to pick out something to create your website on. In fact, through these steps, you're going to feel far more confident and energized doing it. 
Now I would not recommend you do this for more than one subject, at least not if this is going to be your first website because you're going to really be busy and it will be important that your attention be on that one hobby site you're going to be making and that's because the potential of is going to be huge, but it will be important that your priority be set only on that and not multiple pages.