Let me ask you something very, very important: If someone asked you the very same question I pose in the title about keeping people on their website or yours longer and/or coming back, and you could only reply with a 1 word answer, what would it be?
Think about this for a moment before you read on…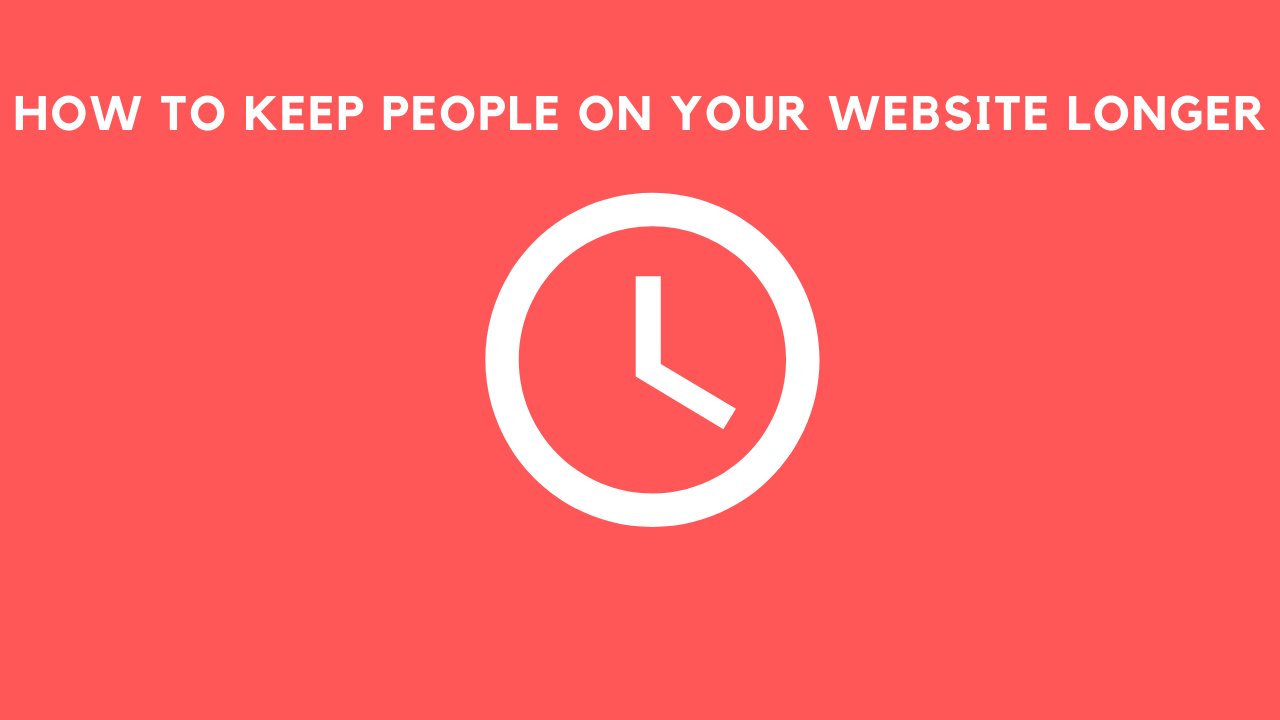 The answer is this: Good content and trust.
It is because of good quality content and trust that people who visit your site, stay on it. It is also because of that, that they also come back, buy from you, ask your questions, trust your opinion and more.
I always preach about the importance of high quality content. Well what exactly is high quality content? It is simply information you put out there that people love and what does that mean? That's right, they trust it.
This trust is also a very important factor with Google and why they will inevitably see your page as an authority to rank very high. 
But just because we have this one word answer right now is really not a complete solution. The real question is how can we create trust and enjoy all of the benefits from our visitors that come with it? 
Well there's actually an infinite number of ways, but if there's one major tip I can offer to do this, the answer would be to make yourself a niche site within which you know a lot about. This is really the best way to connect with people and earn that trust I talk about.
But that is still a general suggestion so I would like to offer 5 specific tips I would recommend you undertake on your site to get that trust, and get visitors to stay on your pages longer…
5 tips to increase content quality, trust and stay times on your website:
I use all of these tips on my website and they will help improve all 3 things we're trying to do here:
1) Add a personal photo of yourself and an about me page. 
Trust has different forms, and in this tip, when people actually see a REAL person behind a page, it gives them some sort of connection to believe in. 
When someone, even you lands on a page which gives tips on whatever you can imagine or you're reading content you enjoy, would the appreciation and trust you have for it drop if you never saw the person who wrote it?
And contrarily, would it rise if you actually saw the photo of the person writing it? I think the answer would be no for the first and yes for the second. 
We as readers do NOT prefer to read advice from Mr/Mrs.X's, we need to know about the people whose advice we take and a personal photo is a great start and way to make that connection. 
For example, here is my personal about me page. You're welcome to read it and if you need help writing your own, here is my tutorial on writing an about me page.
2) Write about your experiences through your content.
And be as detailed as possible…
Since content is considered to be at the top of the "SEO food chain", the longer it is, the better it looks. And if you write on a topic with which you have intimate knowledge in, that translates into more potentially GREAT content being written.
For example…
On this page, if you browse the content, you'll often find product reviews I do. Reviews for programs that "try" to teach people to make money online. Well as someone who has intimate knowledge on this subject, I always explain to people why said product may or may not work by giving them my own experiences with it and/or something like it.
When a person is reading this content and sees that the writer has tried so and so, it answers many of their questions and keeps them on the page far longer, as well as builds trust. I do this for EVERY article I write, including this one which I still hope you're on 🙂
3) Write about solutions.
Every niche has a problem and every problem requires a solution right? 
Well in addition to writing about your experiences in tip #2, most people will inevitably left wondering "What's next?". In the case of product reviews, if there's something that is negatively reviewed by me, I will obviously get questions about what's better.
Well that better recommendation is the solution. Now it may not necessarily apply to product reviews perse, it may apply to a common problem with the niche topic. 
So being that you should ideally be the person who knows about this, you should have the solution, the answer to the question/s people ask inside your said niche topic and if you do, oh boy, you're going to have some loyal readers for a long time to come, trust me.
This is the advice I give on my website's homepage and it's thanks to this advice, that I've made a lot of money from people who visit my website (see my $1 million affiliate marketing report).
4) Answer any and all comments.
First of, you will really want to open up the door inside your website for people to leave comments and messages and you will also want to make it easy to do so. For most sites which for example have a WordPress platform, this is extremely easy to do as the solution is just to check that you want comments enabled. 
But the hard part is encouraging comments to be written on the page. Here's some great tips for comments to fix that.
Typically if you utilize tips #2 and #3 correctly, you're going to get a lot of visitors wanting to leave their thoughts on your pages and that's going to look great.
Now another bonus tip that applies to #4: Answer EVERY single comment. 
When you do, you show other visitors that would otherwise be on the fence or too shy to comment that you're actually real, friendly and helping people out and it will make it easier for them to leave their thoughts too.
Not to mention that all these additional comments on your page lead to better SEO…
5) Interlink pages for greater stay times on your pages.
The beauty of interlinking is that it allows visitors who already browsing and hopefully enjoying your content to be exposed to more of your site and to read more resources without having to look for it themselves. Throughout this article, I have linked to several pages which I felt were relevant to this article and it is the same type of process you should exercise on your site as well.
Here is a great strategy for internal linking I recommend you read, but it is basically a branch of trust in which if visitors like and trust your content on one page and you link them to another, they'll go there and this will also help them stay on the overall pages longer which Google will take note of.
My final thoughts: How to know if these tips are working.
1) Install Google Analytics and look at the overall stay time on your page. If it rises over the time you add these tips in, then this means visitors are generally staying longer.
2) Use Google Analytics to see how many visitors are returning visitors. If a huge chunk of traffic to your page comes from returning visitors, it means you have great content they like and keep coming back to and guess what? It also means you now have a following growing! 
3) You get more comments and questions. This means more visitors are intrigued by your content and want to share their thoughts and learn more. 
4) Your bounce rates decrease (Google analytics shows you this specific number).
Generally, these things are the most obvious sign of trust that I would look at.