A lot of people/companies stress out a bit too much when writing up their about me/us page. In fact, I know this because I get and see a lot of message on forums from typically beginners who have this problem.
While it is important to have this part of your site set up well, it's not as big of a deal as you may think and that's because well over 90% of all visitors who come to your site will not see it, nor will they care because it'll be the content on the other parts of your site which will really matter to them.
I'd like to give you a simple structure on how to write your about me/us page that I've implemented on my websites throughout the years, and then through using that structure give you 5 examples of how to use it. For starters, here's an example of my personal about me page. 
In terms of stats, I looked at the traffic numbers my page has gotten since the beginning of 2018, and the number of people who have come to that part of my site, and that's been close to 500 people: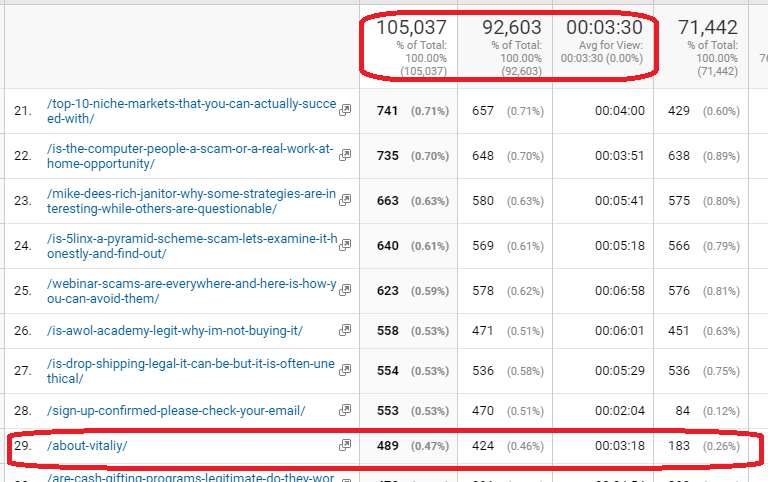 As you can see, less than 1% of ALL my traffic within this year has went to that part of my site which goes to show that figure I pointed to earlier in that most visitors won't even land there. 
Now this doesn't mean you should make a bad about me page or just omit it, but it just means that it won't be a big deal for most people. The only ones who need to worry are people who are well known and have a big reputation but even those people who follow this structure, won't have a problem.
But anyway, let's move on to the structure (the simple one):
There is a very simple structure I adopt on all when on this topic that I'll explain VERY shortly, but before I even get to it, here's what is most important that you understand:
-Every site I make is on a topic I know a ton on and have experience in.

-Because of this, when I write my about me page, I am basically telling my audience my history with it and that is what makes it successful. And in my case, I can tell this structure works because in the above example, people were on that part of my site for over 3 minutes and it's not even long!
-With this structure, I'll write a few 100 words at least or several 1,000 depending on how much I know on the topic. I'll also add images for proof and this will basically act as a sort of resume of my credibility. This is what people look for when they view these parts of your site.
The 5 examples of how to write the about me page:
First…
Here's one of my sites on drones. Prior to even making it, I already had experience on the subject and that's what people who land on my page needed to know.
And so when I made it, I told people about my history, the drones I own, the stories I have on them (accidents, close calls, lessons learned), ect… 
That's it, that's all there was to that and it was more than enough. Here is a screenshot, feel free to read the snippet I have here for reference. Do you see how I'm applying the structure I mentioned?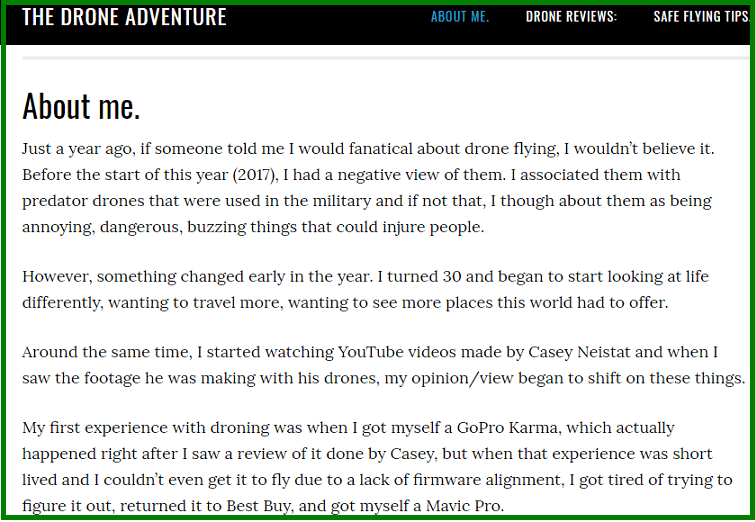 Now one thing that was missing (and I'll edit it in) is an image of my holding a drone. This would add a lot of extra credibility to this site.
Second…
Let's say you have a website on getting ripped (having a good looking body). I believe people who are best suited to make these types of sites are those who weren't in shape and became that. I say this because people like that who make a site on this subject and write their about me page can easily write a heart felt story on getting to that point and REALLY connect with people.
People who aren't in shape love to know that they can do it and when they will see someone who was in that spot fix it, they'll believe it too.
Now it's also true that if you never had the problem, that you can still talk about it, it's just a matter of understanding that the audience who comes to your site has an issue and you have to structure your content in a way that makes them feel that you understand that issue and can help them.
Third…
Let's say you're running a website which offers SEO services. You're a company and in this case, you should probably make an about US page, not "me".
In that particular instance, you'll want to add screenshots and case studies of how your knowledge and expertise led to SEO success for your clients and if you don't have any clients yet, use your own case studies to showcase this stuff. 
Talk in great length on how you know this subject well and then add in the proof with those screenshots. This is one of those examples where living the scenario and succeeding in it makes you an authority on it. 
Since SEO services typically cost a lot of money for people, they need to know that spending it will give them results, so a longer explanation on why they should trust you with a lot of evidence will go a long way in this regard.
Fourth… 
Let's say you're running a service where you write articles for people. This is a similar example like in #3 where you'll want to showcase your work to audiences by providing them with proof that your work helps people get results.
Show them emails of happy clients, show them a snippet of how you write (make it a screenshot though). Tell them that you have so and so years experience in it.
And fifth…
Let's say you have a website that helps people out with a serious ailment/illness/disease. If you have that experience in it, it's a perfect opportunity to share that story.
Tell people your story and fight with it, be descriptive, explain the series of events that led to this issue, your fight with this condition and if you were able to deal with it. 
In all these examples, here's what's happening: 
If one of your goals with a website is to have it grow into a business (here's my recommended training on how), then you have to look at an about me page as the resume part of you website which tells a story and provides proof as to why people should trust you and the above examples pretty much encapsulate how this is done:
You should ideally have a personal involvement with it because that helps you tell a credible story that gains trust. In all the examples above, I was explaining just that. No matter what the example was, I was explaining it from a point of view as someone who lived the experience and thus shared that in that part of my site.
This is what will get people looking, reading and trusting you and it's actually VERY simple to do as I said before, as long as you follow this structure. 
2 more things that will help you:
The first thing is that you can always update this part of your site. You can add stories to it, remove previous things, add more images and…you get the point. If you start writing and get stuck, just think think on this subject from your personal point of view and just describe your story with the subject on which the site is based on.
The second thing is another example of another site I have to use for extra reference: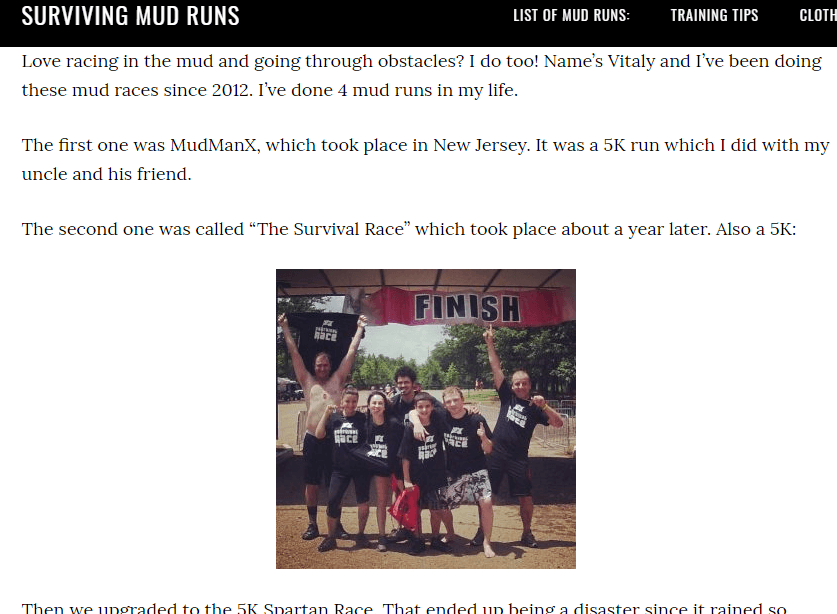 I hope these examples of how to write about me pages were helpful to you and if you have any issues with your own, let me know!