The type of stuff Liquidation Gold teaches is good, but as I'll also explain in this review, the odds of this strategy working rest upon a number of circumstances. 
I'll explain them, as well explain what I read and learned from the Liquidation Gold eBook and the experiment I tested out where I tried to put Jessica's advice to use.
Quick Report on Liquidation Gold: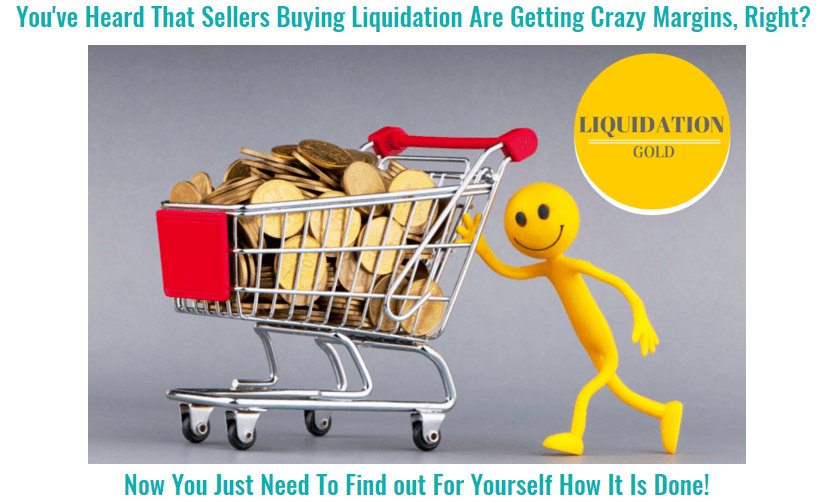 Creator: Jessica Larrew.

Price: $27 and no up-sells, unless you wish to join Jessica's larger program and/or buy her other products.
Overall Rating:

7 out of 10 stars

.
This eBook opened up my eyes to the possibility of expanding my online business into a new branch, liquidation buying and selling and I have to say, I'm already in the process of trying out the strategies in this eBook because it was well written and inspiring. 
Recommended? Yes.
What is Liquidation Gold?
It is a 71 page eBook which talks about finding liquidation stores in your area, and buying up products that are basically sold there at a huge discount, then re-selling them on Amazon for about double the price you purchased, giving you a high profit in return.
If you don't know what this whole business model is, here's a summary:
Basically chain stores buy up huge bulks of products and when certain item/s aren't sold, they take them off shelves and sell them to liquidation stores at a huge discount, which then becomes a big discount to the consumer.
The consumer can then buy up these cheap products and sell them.
Jessica describes various case studies in her eBook on the exact items she purchased, the bulk amount she purchased, the cost of the products, how much she resold it for and what the profit was and in regards to that, there is a substantial amount she made off various items she bought. 
Certain products made her several $1,000 over a few months, while some made well over $10,000 in a year.
This is because the products do not get sold immediately, but overtime, but as long the orders keep coming in, the money is going to be made.
She uses different examples to explain how much you can make doing this and what types of things you can sell. Things ranging from toys, tissues, baby products, to even supplements and in regards to that, Jessica specifically warns people that Amazon is very strict on selling items that are close to or are expired, as you are not allowed to do that, so if you are going to try the strategies in this eBook, make sure what you sell has at least a 4+ month expiration ahead of it (this is what she recommends).
Pros:
1) This is a pretty solid (but not guaranteed) way of making money.
2) Not a lot of work required. Really, the only big part is finding a liquidation store near you and finding good, none expired items to buy and sell. Then it's about putting it up on Amazon as a vendor and sending it out once the order comes in.
3) There is good side money to be made though these strategies and even a big income too.
4) You can really sell anything (although I want to try this out and update it so you can make smarter purchases because there are cons to this existing approach).
Cons:
1) Not every item you purchase will sell. In fact, Jessica does point out that this formula is NOT a 100% guaranteed. She even describes certain case studies where the same formula didn't work for her and what she recommends doing is either giving away the item/s that didn't sell or try to try to sell them to someone else to try and make money and decrease losses.
2) Money is required to try this strategy out. I would not suggest people try this stuff if they have big money problems.
3) There are numerous obstacles to consider (and Jessica does explain them): Expiration dates, not all items selling, broken items, unsealed items, and other stuff which may make it more and more difficult to find that right product.
4) It is not always easy to find one of these stores near you, especially one that is good. Suppose you live in an area where there just aren't any. Jessica does talk about this and explains how online stores like this may be a solution but to be careful with them because you can't inspect the items until you get it and it may lead to a lot of broken and bad quality items, so she doesn't recommend it. Point being: This type of store isn't everywhere so you may have to drive out really far and/or depend on other methods to make money.
Final Rating: Liquidation Gold

Green Flag
7 out of 10 stars. It's a very good read, with a solid strategy worth trying if the circumstances permit it, and the circumstance part is really the biggest con of the strategy. 
My final thoughts: A personal story of how I first became interested in this:
I am always looking to expand my existing online business and this type of strategy, I admit is a first for me, but I want to also admit that before I heard about Jessica's eBook, I did hear from my mother and her stories of buying a laundry detergent known as Era (arguably one of the most popular brands) in a liquidation store for extremely cheap prices.
She purchased a large amount for $10 each, and when I looked on Amazon to see it's price, it was around $20, and it was around the same time I had heard of Liquidation Gold since I ran into Jessica's larger program/site known as The Selling Family. I suppose this coincidence propelled me to try this stuff out.
My experiment with trying Liquidation Golds strategy:
I was very interested in trying out the stuff I read in Liquidation gold, so what I did was, I visited a liquidation store not too far from me, took a few pictures on my phone of popular brand items I know sell well, their prices and compared it to the prices shown on Amazon.
Here is some stuff I discovered which adds a lot of credibility to Jessica's eBook:
I found a dish washing detergent that sells for $12.99 which on Amazon is $25.

I also found a few other things which were almost double the cost in normal stores.
But most of the stuff I looked at was around the same price as it was on Amazon and/or larger, so if you're going to do this, be sure to research the products first, have your phone handy so you can compare the prices and see if a purchase is worth making.
Anyway, I am currently in the process of buying up one of the items I found to be of a good price to put up on Amazon as a test to see how it works. I am also looking to expand on this strategy and test selling highly popular items that already get a lot of sales on Amazon, to see if I can add to it. Who knows, if this works, I may even write my own eBook on it 🙂
Update: Here's what happened.
Spoiler: I went back to affiliate marketing instead, it's better for me. Jessica's Liquidation Gold works, but all the tedious nature of doing all of this is something I wouldn't do when I can work from home like I currently do.
The business I run from home which is an affiliate marketing business in my opinion costs way to less to try, even though whole selling and buying is a pretty inexpensive way of doing business. And if you'd like to know how my business works and how you can do it too, here you go:
Anyway, thanks for reading this review of Liquidation Gold by Jessica Larrew. If you have further questions or can expand on this topic from personal experience, let me know.
Also if you are aware of Jessica's other products in the Selling Family and want me to review them, let me know. I'd be more than happy to check them out since this one and her Selling Family program have already been shown to be very legitimate programs.