Quick Report: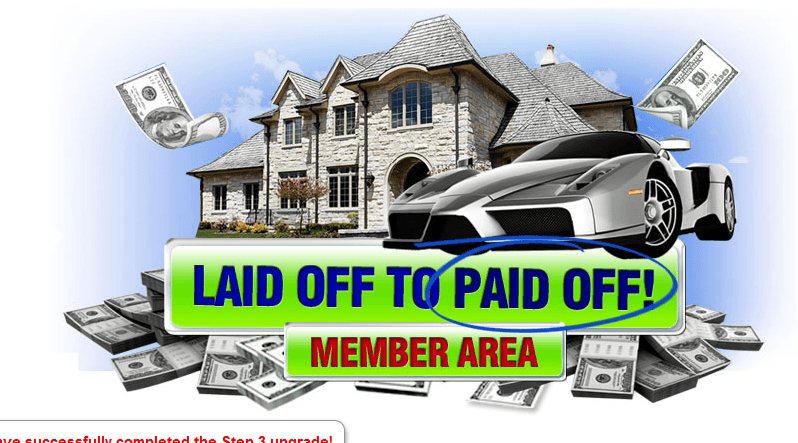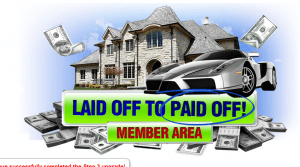 Name: Laid Off to Paid Off by Bryan Winters.
Price: "Free" but not really because after you join, there are a lot of paid options and there's very few that are free and those which are incredibly out of date and unlikely to work (I'll explain why).
Overall Rating:

1 out of 10 stars.
Is this program a scam? I'd say its extremely close because the way it pitches itself sounds like one thing, but inside the members area is really different.
You have to pay for a lot of recommendations inside the members area if you're going to try and make money from this program and in the end, the owner of Laid Off to Paid Off is really the one who in my opinion will make the real cash while many may be left confused and wasting time on how to make all of this work…
Laid Off to Paid Off explained:
If you join this program, you will be "persuaded" to join a whole bunch of other programs afterwards. Many of them cost money, most from my understanding.
Now the idea is that by joining these programs, you are then "maximizing" your outreach to promote the main program itself to other people and in doing so, run them through the same promotional funnel that I just explained.
In short: The more networks you join = the more people you can promote this program to and the more people who you can promote to that sign up = more commissions for you AND also the main owner of the program. 
Here's the issue (several in fact):
The idea that you don't have to pay anything is really deceptive, because you are supposed to join a few programs right away before even accessing the members area.
You are "mandated" to join:
ZNZ, which means Zip, Nada, Ziltch.
Although the program is free, you cannot access the actual Laid Off to Paid Off program without signing up there first and they ask for some personal info, which I don't mind giving, but to be honest, as someone who understands this program, I would not suggest other people do that without first gaining knowledge and trust from the original program, and honestly, right away, signing up "blindly" is never a smart policy. 
In any case, if you join ZNZ, the owner of Laid Off to Paid Off will be get a commission, but in all fairness, you can get commissions too if you get other people to sign up there as well.
After joining ZNZ and verifying you did so through the main program (you are given a referral code from ZNZ and then you input that on the main program's login) you go the next step and that is signing up to Clickbank. 
While registration for this is free, it really means nothing if you don't know how to utilize all of these programs and how to promote them…
That leads into the problem with Laid Off to Paid Off:
When you finally enter the members area after signing up with those 2 programs, the main objective becomes what I said earlier:
To promote the main program to as many people as possible through the recommended networks provided in the members area. By my count, there are 15:
At least half of them cost money. 

Some of them are other programs that teach you about getting traffic (more traffic = more potential people you can get into the program). But a lot of them like DotComSecretsX.com, Ad Swaps, Video editors, ect… cost money while others are free (USFreeAds.com) but you need knowledge on how to use them. 
Some of them are completely outdated and worthless like promoting on article directories.
In short, the main objective is as I said earlier is to utilize one or more of the recommended networks, get the message out about the main program, get people into the program through your link and then earn money.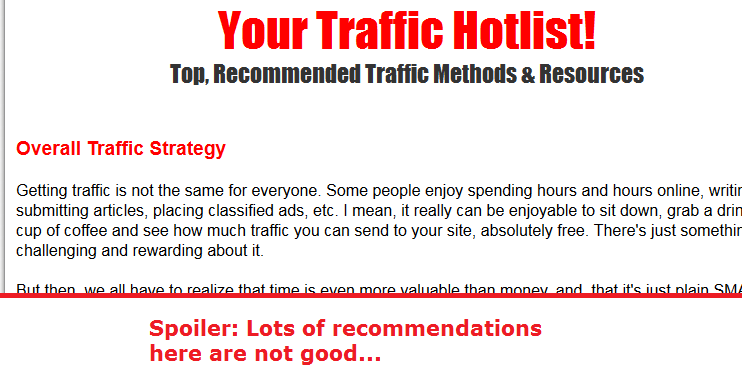 Now personally I don't think this program carries any real value other than learning how to "spam" market to people.
I visited a few of the recommended websites they recommend and they basically have people there spamming money making opportunities 24 hours a day.
Some of these places are just a "cesspool" for spam, things that I, as a marketer do not appreciate and would never push on other people or teach for that matter…
Now I'm not saying that this program recommends you SPAM people to get them to join, but there is such little training on what to actually do other than join the recommended sites that many people may be left feeling this is one of the only ways to market the program and I don't agree with that. 
If you don't know how to market a program like this to people, I can promise you, doing so in a spam like way is NOT the way to go.
Furthermore, I don't see any real value in this program in general and marketing it to others so they can learn to re-market it the same exact way is a very "dead end" model in my opinion.
I teach people to make money online and in a way that provides the people they're selling to REAL value they can use. I simply do not see this being taught or shown properly in the said program I am reviewing here. 
Furthermore, lack of training diminishes the potential of beginners to actually succeed in doing so. And on that note, I'd also like to add that being a beginner, you will look at the recommended programs in the members area and think that the more you join and promote the main program to others, that it'll mean there's a bigger chance for you to make money, but the problem is that without knowledge or knowing the things that I stated (outdated programs, having to buy other stuff, and many being a waste of time) will take time for you to personally realize and you can end up wasting a ton of money and time before you realize.
Final Rating: Laid Off to Paid Off

Red Flag
1 out of 10 stars. In my opinion, this program hasn't been updated and is going to waste people's time and money. I do NOT recommend it at all.
My final thoughts: Is there potential for someone to make money with this type of program? 
For beginners, I will say it is probably VERY difficult and if I put a percentage next to it, then a 1% success rate in my opinion would be optimistic, but even if you can, should you? 
I don't think so.
And even experienced people who make money online like myself wouldn't take this program seriously. I showed you the cons and would never promote such a program knowing about it's negatives…
There's way more ethical (in my opinion) ways to make money. I think this program just tries to suck you into buying other programs and re-promoting the main program and then having people you refer into it just keep repeating that, from which the MAIN beneficiary is the actual creator of the program and I do believe the recommend (paid) programs you can join will also earn the main owner extra commissions, so it's really a huge funnel which goes back to the owner in the end. 
People who know how to market and make online sales may benefit from it, but it's just too unethical in my opinion to do it this way. I'd rather you learn and know that this isn't the best or most ethical way to make money in this business. There's other options…

Overall, the program I just reviewed is not a program that in my opinion is the opportunity it makes itself sound like from it's sales page and after looking at it from the inside, and analyzing it's training, comparing it to my real life experiences in the business, I have determined that it's a very low quality program (and that's saying it nicely…).
It really reminds me of the old type of marketing when I started out in this business that I completely disliked and never wanted to push other people to.