Depending on what type of website you have (WordPress, WiX, HTML, Drupla, ect…), embedding a YouTube on it is either super easy, or just plain easy and I'll show you how. 
Besides just doing that, I'd like to ask you, are you looking to JUST put the video on the page or are you looking to do more with it? And when I say more, I'm asking if you:
Want to make money with this.

Want to get SEO benefits out of it like more traffic.
If so, then the second part of this article is a must read because there's the correct and incorrect way of doing it. And for making money, which I assume most people want to do with YouTube videos, I'll be giving you a strategy to make that happen too.
Quick question: Can you legally put YouTube videos on your website?
The short answer is yes, but only if the video you wish to share on your website is public. The good news is that 99.9% of all videos you see on YouTube are public and can be shared just about anywhere, be it your page, social media, ect…
It is suggested you make your own YouTube videos if you want to make money with them and have the full rights to them, but…
That being said…
Here's how to embed YouTube videos on different website platforms:
We'll start with WordPress…
For WordPress, there's literally just 1 step involved:
Take the URL and put it on the page/post you want it on and it'll load up automatically. There's literally NO need to do any embedding anymore. Here is an example:
After it pops up, publish the page and it'll show up live. Then people can click and view it on your page without clicking out. 
Without question, WP is the easiest platform to do this stuff with (in addition to other benefits). If you aren't already using this platform, I would recommend doing so and/or switching. Here's an easy way to make WordPress pages!
For any other platforms which aren't this easy to do it with…
I don't use any other platform besides WP anymore, so that being said, if you use something other than WordPress and if just pasting the link on the page isn't enough to make it show up, you've got to use the "old" embed option. So here is the tutorial for that:
Step 1:
Go to YouTube and find a whatever you wish to put on your page. I'll use this as an example. 
Step 2:
Scroll down under and find where it says "share".
When you do this, you'll have 3 options. Choose the one which says "embed". The link will show up and will be fully highlighted. Take that link and copy it:
Step 3:
Go to your website, and on whatever page/post you wish to put the video on, find where it says "text" or "html". 
No matter what website platform you use, whenever you create a new page/post, there are always 2 versions of it, a text version which is where you type up your content and an "HTML" version which basically takes whatever you type up and turns it into HTML code. 
In order for ANY YouTube video (let's call it YTV) to show up live on your website, you need to take the above embedded link you copied and paste into the HTML version of the page you want it on. 
On some website platforms, you'll see this labeled as HTML, on others, it'll say "text". It literally means the same thing, despite the wording being the same.
So the key is, click on the HTML tab, on your page, and just paste the code. Then when you publish the page, the YTV will show up. Do not worry about any code you see there.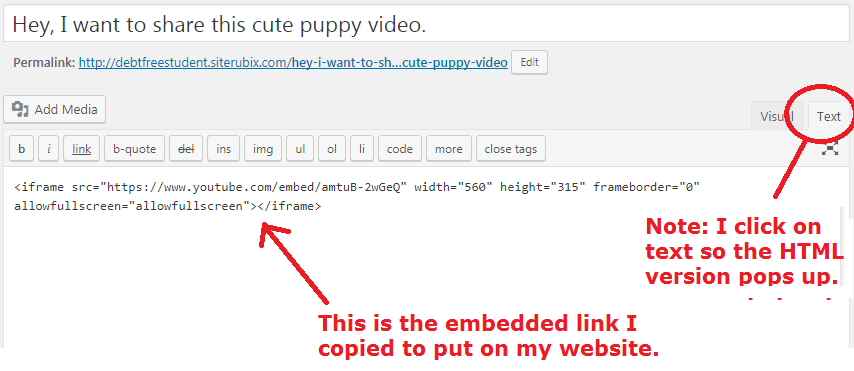 After you paste the code, if you click back on visual (the version you and visitors will see), the code will transform: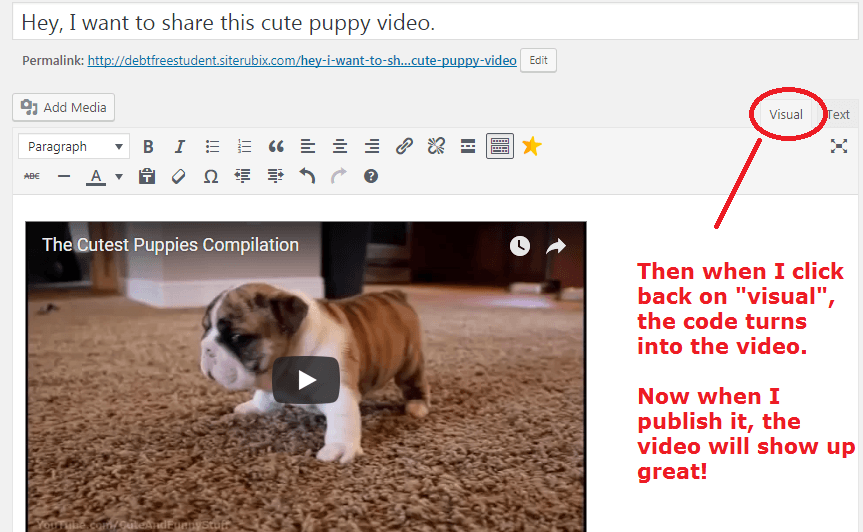 However…
What if there's a lot of words/content on your page and you want the YTV to show up in a specific area?
Well then it's also important to find the right place to paste the embedded code. Suppose I'm typing 3 paragraphs on my page and I want the embedded YTV to show up between paragraphs 1 and 2. How do I do this?
I will click on the HTML tab, look at the code and see where the 1st paragraph ends and the 2nd one begins.
Then whatever space is in between those 2 paragraphs is exactly where I'll paste the code. 
After I do this, the visual version shows up perfectly where I want it to:
Practice this.
When you do, you should be easily able to embed and put up videos on your page in WELL under a minute. No matter what platform you are using, this strategy works every time. 
And sometimes, as the WordPress example showed, you don't even have to do any of these steps, just paste the link, forget about embedding it. 
Ok, here's part 2: Can you use videos to boost the SEO of your page?
It depends on the circumstance…
If you make your own YouTube videos (YTV) and LINK it back to your page in the description of the actual video, then yes, it helps boost the page's SEO. 
If you make a YTV and don't provide a link back to your page in the description of it, then NO, it will not help your SEO.
If your make a YTV, embed it and put it on your page, it will NOT help the SEO of it unless the actual description of the video has a link pointing to your page. 
If you try to put up someone else's YTV on your page, it will NOT help your SEO directly unless there is a link in the person's video pointing back to your page. However, unless you ask the person to do this  (most likely they won't), it won't work. If they do, then yes, it will help. 
In short…unless there's a link in the description pointing to your page, there will be no SEO benefit. 
There is also a circumstance in which you can use someone else's YTV and it'll help your page's SEO even if there is no link in the description pointing back to your page…
The circumstance is this:
If you have a lot of content on your page and you use someone else's YTV to supplement your content, then it can help prolong the time someone stays on your page. The longer someone stays on your page, the better it looks for SEO because longer stay times usually represent interest from the visitor and Google does like this.
But this is ONLY if the page has content on it. If you think you can just go ahead with this and have a blank page, embed a ton of YTV on it and expect this to be enough, it won't help at all. You need to have your own, unique content for this to work. 
BUT…
There is also an opposite and "negative" effect to this. People who visit your page have the option to click out of it when they see your YTV or whichever one you shared. If they do this, then you've potentially lost your visitor because they'll click away and possibly never come back.
This is one of the reasons why I rarely share YTV on my website, for fear of the visitor leaving and if I have to do it, I make sure the YTV I share is my own. 
My final thoughts:
Ultimately, if your goal is to get higher rankings for your website and you want to use video SEO, then ideally, your best bet is to make your own YTV and link it to your page through the description. This is a good, safe SEO strategy to use in my experience. 
I would NOT put up the YTV themselves on the page itself, even if they are your own. Having YTV link back to your page and having that page rank higher on Google is perfectly fine to do and it insures that your traffic will stay on your page and not have any distractions of clicking away from it. 
Part 3: Want to make money off YouTube videos?
I have made some good money on on YouTube doing what is known as affiliate marketing.
I share my tips for making money on YouTube here. Enjoy.