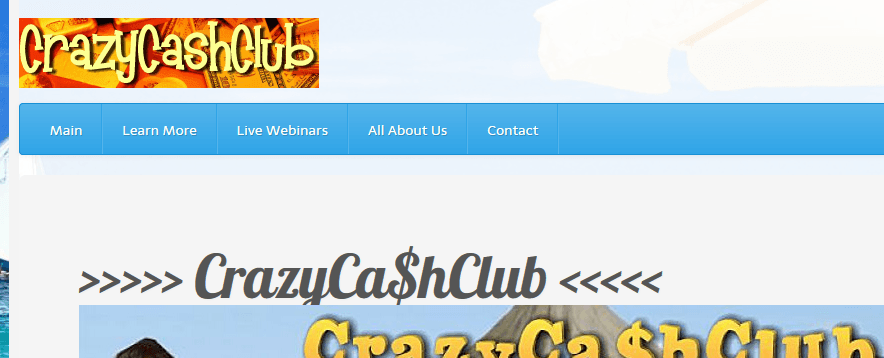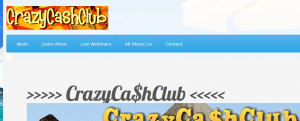 I looked very deep into Crazy Cash Club to write this review and the score I decided to give this program is not very high as a result. Read more to see why.
Quick Report on Crazy Cash Club:
Creator: Not known.
Price: Free to join with additional marketing offers from within members area and 4 membership levels.
You can technically not spend anything or perhaps several $100's on the marketing materials.
Overall Rating:

1 out of 10 stars

.
The company doesn't really go into great detail on how it works, just really the opportunity, and that's one of the major things I disliked.
And I found myself having to look at third party sites talking about it just to get more information. That's also not a good sign. Plus it's an MLM and with the way I see it operating right now, it looks like a pyramid scheme.
Forgive me in advance if I miss any information about this company, but that's really not my fault.
As hard as I tried to look into it to understand the actual opportunity, the legitimacy of it, I just couldn't find it so a lot of what I say here is my opinion that is based on the evidence I have, plus with my knowledge of MLM programs.
If there is any information you find inaccurate, post a comment and let me know. 
Crazy Cash Club in a nutshell:
Well it's an MLM program where you can join in on the hype for free and pretty much most of the members area is just there to sell you even more into the program and provides you with a few free marketing materials (emails, banners) and a number of ones you have to pay for. 
The idea is simple: Get people to join under you and make money.
But upon looking through the whole site, there are so many unanswered questions and really all I see is a program that's getting you to market itself and for the prices that are listed there, I don't see how this cannot be labeled a pyramid scheme. It has to be after you read this review and what I found out about it…
The real compensation plan (called matrix) feels "hidden" on the site:
Watch all of the main video/s in the members area and really all you're going to see is how you can make $17,200 every single month from referring people and even having non-referrals (or more). Besides this message that's being given over and over, there is no in-depth explanation on the actual matrix…not until you look at the webinars provided and find one that actually dives into it.
I wish they would have made that more easily accessible rather than looking through everything. I don't like doing that.
It if were directly in the members area, it would add transparency. Finding it by visiting the site, then looking at the webinars and looking over the videos felt hidden to me and only took away points from Crazy Cash Club.
The $17,200 claim is a LONG way off:
So there are 4 membership levels:
Bronze, Silver, Gold and Platinum and the last level is where it's possible to earn that 5 figure potential, but it's not going to be simple. 
Each level is a 6 x 3 matrix. In total you can have 258 people within each matrix.
Every matrix level has it's own price set. Bronze is $20, Silver is $120, Gold is $320 and Platinum is $620. The only way this whole business model makes sense is if these prices are monthly because they are talking about re-occurring income, but looking through that video, they don't label it as monthly…
With each matrix level, you can join depending on your financial abilities, but once you "fill up" the matrix you're in, you can move up to the next one. Do note that being part of the lower end matrixes (Bronze, Silver for example) limits how much you can make.
With these sorts of MLM companies and higher tier membership levels, the more you pay, the more you can earn. Though I might have missed it, I think the way you make money is very classic:
You refer 6 people, they refer up to another 6 and this eventually fills up the matrix, but a portion of your referrals investment as well as the people they refer trickles up to you. 
The most you can make at the bronze level every month is around: $273. Silver: Around $2,010. Gold: $6,762 and Platinum: $17,200. 
Side note (Because this whole matrix talk is confusing):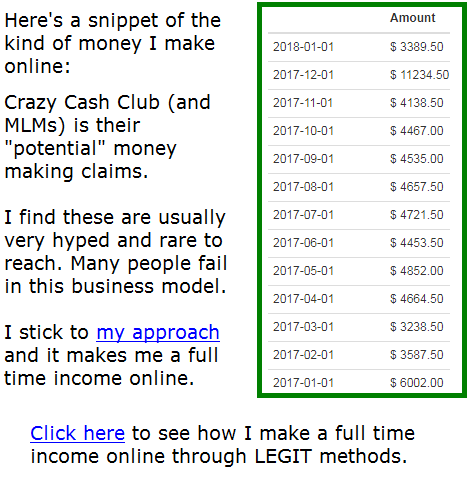 Now back to that explanation of Crazy Cash Club's matrix and I have to say, I can totally understand if you're confused, as I'm trying my best to simplify this complex system. This is a major reason why I don't work with MLM programs, their compensation models tend to make you feel like you're in a web…
I suppose if you join the highest level and fill up the matrix it's possible, but with these programs, they always like to point out the best case scenario even though it's probably not going to happen for most people. But nowhere on the site other than the actual one video I had to dig up did the other numbers of than the $17,200 show up. 
Why is it so annoying to find it?

Why not just put it on the site if you are so proud of your company?
I believe it's all because of marketing. There's less chances people will sign up if you give them all this information vs saying "Hey you can make a 5 figure income every month!". Much easier to attract people with the latter, even though there's a lot of necessary and missing information!
Oh look, more stuff to buy from this MLM!
Ok, to be fair, it's actually optional, but there's additional programs on the site which you can to attract more customers.
I think you can also re-sell these things to your downline and make one time commissions too.
Isn't it convenient that stuff which gives you more information on the company isn't in plain sight, while things you should be buying are? 
There's about 4 different offers which total to a little over $300. Not too much when you look at the monthly prices of the membership, but there's also not a lot of details provided on the products, even if you click on more info.
I think it's just there to throw more potential hype at you and your future downline.
As a member you do get the ability to have good communication with your downline by sending them PDF's, emails, and there's also decent monitoring abilities of your commissions but at this point, I'm just looking for anything positive I can find and really there's not much.
And so with all this said, I really feel like I have no choice but to give a low rating to the program…
Final Rating: Crazy Cash Club
Red Flag (Scam)
1 out of 10 stars. Feels like a pyramid scheme. There's just WAY too much hype, a complicated "matrix compensation plan" and very little transparency.
It's like you're being sold a dream. And it's so hard to find answers. I went on YouTube where Crazy Cash Club videos were posted and nobody seems to truly know everything about this company. It's either people calling it a scam or people promoting it.
No real answers. Why join, let alone put in money to a program that's not being transparent!?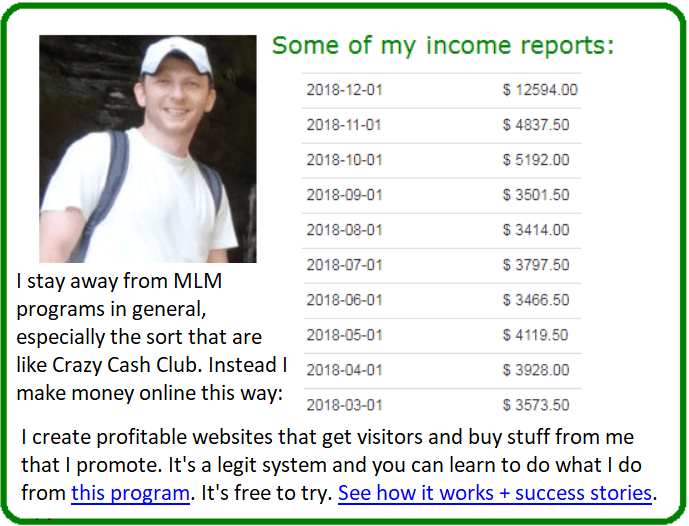 My final thoughts:
I had a few other questions about this Crazy Cash Club that I couldn't find answers to on their site so I emailed their support. I'd rather not cover the topics that confused me because it's all speculation.
I'd rather they address my questions and then put up what they told me before jumping to any conclusions, but most of the questions are related to helping me better understand how the formula for this business works, plus whose behind it.
Even the videos in their webinars, including those in the members are aren't really explaining much. The only good information I got was on the matrix and that wasn't even high quality. I had to re-watch it a few times so it would make sense. The rest is just a pitch about how much you can potentially make.
Never join a company based on "IF's" and with this program, there's a bunch of them!