Quick Report: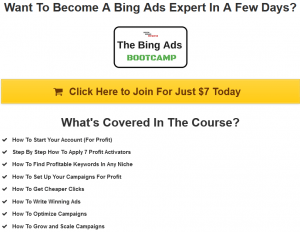 Name: Bing Ads Bootcamp by a "Nomad Brad".
Price: $7. 1 up-sell for $47 a month for a mastermind group on this subject. I only have the $7 offer though.
Overall Rating: 7 out of 10 stars. I'm very happy I stumbled onto this program. I purchased it with skepticism but in the end enjoyed the content and the new things I learned. I do consider myself an expert in this subject, but even this program taught me something new. Either way, I do recommend it for Bing ads users.
Just so you know:
So let me clarify real quick that there are actually an number of these types of programs out there, including an official one by Bing ads themselves. Now on a side note, I have to say I don't exactly trust their "expertise" even though it's the official company doing their own bootcamp and that's because my experience in the inner workings of being an advertiser there has shown me that they try to make more money off you spending more on their ads, and that often comes with doing foolish marketing tactics, so I'm not a fan of that. 
What is the Bing Ads bootcamp?
Anyway, this particular one I'm reviewing is by Brad who calls himself the Nomad. I believe I stumbled onto this while answering a question on Quora when someone was asking about PPC related topic, but that's not the point.
I decided to buy this program since it was only $7 and ended up really enjoying it. In a nutshell, what this program is, is a 3 week "bootcamp" course where each week you are doing something specific to eventually end up having a profitable campaign on the main network. Here is a quick summary of each week:
Week 1: 
You go about the process of setting up a website correctly. Now speaking from experience, this is the absolute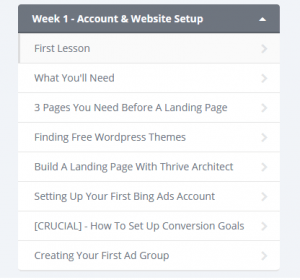 CORRECT first step to take. A lot of people don't understand that PPC advertising is a two way street:
You need to have a good website and then you need to intelligently set up PPC ads to get traffic to that site. Most of the time, people don't have either of these things in place and maybe if they are luckily, they have only 1 of them working.
I am happy to say that I have both of them working and even happier to report that Brad also emphasizes this point in his program.
The first starting point SHOULD be your website, so you can correctly optimize it so that when the ads run, and the traffic comes, that it converts. I've attached a screenshot of the first week's course on the right.
Week 2:
Here we get into the research phase and get started with making your initial ad/s. Brad walks you through the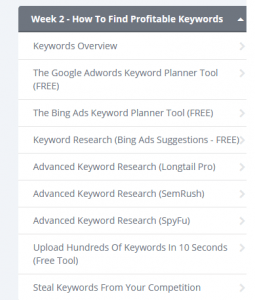 process of keyword research, how to segment your ads and teaches you the right steps to get started. 
I found a lot of the content here to be good, although my personal approach to this subject is a bit more narrowed down and in my opinion easier to understand. Here is my personal guide on this subject.
But in any case, I didn't really see faults with Brad's approach in Week 2. Rather I learned some new things such as that I could become an affiliate for Bing Ads themselves (why didn't I know this!?). Having done business with these guys for so long, paid them so much and helped others have success with this network, its high time I got paid for it!
So just as a side note, after I went through Brad's program, I signed up to join the network's affiliate program and am awaiting their response!
Week 3: 
In the final week, we have a filtration type of process going on. What happens here is that Brad shows you specific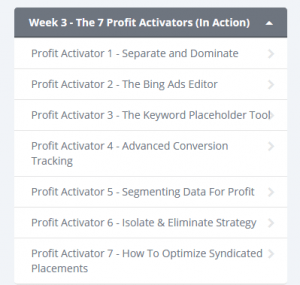 things such as conversion tracking and intelligent testing methods to remove campaigns and keywords which aren't producing you any results (conversions) and keeping only the good ones.
Now in addition to that, he also talks about "syndicated" ways to market, something I never got into personally as it dealt with the display network of Bing, something I had avoided for very long and always left off, but now I'm coming back to it thanks to Brad.
With the money saved, he shows you how to scale (grow) your account and make more money. The strategies are solid and I have to say, I've had issues with the conversion tracking tool in Bing for a long time, but Brad's approach helped clear up a lot of this. Now I can at least save more money!
So here's a couple of things I believe could be better:
So there's case studies missing. Brad often shows screenshots and walkthroughs in his videos (yeah I forgot to say, the site is video content mainly). He says he can't show some of his campaigns because they are his client's and that may mess up the confidentiality between them. I get that, but I would love to see his personal ones. I am certainly not afraid to share mine (well not all of it, but the overall stats). Here is an example:

So I apologize for the small screenshot, but the basic report here is that through my strategies of doing Bing Ads, for one of my successful campaigns, I've accumulated over 100k clicks at $0.07 cents PER click and made nearly 5,000 conversions, which totals to a near 5% conversion rate. 
The point being here is that I know about this subject too, and I honestly believe everything Brad says in his program. I would just love to see screenshots like the one I posted, but on Brad's site. The only thing I really saw was him showing a Google Adwords account he had with a 7% conversion rate on average. That's awesome stuff honestly.
Final Rating: Bing Ads Bootcamp.

Green Flag (Legit)
7 out of 10 stars. This is a great program that will help you leverage a great traffic network, get good conversions out of it and save money in the process.
My final thoughts: 2 more programs worth checking out.
Ok so, when it comes to Bing Advertising, I have 3 resources that I love. One of them is Brad's program. 
The second is my free tutorials that I've provided to you. Here is the first one which is great for beginners to it. And here is the second tutorial where I show the results of my using my system.
Now the last program is one which you should try out if you need more than just help with Bing Ads, it's good if you need help with website creation, making it make sales, doing SEO with it and more. It has a very comprehensive PPC guide which is actually the one I learned from and made my tutorials based on, but it's $49 a month to try (they have a free trial, but it doesn't show the PPC training, only SEO and website creation). Learn about it here.
But in all honesty, this last program is the best one out of the 3 options, including my free tutorials because it encapsulates all of the things it takes to make money online, including through Bing Ads, so it's an overall course, not just a centered around 1 topic type of course.