Let us pretend that you are a patient, I am the doctor and your website is your child. You've come to see me because you can't understand why your website is not showing up on Google…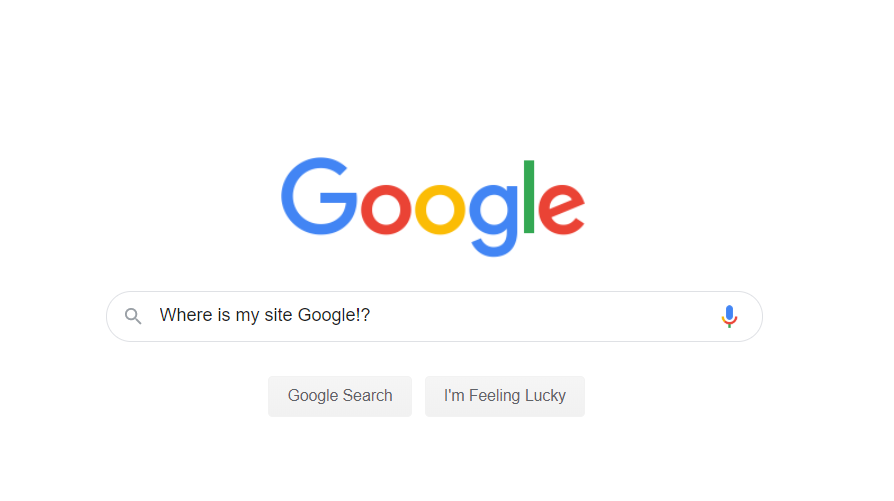 What's wrong with it?
Well my "diagnosis" would come down to 5 of the likeliest reasons this is happening and what you can do about it.
After all, showing up on Google and having your website bring in lots of traffic and money would certainly be the ideal scenario you're looking for, right? And I do have a lot of high rankings there, so I think I am fit to diagnose why this is happening.
So let's figure this out. But first…
Let me just say that each of these 5 reasons, while each providing you with a solution may not be best to tackle separately and perhaps, in order for your website to have overall success, that it's better to follow a specific "big picture" type strategy for this. 
Just like with the doctor analogy, if you come to me with a health problem and I analyze it based on a symptom/s, give you a pill that will stop one symptom from coming out, it will solve one aspect of the problem, but if there's a bigger reason you're having issues, then perhaps a pill may not be enough and you will have to look at things like living a healthier lifestyle for example and that may cure all your problems and make the symptoms go away.
That's the same way you should look at your website's health. I can and will absolutely give you solutions to show up on Google if you're not already seeing that very shortly, but solving one problem may also make you neglect a bigger problem.
For example:
Just because you are somewhere on Google doesn't mean you're ranked high and that makes a HUGE difference, believe me. But that's a whole other issue you need to tackle. Fixing reasons why your page isn't showing up there may not necessarily improve it's rank. That's point I'm trying to make here…

The 5 common reasons your website isn't showing up on Google (and what to do):
And some of these aren't exactly problems, but more of a thing where you just need to wait:
1) You aren't indexed yet. 
An index means you are simply ON Google, somewhere, just not necessarily ranked anywhere, yet. Most times people look for their site by simply typing it into the search. This is probably not going to provide good results if the page is new, which is why the best way to TEST if it's somewhere on Google is to type the URL in quotes. 
For example…
If my website name is "Thepagedoctor.com" and my URL is "http://ThePageDoctor.com", I would simply head to Google and type the URL version (with the " " around it) and hit search. If the page appears, you are absolutely indexed and SOMEWHERE, which is a good starting point and one that every page has to go through.
So if you do this test and it comes out positive, you're good. But what if you don't? Well most commonly a lack of index happens because you JUST started your page and it hasn't been caught yet by Google's spiders which are these things that go around the internet and find pages to index and rank.
Usually waiting about a week is enough to fix this problem as they (the spiders) will ultimately find your new page eventually, BUT there are ways to speed it up. Here are 5 ways to get indexed in Google faster.
Basically the methods there will expedite the process. It is totally legitimate to use them. I personally let it all happen naturally, but you can go about those tips I just linked to as well. 
2) You aren't properly utilizing keywords. 
A very common problem I see is that besides typing up their actual domain name on Google, people don't really know HOW to search for their page. And that usually mixes together with an improper understanding of keywords.
Allow me to explain…
Suppose I write an article on my website called: 
Let's say I published an article with that title, then I went on Google. Can you guess what I would type in order to see if it's ranked? 
Well if you said "The exact title", you'd be right. That's exactly what I would have to type up. Now if the results show my page, then I've been ranked for that keyword.
Now the problem is people don't know that they need to type up the titles of their blogs or pages.
So consider this tip in mind:
If you write blog posts, type up the title of the blog posts to see if it's ranked.
You will also want to read up on keywords here because just writing random titles without knowing if other people type up those same titles on Google makes them useless.
3) Your page is on Google, but is ranked very low so you just don't see it.
Consider that you have tip #2 down, type up the title of your blog post or a page you wrote about, but for some reason, page 1 results aren't showing it, neither is page 2 and so on and so forth. 
Did something happen? Well odds are…
Your page is probably targeting a pretty high competition keyword and there's other pages that are simply outranking you and that is pushing your page down very far into the search results, so far that it makes no sense to look for it. 
So what can you do? Well first you need to discover what the rank of the keyword is. Here's a good way to check your website's Google ranking.
4) There is little to no content on the website.
If there's one rule you need to know to getting ranked on Google, it's that you need to write a ton of content and attach that content to low competition keywords. If you do not do one thing or the other, you are really not going to get anywhere.
I run into a lot of people who complain about not seeing their page and when I ask them to provide me their page URL and look at it, well, my eyes roll and the reason they do this is because the page has NO content on it or perhaps just a small article.
Folks, if you someone who has this problem, re-read the very first sentence I just wrote for tip #4. In fact, read it 10 times because it will only help you.
Pages with little or no content have very little weight in Google's eyes. There is simply no authority on your part to show them that you are worth ranking high for.
But the solution is to write more, better content and keyword target it. That's how you reach high rankings, first page rankings in fact.
5) You did something bad. Black hat bad…
If you JUST started your page, then this is an unlikely scenario, but if you've had one up for quite a bit, had rankings and suddenly everything dropped, you may have to consider the possibility that perhaps you engaged in some black hat practices and that caused your site to de-index and lose it's rankings.
And these things typically happen only when people engage in unhealthy ranking practices known as black hat methods.
My final thoughts:
Well there it is, 5 of the most common reasons you're not seeing your page. And I have provided links to understand each reason better and specific instructions on what to do on some of them to utilize them fully.
Understand that in MOST cases, your lack of seeing your page isn't because you did anything bad. The only time that would happen is if you did something pertaining to the 5th point I made, but other than that, your lack of rankings or seeing your page for that matter is simply because you either haven't worked on your page long enough or perhaps you're just not giving it enough time to show up.
That's the major point I want you to understand and not think that you did something wrong. 
Remember, in order to have a fully healthy page that ranks well and does well, you have to look at it's overall health and not just one or more of the 5 points above. When you address it the overall way and do the right things, these 5 issues aren't even going to be things you'll need to worry about. 

If these 5 tips helped you, do let me know below. If not, tell me about your page's situation and I'll try and figure out a solution for you!