One of the many pleasures of owning a website is seeing it pop up on Google search and if you've never experienced it before, I am going to show you 2 ways you can verify it with this search engine and have it seen almost instantaneously.
Best of all, it is a complete free technique to implement if you follow this tutorial 🙂
The summary of both methods to make your website show up on Google:
1) The first one is simply that you create a website through some of the main platforms available such as WordPress and add content to it.
If you do this, you will have already done enough to get noticed by Google. 
They will send "spiders" to your page to analyze it and through a short period, which can be a week or two index your site. Now the word index is going to become important later on.
2) The second method is more of an "official" verification method where you literally join one of Google's main programs for webmasters known as "Webmaster Tools", add your page there and that acts as a verification method.
And through doing that, you can also access a cool feature known as the "URL inspection" method which means you "literally" tell Google:
"Hey Google, here's my page, put it up on your search engine right now!" and they'll do it, but it'll be an index!
Again, I use the word index because it is important to note this in proper context for what I will explain shortly. More info on the fetch method here!
Understand this: Google can easily find your website without you needing to do much.
Google is VERY good at finding your website, even if you do nothing on it to get it noticed. The only horrible thing you could ever do is change your website settings so it prevents spiders from analyzing your site, but you would have to manually set that to have it happen, otherwise don't worry about it.
The beauty of any main website platform, especially WordPress is that once you publish new content, what it does is it notifies the search engine that something new has been created and the spiders will rush over to check. That's why if you do nothing but publish new content, you will still be spotted and that's what we want. I'm just trying to say it's really not a big deal despite what you may have heard.
The 1st method to making your website show up on Google explained:
Create a website (I recommend WordPress).

Create a new page or post (new content).

Hit publish.

Wait for Google to spot it and index it. How to tell if Google found your site. 
The 2nd method to making your website show up on Google explained:
Honestly, take every step I just mentioned in the first method above, just omit the last one (it'll happen anyway), but what we're doing here is adding a 5th layer, which is the verification method.
It is the one where you "register" your site and/or "list it" on Google through their webmaster tools, a free resource for ALL website owners. 
On that tool, you can add as MANY pages as you want. At this time, I personally have about 7. Here is an example of how it looks:

In order to get this done with your page, you will have to first register with webmaster tools, then verify that it's yours through one of their options. Here's a quick tutorial on Google indexing.
Again this is all leading to verification.
Why should I worry about the second method if I don't have to do anything to have my page get indexed?
This may be the question on your mind after reading how effortless it is to get indexed and noticed by the search engine, but there are several benefits of using the second method, ON TOP of the first. Keep in mind with these 2 methods, it's not one or the other, the second one just adds an additional layer and here are…
5 benefits of using the 2nd method (webmaster tools) in addition to the first:
1) You can use the "URL inspection" method. This guarantees nearly instantaneous indexing on Google and not having to wait a week or more for the to do it on their own which is what would happen if you only relied on the first method.
2) You can get notifications, warnings and check ups from webmaster tools. Basically they'll email you if there's any issues on your site that need fixing. Perhaps you changed a link and now are getting what are called 404 errors, perhaps there was some maleware spotted on your site.
Think of webmaster tools as a secretary that lets you know the condition of your page.
3) You can literally see how your page is getting ranked and for which terms! Another awesome benefit of webmaster tools. You can see through graphs and other cool reports how your page is doing. For example, here's some reports on one of my newest pages: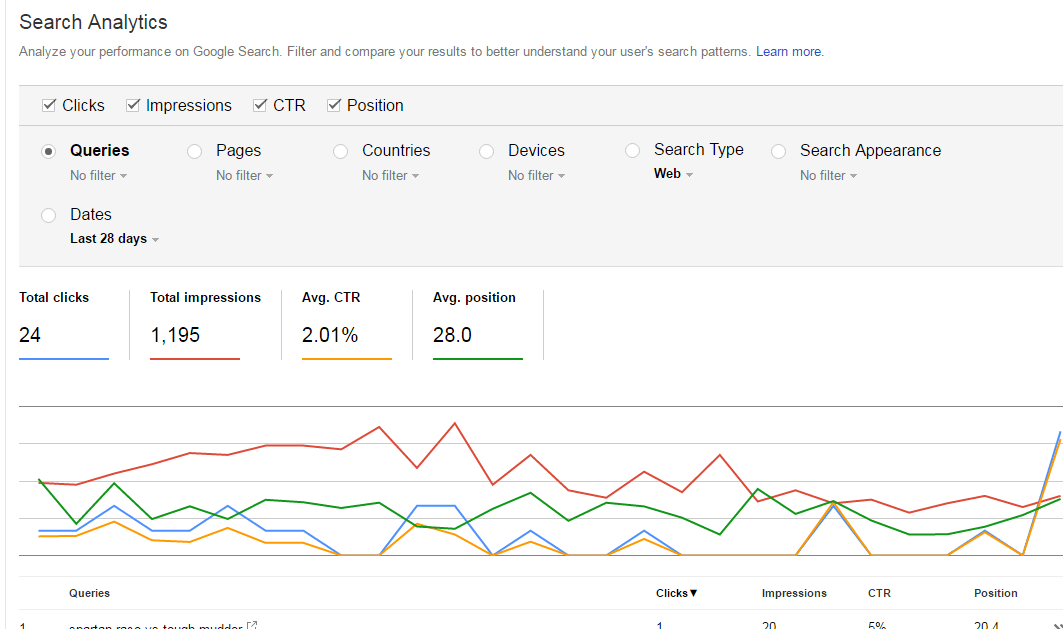 Having this kind of stuff can really be beneficial if you're aiming to do some marketing and make sales!
4) This is literally a form of verification. By registering your page on webmaster tools, you are basically putting yourself in a good standing with Google.
5) It's free. There is no need to pay anything anywhere. In fact, you will not find a single payment area or requirement to add your financial information on webmaster tools. It is totally free! And with the above 4 benefits it gives you, there's really no need to buy any special software to tell you what this awesome tool is already telling you about your page.
Note: Be careful of the Google listing phone scams like these! There's companies out there pretending to be associated with them that call people and tell them that their website isn't listed or verified and that they'll do it for a fee. It's total nonsense! 
Finally a word about Google Indexing: It's not the same as ranking!
There's a big difference between getting ranked on Google and indexed on it. When your page shows up on the search engine, it is indexed which means it's SOMEWHERE on the search engine.
When it's ranked, it means that it's on a particular search and competing against other pages also ranking for the same search. 
Whichever of the two methods you use or even, do not mistake indexing for ranking. While indexing is a first step, ranking is the second and both are important.
In order to get verified and indexed, you need to only do one or the two methods above.
In order to get ranked, your website will need to do things like keyword target and other important factors, but that's another story.
Looking to get your page noticed on Google and get a lot of searches? The you need to do more than those 2 methods.
While there are many people who just want their website to show up ANYWHERE on the search engine, the fact is, just showing up is often not enough to bring in visitors. Anyone can have their page pop up, but to have it pop up on a popular search phrase many people type? That's the hard part…
In order to "cash in" on the millions of browsers on this search engine, you need to market your website and for that you can either pay someone to do it (which will cost a lot) or you can do it yourself through good online marketing training.
If you choose the latter, than there is no better place than the program called Wealthy Affiliate that teaches this. Through doing so I've not only indexed my page but had it rank so high, I've brought in and bring in 100's of visitors on a daily basis. So have many others. Check out the Wealthy Affiliate training here to see how it works!