I'm a full time internet marketer. While not a millionaire, I have made over $500k-$1M in sales online through making one page sites, blogs, ads, email lists and so on.
Let me just say the following:
Clickfunnels is not a scam.

Clickfunnels is legit.

You can make a lot of the promised things this program promises you.
Then why am I not recommending it? This video explains the truth behind it:
Need more info? Sure, here you go:
Overall as I explained in the video review above, Clickfunnels is a software program designed to help you create great looking landing pages. You can use these landing pages to:
To collect an email list.

To make a sales page.

To make a webinar.

Ect…
Either way, whatever your website/business, Clickfunnels can help you make some good looking landing pages to improve it. It's legit, if I haven't made that clear, now it should be.
Is Clickfunnels for you? Yes, if…
-You're an expert at internet marketing, traffic generation and making sales and have an extra $97-$297 to spend a month (that's the price of Clickfunnels alone).
-If you know terms like sales funnels, laser targeted traffic, paid traffic generation methods and more.
No, if…
-You're a complete beginner to internet marketing, traffic generation and have made little or NO sales online.
-You have no understanding of terms like sales funnels, landing pages, blogs, how to make websites, how to get targeted traffic to your site, ect…
Why I'm not a proponent of Clickfunnels:
Your skill and experience as an internet marketer determines your success at internet marketing. If you are a newbie, no fancy program like Clickfunnels is going to help you if you don't know how to use it or get the right traffic to your site.
You NEED training to become experienced and skill at internet marketing, PERIOD. THEN you can use programs like Clickfunnels and not lose money.
And I also believe Clickfunnels is marketed too much by it's affiliates who people who are in the "no" category and many of those people will lose money with this program in the process. 
For example, Russell Brunson, it's creator has created programs like the One Way Funnel Challenge and The Affiliate Bootcamp that teaches you how to promote Clickfunnels, but it also requires you basically end up paying for it, and it's VERY expensive.
Then you have the TONS of affiliates who make internet marketing programs and pitch this system on the back end as a way of making extra money of unsuspecting people.
While these affiliate's actions are their own, I do not endorse this way of doing affiliate marketing and think there are better ways to market this system. But overall…
Clickfunnels is over marketed and over-hyped in my opinion.
And this is mainly because it offers such a lucrative promotional program in my opinion. It can really make it's promoters a lot of money, but that doesn't mean it's good for the consumer, especially the one who is new to using a system like this.
If you think Clickfunnels is the ONLY place to make a good looking landing page from, you're wrong.
ANY site/blog can make them and they don't have to be good looking to make sales. In fact, sometimes great looking landing page hinder sales if you don't know what you're doing.
And by the way, these phrases are used so often by people who don't actually understand them:
Landing page. What is it? Well it's literally any page people land on from search engines, emails, social media, online ads by just clicking the link that takes them there. THIS very review is a landing page.
Sales funnels. What are they? They are techniques people use to get traffic to a landing page and into an email list or sales offer. The better that process converts, the better set up the sales funnel is (and most of that is done OUTSIDE the realm of Clickfunnels). Setting this up properly requires training, not Clickfunnels.
What is the secret to making great sales funnels? Here it is:
Ugly sales funnels can do just as well if not BETTER than beautiful sales funnels and the key is following these 3 steps I'm about to give you (This has generated me over $500k in sales, here is an example):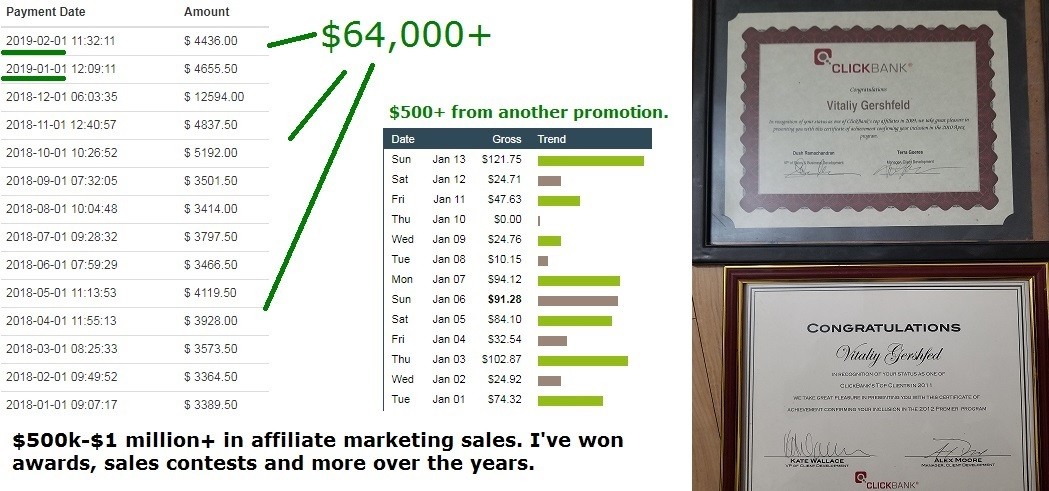 Here is how I've been able to do this: Every time I run a sales funnel, here is what I always aim to accomplish:
Laser targeted niche.

Laser targeted landing page.

Laser targeted traffic generation.
The specifics:
Target a laser specific niche with a problem.

Create a landing page that tells the laser specific niche you'll help them solve it.

Then create ads that target the laser specific niche (YouTube ads, FB Ads, Google Ads, Bing, ect…) OR for free traffic, create a blog and write content for that laser specific niche.
Example:
How to lose belly fat (laser targeted niche).

I make a website or one landing page talking about how I help people solve it.

I then run ads that target the laser niche (how to lose belly fat) and funnel them INTO the offer (sale or collect email list for later sales).
Example 2:
How to get rid of knee pain (laser targeted niche).

Make a landing page that helps people with this problem (sales page for laser targeted niche).

Create ads or create content to funnel traffic from search engines to this landing page. Your goal here is to get ONLY THIS niche audience to the site. Why? Because laser targeted traffic is what converts best.
When you have this set up properly…you have a great sales funnel.
And again, only training will help you accomplish this, not Clickfunnels. Beware of people who overly promote Clickfunnels. They want to make money, but they aren't giving you these specifics like I am…

The bow and arrow analogy…
Think of 3 things: You, a bow & arrow and a target. You are aiming to hit the bulls eye (middle).
Clickfunnels is like a fancy looking bow and arrow, but if you don't have the skills to use it, you will not hit the mark.
You need GOOD training to help you become a skilled archer. Then you can use the fancy bow and arrow and you can even hit the mark without a fancy one as well.
How to get training to become a skilled archer (internet marketer):
Remember, without the skills to understand niche audiences, how to make great landing pages and properly get that traffic to your site, no fancy program is going to help you cut corners. You need the training to make this work, otherwise, you will lose money.
In my experience, the best place to learn to become a skilled marketer is through Wealthy Affiliate. I learned my skills through this place.
It's free to try and teaches SEO from the ground up (for beginners) and everything about sales funnels , landing pages and laser targeted traffic generation (the truly important skills). There is advanced training that also talks about paid ads for laser traffic generation.
It's FREE to try. There is also an optional monthly upgrade of $49/month…
Free membership benefits:
No CC required, no personal info required, no risk basically. Join here.

Free membership lasts as long as you want.

You get coaching from me for 7 days (link below).

Communication free for 7 days.

Get 1 free site.

Access to 20 core lessons & 100's of side lessons on MMO, funnels & more.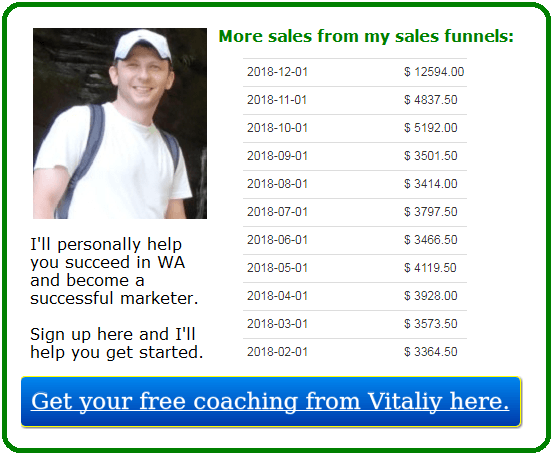 Premium membership benefits:
$49/month ALL access. Also 6 month ($234) and 12 month ($359).

All free benefits multiplied substantially.

10 free sites and host up to 10 sites (free hosting).

Paid ad training for faster traffic generation.

10,000+ lessons available.

100+ CORE lessons unlocked.

Access to any future updates.

300+ webinars from a awesome pro at MMO.

Unlimited coaching from me (as long as you're a member).

Unlimited coaching from founders of WA & access to other experts.