I'm going to save you time and say that yes, Traffic Monsoon was a ponzi scheme and was a scam. I say was because if you haven't heard the news, it went down because of that.
However, while I will explain what happened, I will also show you real, legitimate ways to make money without getting involved with such programs (what really works).
Quick Report on Traffic Monsoon:
Creator: Charles Scoville.
Price: There is a free registration, but the pricing looks like it's about $50 to join with other ad plans available where you can receive a certain amount of clicks for an X amount being paid out. I'll show the chart.
Overall Rating: 0 out of 10 stars.
I'd reviewed Traffic Monsoon long before it went down, and I basically stated that I believed it was a ponzi scheme and should be very cautiously approached. Not too long after, it went down which is why I updated this review a little bit. Most of it is still written up in the way I talked about it when I first explored it (before my suspicions were proven true).
If you wish to know what is a good program to get involved with:
There are 2 important things I want to share with you regarding Traffic Monsoon:

Even though it went down, I want to say that:
1) I recommend reading this entire review anyway because it will explain how the scheme of this program actually worked and the reason I advise you look at it is because there will be many more programs like that one that will pop up after it's fall and inevitably all fail as well.
This review will prepare you for any future scams like it that arise and save you money. Unfortunately there are now a lot of people who have put in good money into this program that will never see any of it back and even people who HAD made money with this program are now at "risk" of having to pay it all back…
2) Alternatives. I just gave you one above and it is not a ponzi scheme, nor a get rich quick scheme. It is legitimate because it requires what is legitimate to make money online, which is hard work.
Let's get into what Traffic Monsoon was before it went down:
Traffic Monsoon in a nutshell:
This program offered a PTC (pay to click) where you can earn money by clicking on ads shown on the Traffic Monsoon network and also services where you can pay to get your ads clicked on. Basically you join the site and then pay to be involved in it's operations as well as a revenue sharing program.
But while that's an extremely vague explanation, the real story in my opinion is somewhere in between both what proponents were saying about this program, that is those who say you can make money on it and those who are on the other side, the ones who say it isn't legit, is a scam and ponzi scheme.
A complex and ponzi scheme system hidden underneath simple hype:
1) First the simple hype:
You see I used the word decipher for a reason: It was NOT easy to understand this program. On the outside it looked like a simple pay to get visitors and click on ads to earn money and credits: You would get paid one of 4 (possibly 5) different ways. Well I suppose since it's shut down now, I should use the word "could have been paid". No more, but anyway, let's assume it was still up:
Option 1:
You could have joined the network and click on ads being run by other members as I understand it, stay on the sites those ads go to for at least 30 seconds (less time means less money earned) and make pennies which ad up.
Option 2:
You could run your own ads and possibly get leads from people from within the network. I admit this is a possibility to earn money with.
Option 3:
You could participate in the revenue sharing program where profits made by the company (supposedly from the profits generated by the site through the next option I'll show) where you must first pay about $50 to be a part of or click on at least a certain number of ads which make you eligible for the revenue sharing for 24 hours (ensuring that you keep clicking on ads).
Option 4:
You can buy their traffic exchange options, either credits or pay for clicks to your site: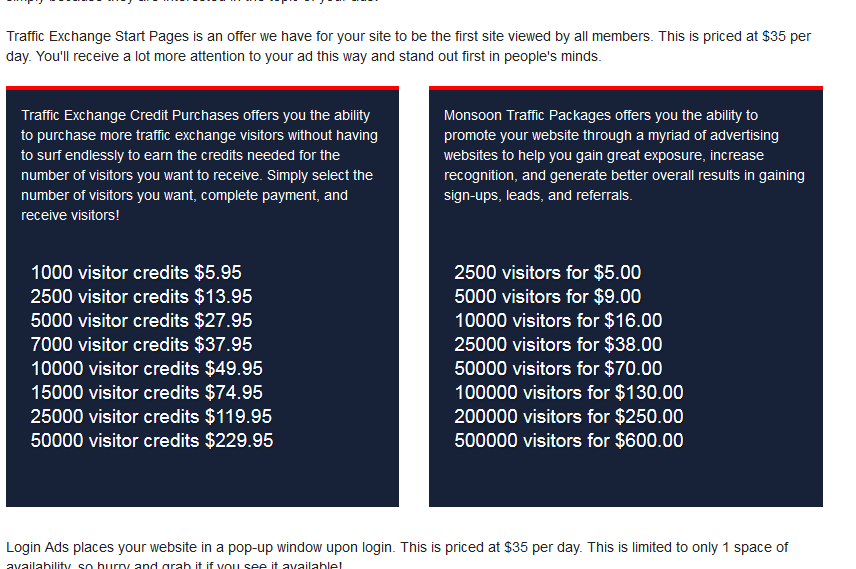 Option 5: Or you can become a Traffic Monsoon affiliate and earn 10% for services purchased by your referrals within the program.
Now we move into the complex system (which was really a ponzi):
But looking past all that obvious information and understanding all the operations that go into it is where the difficulty lies. And it's when I started trying to figure those answers, that the answers I found were only really through the sites which criticize Traffic Monsoon. I really don't know how this program can answer those questions on it's own…
For example, upon researching this program, at least from it's official site, many questions arose. For example:
Why is it that people considered it a ponzi scheme?

Can you really make money with this program?

Is it really legit?

Are there people who are having problems withdrawing their money and are their policies being changed?

Is it true that the owner of this program was previously involved in multiple programs like Traffic Monsoon which failed?
These were all questions I had to look to find the answers to from other websites and that's when my research really started uncovering some really shady information, mainly about the owner Charles Scoville. That information would be one of the two main reasons I decided to stay away from Traffic Monsoon. The second reason I'll get to later.
Main reason #1 why I am against this program:

The creator of this website has a history that is very, very questionable. He has run several other websites in the past which from what I understand have operated very similarly to Traffic Monsoon. Those sites are no longer working and if you do a search on them, they will just not show up (there's no longer a functioning website, but the domain is still up). Here are just some of the sites that already have gone down:
Buxsecure.com

Powerfulbux.com

Infinitybux.com

Tviptc.com

And now with everything that's happened, we can add this program to the list…
Just 4 (5) of many more other sites which Charles has been either an owner of or associated with. Complaints from those other programs included common things you see with ponzi schemes such as lack of payouts happening to members, changes in TOS, raising of threshold payouts, and even charging for support (?!).
Was Traffic Monsoon just a repeat operation taking place? Looks like it:
I don't ever take everything I read on other sites as complete 100% fact, but it cannot be argued that those sites ARE down. And if it is true that Charles was behind them and kept re-opening new ones, running a similar operation, then it's very possible to lean towards thinking that Traffic Monsoon maybe on the same path.
Main reason #2 why I was not for this program (when it was out):
I've been trying to find a way to give the business model Traffic Monsoon works under legitimacy but I just can't do it. I never like calling anything a scam, but the more I think about how this business can work, the more I believe it really can be a ponzi scheme.
If you are paying to join a network and connect with other people that are part of it, you are essentially paying each other to view each other's ads. It's like a mutual "agreement". That is how you get paid. But this is not a productive model. I always felt as though traffic exchange programs and PTC programs lacked productivity.
In my opinion, people who click on those ads aren't really interested in offers. They are more interested in getting paid by Traffic Monsoon. I'm sure as an advertiser you want to compile leads, but it doesn't seem like the most relevant scenario to do it under. So I think your ROI is going to be very, very low.
Final Rating: Traffic Monsoon (updated):
0 Stars
Red Flag (Total Scam)
0 star out of 10. Too much evidence points to this program not being legit and now more evidence basically makes it 100% true.
If you're going to get involved with ANY program that is like this one, try to only invest the minimum amount, so even if things don't work out, you will not have lost much. Personally, I don't even want to get involved with programs similar to TM because they are not legit, so I'll stick to what I trust, Wealthy Affiliate, which is not a similar program, but a great place to learn the system of creating a real internet business.
My final thoughts: Here is why I believed it was a ponzi scheme (before it was proven to be that):
I have tried to give this the benefit of the doubt, but I can't. What we had, in my opinion, with this program is a system where you have advertisers paying to get clicks from other people who are trying to make money by clicking on ads and getting paid for each click, and vice versa.
Because these clicks do not in my opinion usually generate good leads which is very common with traffic exchanges and getting paid to click on ads, very little outside money is made by the actual investor, so as a whole, the big picture (again in my opinion) is that any real money made will be by the program which gets new investors trying to get into it, while the majority of it's users are going to be stuck in a pay to advertise and then making very little money by clicking on ads with few leads being generated and little to no profit being made, but most of the money will go to Traffic Monsoon, while the rest is going to bounce between investors, which is very much like a typical ponzi scheme.
If that's confusing, let me know in the comments section and I'll clarify it, but if my theory isn't something you believe in, then take into account the history of it's owner, the programs he's started which failed that look like Traffic Monsoon. That is really the big red flag in all of this. 
A lot of people got taken by TM, and a lot more people will get taken by those types of programs if they aren't careful:
Again, PTC programs like TM are build upon the ponzi formula and are doomed to fail the majority of people who enter it…
If you never want to get scammed by this again and/or want a legit alternative, again I recommend Wealthy Affiliate, the best work at home program I've ever come across.
Now that I've explained everything, I hope this knowledge arms and protects you from getting scammed ever again by PTC programs.