Quick Report: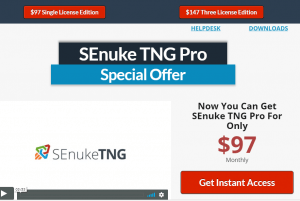 Name: SEnuke TNG.
Price: $1 trial available, but it's main price point is $97/month for 1 site, $147 a month for 3 sites, or you can just buy the whole thing for either $1,997 or a 1 year payment of $1,477.
Overall Rating:

1 out of 10 stars

.
There's some things I saw within this program's promises that scared me. The SEO implications of what this program can do to your site are frightening in my opinion and I will explain why…
Recommended program? No!
SEnuke TNG in a nutshell:
This is an automated software program which does several things for you which it's own sales page says are important for having your site rank higher. Here are just some of those things:
It creates tons of backlinks for you. They say these links are high quality.

It spins content you create and/or content you wish to create from other sites. 

From my understanding it creates "fake visits and clicks" to your site to show Google that it's popular.

And more…
As a result of using this software…
These are the kinds of results you are

supposedly

going to get:
1) By getting more fake visits to your site and longer stay times, it'll show Google you have a high quality site. This will boost it's rank.
2) By using it's content spinner, it will produce for you a lot of content and show Google your site is growing, thus also providing it with higher rankings.
3) By creating backlinks in bulk, it will also show Google that your site is getting appreciation and shares from many other sites.
These 3 things (and the other things SEnuke TNG does for your site) will all contribute to you getting higher rankings for your website.
In short, this software is supposed going to take the hard work needed to succeed in SEO and automate it so it's easy for you to do it. 
Unfortunately, these promises are likely to fall short in my opinion…
Why you may get the complete opposite results…
When I was reading and watching the video of SEnuke TNGI had to pause and re-watch/re-read some of the things they were saying because I couldn't believe that in 2018, such a program would still be in existence and doing this stuff.
You see, many years ago, many of the things which SEnuke TNG promised to do to help your site rank was actually something that Google did away with. In other words, the same methods used by this program was flagged and punished by Google.
If you engage in backlinking like this…

If you use article spinners…

If you try to fake visits and bounce rates…
You will be doing things that Google has warned users NOT to do, lest they have their site punished in horrendous ways, such as losing it's rankings almost completely.
So the irony of using SEnuke in my opinion is that because of the contrary rules set by Google, you will get the OPPOSITE results of what this program is tying to do for your site.
Instead of getting high rankings, Google will catch you engaging in this type of activity and punish your site, thus de-ranking you.
This is why I said I was scared when I read what this program does for you:
If someone came to with SEO advice and told me about this program and if they should use it, I'd yell "NO, absolutely not!". 
As far as I see it, this thing is just another black hat program to trying to cheat the SEO game and cheating the SEO game is not an easy thing to achieve these days. Even if you get away with it, you're playing a game that you will not win. Google makes it harder and harder to get away with this and eventually everyone gets caught. Once they do, they have to start over with their site. It's not a game I would ever advise anyone play. I've done that before, it's not a good thing…
Cheap backlinking tactics for example are easily seen by Google and basically squashed. Even if you get high quality backlinks from this program, it still does very little to nothing for your site.
The even bigger issue I see is the "visits" this program says it'll send to your site to give your page a stimulus effect in Google's eyes. It's just code word for fake visits. I don't trust this method of black hat stuff.
And finally, the even bigger issue is the article spinner. I have said numerous times that article spinners are simply a form of plagiarism. How else would you define a form of spinning other people's content?
And these are the 3 big red flags that stand out the most with this program. I'm sure if they weren't so vague, I could probably find more, but honestly, these 3 issues are more than enough for me to know what will happen if a person engages with them: They will get the complete opposite SEO results than intended…
Final Rating: SEnuke TNG

Red Flag
1 out of 10 stars. If you know what white hat SEO is, then you will probably assume that what SEnuke TNG does is black hat and that will be enough for steer away from it. That's how I look at this program…
My final thoughts: Alternatives.
I don't have an easy answer for you if you're trying to get good SEO results so I'm going to say it straight up:
You cannot rely on these types of programs to get the desired SEO results you wish. They will sink your rankings if you get caught. Avoid them entirely.
-As an alternative, you have to avoid doing backlinking for example. Socially share your site when you want, but do not rely on this to grow your rankings.
-Create your own content and/or pay someone to do it and make sure it's completely unique and not copied from anyone.
-Do not fake visits to your site to try and trick Google. Grow it naturally by creating high quality content and letting Google do the rest. 
It takes more time to grow your site this way, but it is the 100% safe, profitable approach to reach success. It's what I have been doing for years in my own SEO efforts and this is what works people.