My general thoughts when I first stumbled onto Rewards Buck were negative. This is because I've come across and reviewed many sites like this in the past which have made ridiculous claims about how much money you could make with them, which always turned out to be false. 
Naturally going into this program, I figured I'd find the same faults there as I did in the other programs, but I'm glad I stuck around, explored it more. because this program is one of the better rewards programs I've seen, at least in terms of how it's organized and structured. It's easy to get started with it.
However, don't think that this means I'm recommending it. I'm the type of person who looks at the side income potential a program can bring someone when I review it, and this place is not on that level. You can earn some points, make a little bit of money, but not enough to call it a "side income".
And there's also other internal issues I am concerned about once you're inside the members area seeking to earn points. All of that is about to be explained…
Let's review Rewards Buck:
Price:
Free to join, although once inside the program, should you wish to get a lot of points, you will need to join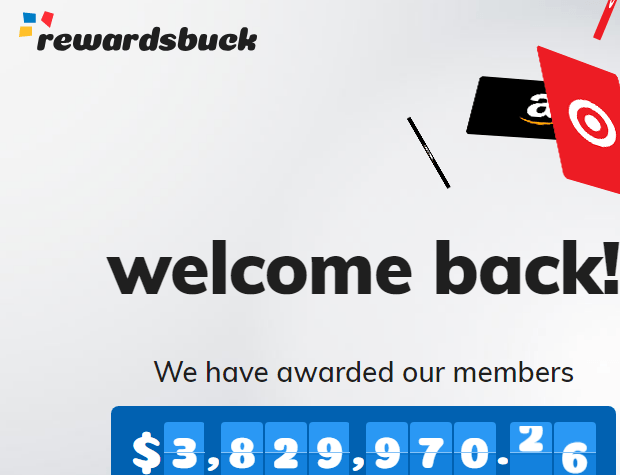 other programs and possibly pay for them to be eligible to receive those points.
How does it work? 
This is a system that allows you to earn points and then redeem them for money or gift cards by doing things like signing up and trying phone apps, games, miscellaneous stuff like puppy food and more. 
The program itself is affiliated with many of the places it advertises to you inside the members area and by joining those programs through Rewards Buck, they will make something from that, but they incentivize you to join those programs by offering you points for doing so.
Some offers are free, others cost money. The ones which cost money (such as trial offers) will give you more points in exchange for trying them.
My overall rating for this program:

2 out of 10 stars

.
I am 50/50 on whether it's legit or not.
It has good, easy to use features and you CAN make your first $10 pretty quickly, but again, it's not something I consider a good side gig for money (the way better choice is coming up):

The

good things

about Rewards Buck:
Sign up is easy. I just entered my name, email and password and I was in quickly.
You get your first 125 points rather quickly as well. You get 100 points for signing up and then 25 for completing their first intro survey (before you get into the members area). That already gets you close to the 1,000 point level to get your first $10.
Site is organized. It took me less than 30 seconds to figure out where to go and what to complete. You get numerous offers to complete, quite quickly. I see no issues for beginners in figuring their way around Rewards Buck.
Many options available to earn points. Trying mobile apps, applying for trial offers to physical and digital products, and other options are available.
I'd honestly start with the offers which connect to you more.
For example, if you love drinking coffee, they offer you a trial to join this coffee promotion and earn 700 points.
The

bad things

about Rewards Buck:
There's no evidence every option to get points through is legit. Some options to learn points, especially the large points numbers, require you leave the Rewards Buck site and join another program. You'll still get credit for joining the said site (they may require you to complete a series of steps beforehand), but if it's a legit site you're joining/signing up for, is unknown.
You see many sites like this affiliate with many places, not necessarily because they're legitimate but because they offer them the best incentive to do so. And generally the more options a programs like Rewards Buck offers, the more I feel many of those offers may not be legitimate. 
Not a side income opportunity. Most people I know, including myself look at these sites and ask if it's a good way to make a "little extra". I personally think it's not the case, here's why:
If you go the free route, download games and try things which don't ask you to pay for them, you earn less points, thus it takes longer to reach a payout threshold. 
If you go the paid route, you'll have to try offers and even pay more at times, but you will be rewarded more, although in opinion, you'll end up paying more on the back end vs the points you'd get. 
Payout options look a bit shady. I looked around to see how they pay you once you want to cash out. There's no PayPal, it seems like they send you a gift card through the address you provide. I'm a bit reluctant on recommending this program for that.
Final Rating: Rewards Buck.
Red Flag
2 out of 10 stars. While it is easy to use and start earning points, you really have to analyze how much time, energy and even money you'll be putting into the program in order to make a little bit extra and granted how much time that'll take you to get to that cash out point, you'll really lose out in the long run.
My final thoughts:
I suppose if you're the sort of person who isn't really busy or isn't looking for a side income gig may find playing around with this program to be "worth it", but again, I know people who look up these sites are generally not of that category, they want something that can earn them something real and like I've said, Rewards Buck just isn't the program for that in my opinion.
While this program generally lands on the higher quality end with regards to the other types of sites I've seen that are like it, the same conclusion I once came to about them being a waste of time is still relevant to this program too.
I don't like that saying type of stuff, but I really see no reason to use this program, especially if you have serious intentions to make some good money online…

Thank you for reading my review of Rewards Buck.