Both Neucopia & Empower Network are both MLM programs which have a lot of controversy surrounding them as well as popularity.
Yet when put against one another, which is actually better? I have reviewed both of these products and want to tell you this right now:
On the subject of Neucopia vs Empower Network, neither is better, because both are terrible, and to understand exactly why, I want to explain how each program works, and in the end of this show you a much better alternative…
First let's take Neucopia:
In a nutshell this is a company which has 2 membership levels: Basic & Premium.
Basic is around $50 a month and offers you 34 guides on making money online. However, these guides are completely useless as they are outdated and you can literally get them for free by simply typing the name of the guide/s into Google. No joke.
Additionally, you can't promote the Neucopia program and earn their "100% commissions" unless you join their…
Premium membership: This will cost you close to $300 to get into and then $169.95 a month to stay on. This will give you access to video training, but very little support and the ability to promote this company to others, but what you need to know is that the 100% commissions aren't really 100%.
You will get paid $100 for every 4th person you refer. The first 3 people you refer into this company will send those commissions to a higher up person. The odds you of making great money with this program is HIGHLY unlikely and the program itself is nothing more than pyramid scheme.
Now let's look at Empower Network:
I've got a lot of bad things to say about this program, but instead of getting into a long rant on my problems with it, I'd rather save you the time and effort and just summarize it. If you wish to check out my Empower Network, review, here it is. But here's the basic idea:
This is one of the biggest pyramid schemes I have ever seen. What happens through this program is that you're lured into it for $25 and promised riches and an authority blog.
It isn't until you join for the $25 that you quickly find out:
The blog doesn't even come close to having authority.
The blog/s you create do not belong to you. All your hard work is property of Empower Network.
In order to get any sort of training, you need to upgrade to their "Inner Circle" membership which is $100/month.
If you choose to upgrade, you'll get a little training, but everything will be based on promoting Empower Network to others. You'll then be pushed (harassed and talked down to) to get even more training from Empower Network which costs nearly $5,000. This is what they call going "All in".
The training is more of the same bad stuff about promoting Empower Network. Yet most of these methods have been banned on Google, Youtube & Facebook. Thus you will then be stuck in a huge financial hole and have to refer others into it to get yourself out. This company's business model is HIGHLY unethical and basically criminal.
Another very disturbing fact: Less than 1% of this company's affiliates actually make a profit. Here is proof.
Neucopia Vs Empower Network Comparison Chart: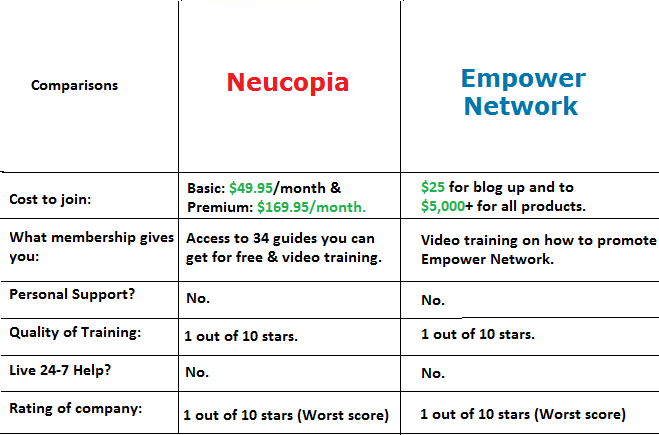 Important facts to note about both companies:
Neither has good support. In fact you won't get much from Empower Network unless you go all in and as for Neucopia? Good luck!
Both companies are extremely disingenuous. You are told you can get so much for a 1 time fee. Yet you get nothing out of it when you join. Neucopia's products are easily found for free on Google and Empower Network tells you to get any real training, you need to upgrade your membership. In both cases, what you see is not what you get, even if you pay for all of it.
Neither company is rated highly on this website. Both get 1 out of 10 stars. 
Why Neucopia was rated so low.
Why Empower Network was rated so low.
The Verdict: Which is better?
Neither! Both companies are awful at the services they provide as well as training. Their main goal is to promote the company itself by any and all means.
While Neucopia gives you the impression you'll get tons of great training which turns out to be just content their purchased and re-sold, Empower Network as I said before lures you into their $25 a month membership promising you a lot, but delivering VERY little until you buy all of their products ($5,000+!) and even then the training is only on how to get other people to join Empower Network and no how to make honest money online. 
Neither company is better. You can get better and honest training in other places without having to invest so much money and get so little in return.
An Alternative Option:
If you're looking to make an honest buck on the internet, one of the only places I recommend is Wealthy Affiliate. It is an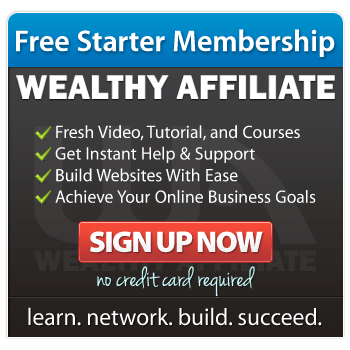 organization which teaches you the A-Z of internet marketing. While Neucopia and Empower Network decorate their promises by saying you'll make money effortlessly, Wealthy Affiliate is up front about everything they teach.
They aren't a get rich quick scheme. They are a legitimate source to make a successful online business. They give you the tools and training including:
2 free sites & unlimited hosting. 
Access to a 24-7 support chat.
Access to 500+ training modules on all aspects of online marketing and how to make it work.
Learn more about Wealthy Affiliate here.
 Update: Wow, both these companies are gone now.
Both Neucopia and Empower Network vanished due to their business models not being able to be sustained. Unfortunately with their destruction, a lot of money was lost by people who invested and trusted in them. 
After these 2 fell, others would also try to sprout up and copy the same type of business model and because they were based on the same principals, they were also scams. So overall, the message about trying Wealthy Affiliate (which is still active), stays.