Quick Report: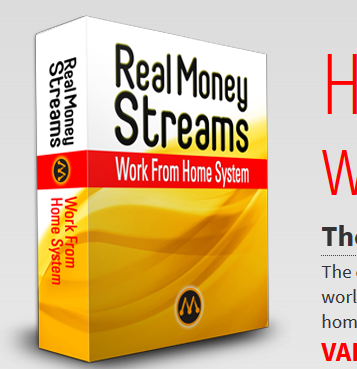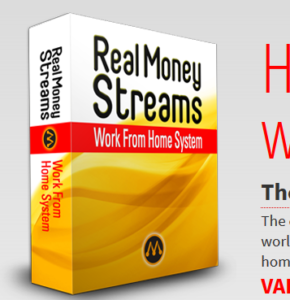 Name: Real Money Streams.
Price: $37 with one up-sell after it for $47.
Overall Rating:

1 out of 10 stars

.
I bought the program, went through it and have to say, there isn't much good stuff I can say about this. Most of the site is eBooks, and the content inside them is mostly outdated and/or just talks hype without getting into details on what you need to do to make money.
There is a LITTLE BIT of useful info such as bonus eBook with 30+ sites you can join to make extra money, but honestly, a lot of those sites are bad. Overall, I disliked this program.
Recommended? No!
What is Real Money Systems all about?
So this program is pitched as a work from home opportunity where by joining, you'll get access to "amazing" work at home job opportunities. Is this really the case? Well mostly no.
If you read the above explanation I had to explain my overall 1 out of 10 star rating, you probably already know that much of the hype on the site is not met once you join, at least that's my opinion based on what I saw when I personally joined. So let me explain that now:
Inside Real Money Stream's members area:
Section 1:
First of all, to sign into the members area, you are asked to enter your phone number to speak with a specialist coach. I honestly never asked for this so I avoided this section (too many bad experiences).
Section 2: 
Once you bypass the coaching pop up, the next thing you land on is the official members area of Real Money Streams and the first thing they pitch to you is some amazing system which teaches you to earn $100's in little time. But clicking on that actually takes me to what I honestly think is a fake news site that pitches fake work at home opportunities. 
I'm going to hold off on that final conclusion for now because I didn't get a chance to investigate this site or the program it was pitching me (It's called Amazon Cash Websites) but I've seen enough fake sites which look like the one here to know that I cannot fully trust it.
Section 3: 
Ok finally, in this section of the members area is when you finally start to see the content (I've included screenshots) you were promised on the
sales page (the work at home opportunities).
Here you have 5 eBooks to go through and honestly, most of their content is horrendous and fails to deliver the content I was hoping to see. Let me explain:
eBook 1: A quick start guide that's 12 pages.
There is no actual quick start, you're not told what to do, you just get a short explanation on how you can make money completing tasks online and offline for money. That's really it. It's extremely general, there are no examples and it really left me confused.
eBook 2: It's called "Paid to Surf the Net".
This has 50 pages and talks about joining PTC programs which stands for "pay to click". They very broadly explain
the system and directions, but offer a few examples of sites you can join, such as NeoBux. It just so happens I've reviewed that and I did not consider it a good work at home opportunity. 
Basically they have you complete tasks and offers for little rewards, but then they add up and pay after a long effort. In short, I also found this ebook, despite being 50 pages long to be lacking in concise content I could use…
eBook 3: It's called the Beginner's guide to working online.
I wish I could actually open it, but there's no clickable link. Basically, it's an empty eBook you can't open.
But the good news is that as an alternative, since I personally DO work online, I have my own guide that actually opens up and here it is.
eBook 4: It's called "Quit Your Job And Work Online".
Oh boy, will this one finally deliver?
Nope, it's 36 pages of poorly written content on starting a home business and advice on avoiding scams and getting refunds (which I too write about here, and it's free). I honestly think whoever wrote this eBook was hired from a third world country and just put some stuff together, because it is obvious that it's poorly written and hard to understand.
There's a lot of people who create scam eBooks in which they fake "value" by hiring writers to come up with general info on popular subjects that don't really help people get started, but then they take that worthless content and sell it, and that's what really ticks me off.
eBook 5: Known as "Secret High Paying Online Jobs". 
In all honesty, this was the only eBook I found to have SOME sort of value out of this entire program that so far has done nothing but disappoint me. In it, you are given over 30 sites to join which include places like tutoring sites, freelance writing sites and things of that nature. Honestly, some of those sites they talk about, I've reviewed and liked such as oDesk.com and another that wasn't on the list, but should be is Tutor.com (check them out, they really are good opportunities).
But honestly, I think that given all the low quality content I found on this program, I really believe the suggestions for work at home sites that were listed in this eBook were just bundled together and not really researched. I say this because in the previous eBooks they recommended certain programs I honestly found to NOT be good opportunities, so that's why I'm saying this.
Section 4:
The next part of this members site features 6 eBooks and programs on various things you can do to make money online, and it's basically guides on broad topics in this regard such as blogging, adwords (Google Ads), being an Amazon affiliate and things of that nature. While there is stuff to read in this section, I have to say that it's very broad and may even be confusing for people because it's all over the place on advice. You simply won't be able to use most of this info in my opinion…
Section 5: The last part…
In here the site links you to Amazon Mechanical Turk which is a legit site that pays you for completing tasks, but most of the gigs you get here pay VERY little so be aware of this. I used to consider this a good opportunity, but I have to rethink my opinion on this given the compensation amounts.
Final Rating: Real Money Streams.

Red Flag
1 out of 10 stars. I'm an optimist and I tried to find good arguments to recommend this program and I can't do it. It's very low quality and yes, I believe it's a scam, but a refundable one at least.
Let me save you $37: Here's the legit info I scrapped that you can use for free:
Forget this program entirely, I am going to happily get rid of it, but at the same time, I want to share with you some free info you can use right now to find some legitimate work online and/or start an online business, so here's 2 things you need to know:
1) There's only a few programs I recommend to find offline and online gigs to make money through:
UpWork.com

Tutor.com

Textbroker.com

Taskrabbit.com.
These sites should fit most people that are interested in work at home gigs who have a broad skill set, whether it be writing, fixing things in homes or tutoring people online for money. Check them out.
2) In terms of making an online business, a profitable blog, that sort of thing, Real Money Streams is obviously NOT the program I'd go for. It's eBooks and advice is all over the place, it's all in-concise, is outdated and a few other cons I'd rather not waste time mentioning.
Instead, if you're the person who is seeking to start a website and make a business, do this:
For starting online business, this is where you want to start.