I've looked into Elite Blog Academy numerous times and it's not a scam, but the 2 main problems I have found are the waiting list issue and price.
These 2 things are what really prevented me from joining it and as I said in the title, I am a successful blogger, so in this review, allow me to go over what I found out about Elite Blog Academy, even though I couldn't join due to the waiting list and if you're truly into making this type of thing work for you, what great alternatives exist that do NOT have a waiting list and are far more effective to join…
Quick Report on Elite Blog Academy:


Name: Elite Blog Academy (EBA) by Ruth Soukup.
Price: While there is a waiting list, previous reports show that this program have 3 different level memberships:
Silver, Gold & Platinum, which have the following price tags: About $900 for the silver, about $1,200 for the gold and about $2,000 for the platinum.
Overall Rating:

4 out of 10 stars

.
Everything I've seen shows that this place has good training and a realistic strategy to succeed in blogging. It is legitimate and if you are considering EBA and have the money to pay for the training, I would give it a green flag.
However, here are the 3 main points of this review:
1) I reviewed this program in April, and checked it today (July 2019) and it's still closed for new members.
2) The prices are REALLY high and I'll tell you that as a successful blogger, the RULES for succeeding at blogging are the same, regardless of which program teaches it. I'll even show you these rules further in this review, so you understand how it works (it's simple but it takes time to get the results).
3) If you can find 2 good programs that teach the same kind of blueprint for blogging success, but one costs way less, why not go for that one?
That's what I recommend in this following alternative:
Let me explain what Elite Blog Academy is:
It is a 4 module training course on SEO and blogging. There's training on creating a following, as well as list building and outsourcing.
Overall, you are taught how to make a successful blog through the most basic and practical methods (that work).
Affiliate marketing is also a great way to monetize on a successful blog and it's something I have done on my blogs, including this one.
Now I do want to make it very clear that I have never been a member of this place and I was looking to join it for research purposes, despite already having a good, working blog (which makes good money too), but when I saw the waiting list and how long I'd have to wait for it to open, I decided to rely on other people's reviews regarding this program, to see if it was really worth waiting for to open up (here is what the homepage currently looks like):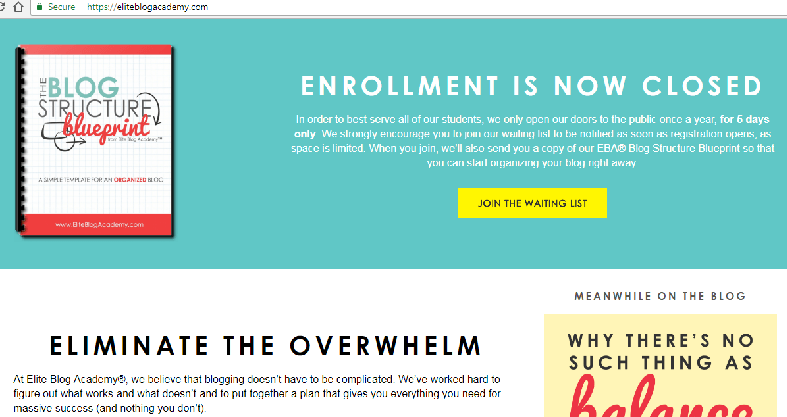 Now I did find some good resources and insider info from former/current members and the reviews were overall on the positive side. This definitely made for a good argument to wait to this program to open up again. But it's been months since I first saw that and you can choose to wait here for it to open, but there's no time frame on when Elite Blog Academy will open again…
But then when I read about the prices, and weighed it against what I learned about the program, I came to the conclusion that it's just better to join another program, my #1 recommendation, Wealthy Affiliate…
Here's 5 reasons why my recommended program is better:
1) There's no waiting list with my #1 recommendation. Check out Wealthy Affiliate here.
2) There's 2 levels of memberships, one is totally free and the other is extremely cheap.
Weigh that against 3 expensive memberships in EBA and you save a ton of money. And usually programs which come with multiple membership levels like this are tough to choose from because you may feel that if you don't purchase the most expensive option, that you may be missing out on the big info. I'd feel that way…
3) It is also a program which teaches about successful blogging. So you're essentially getting the same training. As I said before, the rules for making this business work are pretty much the same and here they are: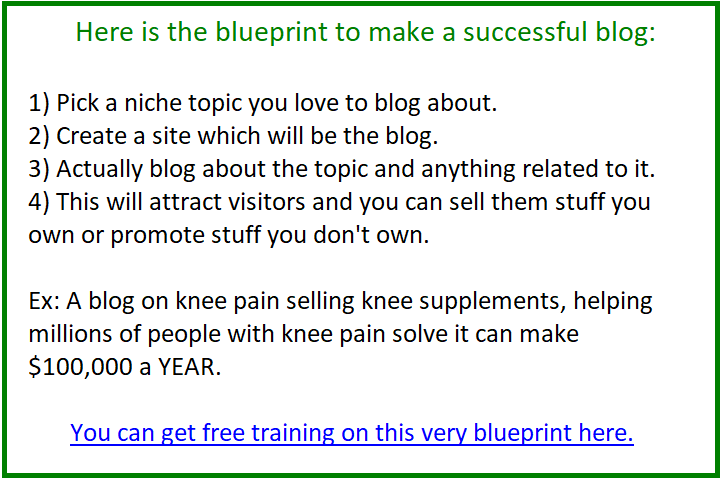 4) As a person who has used the training from this program, I can tell you it works. And you can see the proof of Wealthy Affiliate working here.
5) There's just WAY more learning material to get from my recommendation vs EBA (there's a plethora of more stuff), plus it's also great for beginners. 
Final Rating: Elite Blog Academy:

Yellow Flag (4 out of 10 stars).
So let me explain this rating: I just don't understand why there's a wait to join a program like this (And again, do it here if you want to join). The only thing that makes sense is that Ruth, the creator just wants to get a certain number of people in so she can help them without being distracted by too many members, which if true, is a good thing.
But then you have to analyze if the price is worth it and I can tell you that there's great training platforms on this same subject out there which won't cost you this much, but will teach you the same good stuff too and my recommendation is by far the best alternative and even more, is FAR better than EBA.
But what if it's better to wait for EBA to open up? The pros and cons:
Let's analyze the pros first:
First, you will get good training from EBA. This I am sure off.
Second, I am also certain that the way this training is structured, if you do it and actually follow the instructions that there's a very good chance of success.
But then let's look at the cons:
First, the price is huge. I never liked expensive educational programs on this topic and I have succeeded in this field personally, without spending so much and I just know the real investment required is much lower than most places charge. Most of the time, if you have a good program, then the only real price you have to pay is the time it takes to learn it all and use it. 
And then, once more, the waiting list. Suppose you can afford the membership, but just so happen to come at the wrong time to access it, as it's blocked and waiting to open up the next year.
Is it really a good idea to wait another 12 months before it opens?

What if in that time, you could have already built a good, profitable site?
Well with my alternative, this is possible. The main points are clear:
You get excellent training from what I am recommending and you are getting a chunk of it, for free.
In addition, you are also looking at a prime example (me) of someone who used the training from this same program to earn his way up to full income levels. And I didn't have to wait or spend a lot. 
So my end point here is that EBA is good, but those 2 major issues really stop me from wanting to recommend or go forward with it and with my alternative, you absolutely are going to get GREAT, proven to work training on successfully blogging without spending anything and you will get access to it immediately.
And while you can wait for EBA to open up, I'd at least give the program I recommend a look. I am certain that once you go through a few of it's lessons, you'll see how high quality it is, what the potential is and decide to keep going with it and believe me, it'll be the right decision.