Quick Report:
Name: AWAI.
Price: So a chunk of the site itself is free, but in order to get into the actual training, you need to buy one of their programs.
Some of the programs prices vary, one is $108, one is $297, another one is $29 a month with a $1 trial and there may be others. One commenter below mentioned a course for $2,500 too.
Overall Rating:

3 out of 10 stars
Freelance writing is indeed an awesome opportunity and you do need to training to become successful at it, but I don't feel the prices and sales funnel of AWAI is the place to do it. I honestly think there's better place for this and I'll show you them in this review.
Recommended program? Not really.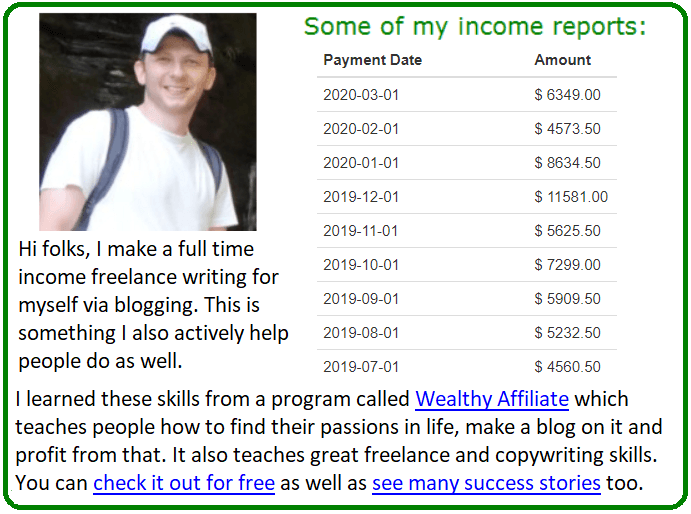 What is AWAI? Is it a scam?
It stands for "American Writers & Artists Inc". It is not a scam. It is basically a freelance training program which has several packages which you can buy to learn the "art" of being successful in the business. 
Pros:
1) Well the program has been around for a long time. 
2) There are some free resources worth checking out to get tips on freelance writing.
Cons:
1) I don't like that most of the site, even where it offers free resources/blogs leads into one or more sales pages trying to get you to buy stuff. I understand why they do it, but the value of the free training needs to be incredible to justify buying into the next level content.
2) There isn't much free, high quality info you can use. 
3) There's different price points and programs you can purchase, but this can leave a potential freelance prospect confused on where to start.
4) Not only are there different price points, but some of them are also very expensive. 
7 other things you need to know if you're considering freelance writing:
1) It is tough to get gigs as there is an over saturation of writers trying to find them too. 
2) In order to break through, you have to become a good writer in one particular area, a niche subject is the ideal route to go.
3) There are also other obstacles to consider before you enter this market: Where to find gigs (Upwork.com is good).
4) Are you really a good writer? Submit your work to places like Text Broker and Content Mart and see what other potential clients think.
5) Do you have good experience and writing skills on particular niche subjects? If so, then this will really help you out. 
6) Adding to the last one, if you have knowledge on niche markets that are popular, this will be even greater. A freelance writer who knows a lot about subjects pertaining to fitness is much more valuable and more likely to find work than someone who knows about knitting for example. See examples of 50 profitable niches here.
7) Are you a writer who understands basic internet marketing stuff (things like SEO)? If you do, then this is another competitive advantage you have. If you don't, it'll be tough to get writing gigs as a lot of potential clients seek people who can not only write well, but can also write articles that satisfy search engine and get those articles you write high rankings. 
If you have these tips down, you have great potential to be a freelance writer, but if you don't:
Then you need an alternative and this is where I can share my personal views. I do blogging full time and in many ways, it's basically freelance writing, but I create my own content, own it and my blog is what makes money (through affiliate marketing).
The skills you can get from doing this are actually quite liberating because you don't rely on finding clients and there is no limit to how much you can make. This business is lucrative, but it also takes time to do, and if you would like to know how it all works, then I recommend trying Wealthy Affiliate, here's why:
Back to the AWAI review:
So one of the reasons I am talking very little about this program, despite it being the heart of the subject is because of the cons I put up.
There's honestly not much I can write because there's not much you can see on the actual site and the free content provided unless you buy some of their things and I really dislike that element of the site as I said before.
Freelance writers who seek good tips are unlikely to get them there in my opinion as I said before as the articles you get don't really expose or reveal that many secrets or at least good tips to get started, they are usually pointing to one of AWAI's programs to buy.
Freelance writers, and especially those getting started need free info to start with in this business.
While I cannot comment on the actual products inside the program, I would hope they are good and provide freelance writers with excellent info, because the price of those programs better be worth it.
Let us assume that they are good though:
I have never been a fan of programs that offer free info but the value of that info is pretty low. It makes me hesitate and not want to buy their paid stuff. If a program however provides me with good info, then I am more inclined to go further and buy their paid stuff. AWAI so far is on the former end unfortunately.
Final Rating: AWAI (It's free option).

Yellow Flag
3 out of 10 stars. Again, assuming the programs they sell you are good, I still don't like how they structure their site with the "free" content. I don't find value in it and the other program I recommended will provide you with good stuff. The program is legitimate, but in my opinion, not awesome.
My final thoughts: 4 reasons why checking out my alternative is better:
1) Wealthy Affiliate provides a free site and some free training to help you learn about creating your own niche blog. The quality of the training is far higher than the free training in AWAI, in my opinion. Here's more reasons why Wealthy Affiliate is awesome.
2) I honestly like blogging for yourself over freelance writing because I enjoy working for myself vs having to rely on another person.
3) Freelance writing is not a simple business to become successful at. It takes amazing skill, word of mouth recommendations to get clients, and a lot of hustling to make it all work. Blogging too has it's own cons and takes time to grow, but in the long run, it is more profitable in my opinion.
4) AWAI's main products are just too expensive in my opinion and I didn't see justification to buy even 1 of their programs because their free content wasn't good enough to convince me to do it. Wealthy Affiliate's free training on this stuff is far higher and their paid courses are far less, while offering high value.