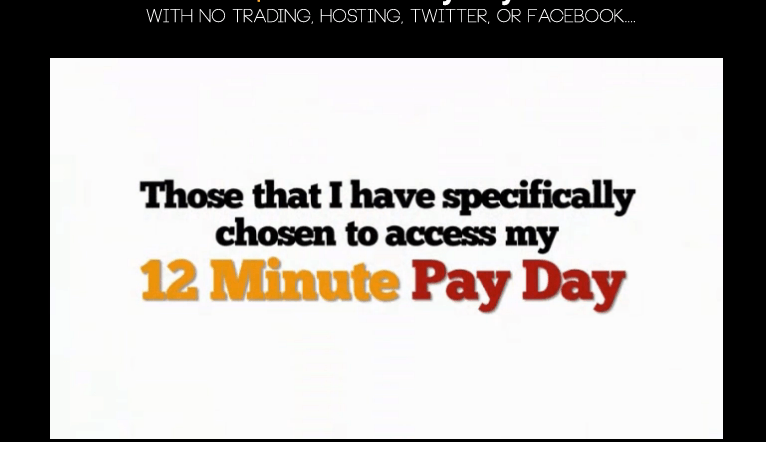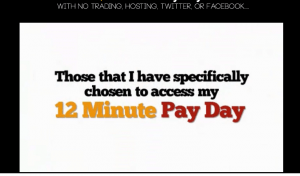 This is truly "one of those" types of reviews people, where I have to call out the scam. I literally have no ounce of doubt that 12 Minute Payday is that and when you see what my experiences were, you just might think the same thing.
Quick Report on 12 Minute Payday:
Creator: Justin James.
Price: Discounted to $9 after costing about $49. Then one up-sell after purchase followed by tons more inside members area.
Overall Rating: 1 out of 10 stars
Total scam. Ladies and gentlemen. I can't even put into short words why this place is a scam, so I'd rather you just read the whole review and understand why I'm so mad I even purchased this program.
12 Minute Payday explained:
It's also called the 6 figure tool kit.
You get a squeeze page (which I got) or 15 of them if you purchase the higher level membership, a system to help you add affiliate links to that squeeze page, and tons of up-sells that are supposed to get you traffic to your squeeze pages so you can promote whatever you like on it. From the training, you can either promote 12 Minute Paydays and/or programs from Clicksure.
Basically you get affiliate links from Clicksure, add them to your Squeeze Pages, then use the traffic generation up-sells from 12 Minute Payday (which there will be a lot to pay for as you'll see) to get people to visit the squeeze page and if they sign up and buy, you can make money.
Proof that I purchased 12 Minute Payday: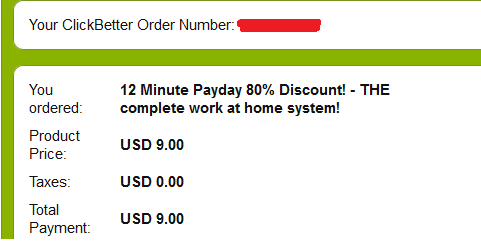 Let's see what my $9 got me:
Before you even get to the top page, a pop-up will appear giving you a number to call.
The number is supposed to be with some sort of internet mentor and you'll get some kind of consultation.
I've never given away my number for any reason with programs I have yet to understand, so I didn't call it.
Module 1:
Your Web Pages Home: The first page you get access to is just a welcome page where you're told what to do next. It's just showing you what you're going to be learning in this program as you progress forward. 
There is also an ad you can see on the right side with red arrows and the button "start now". That is a link to a scam program called Auto Mobile Code. It's very common to see scams promoting other scams. 
Complete This Next: The step here is going to walk you through creating an account through an autoresponder program for a $1, 7 day trial, then $9.97 every month after that. I know after seeing everything on 12 Minute Payday that Justin is somehow affiliated with this program, but you technically need it to make the program work for you. It'll send out and collect emails for you.
Module 2:
Create opt in form: After you sign up with the autoresponder, this next step will help you create a code which will then be used in combination with the next step…
Upload Form Code: Once you get the code from the step above, you'll put the code you got into the 12 Minute Payday site on the Squeeze page/s you get. This will make it possible for someone who visits the site to actually sign up through it.
Commission Account: You'll be walked through creating an account with Clicksure here, a marketplace that has a lot of programs to promote. You can use the 12 Minute Payday Squeeze pages and promote any product from Clicksure. You are also shown how to promote the 12 Minute Payday program which I believe is actually with Clicksure, although when I purchased it, I was told it was through Clickbetter, which could either be the same or different place. It doesn't really matter. I'm only confusing you, so I apologize. 
Just know that this step will show you how to create affiliate links and use them on your squeeze pages so when people sign up through your squeeze pages, they'll be re-directed to your affiliate offer which has your affiliate link coded into it. 
Manage Clicks. You'll be asked to sign up with a program which helps you mask affiliate links and track how many people click on your promotions/buy them and basically offer you in-depth details.
This part of the training made me wonder if this was even necessary as free tracking tools (as well as link cloaking) are available, but Justin says you need this program because if you send out emails to people through your autoresponder with your affiliate links, they'll be marked as spam and this program masks the links so it won't happen. 
The price for this program runs anywhere from $99/month to $9. There's 4 plans in total and I'm also certain Justin promotes this as well. 
Traffic Pool. When I purchased 12 Minute Paydays, I was given 1 up-sell and this was it. You will also be offered it again in the members area, even though they say there's limited spots (which is usually a lie). 
The price of this is $34.95/month and you're told that you're going to be sent people to your websites (squeeze pages) that are ready to buy. You're basically told a lot of good stuff and nothing negative, so since I'm not selling that and Justin is, I'm going to tell you the negative:
Never buy traffic like this, it's junk or at best very cold traffic. You never know the people who come to your site and there's never any guarantee these people will actually buy. 
So in total, we now have about 3 up-sells after you buy 12 Minute Paydays. But it doesn't stop there! We're now headed right into Module 3 and 4 which is the mother of all up-sells so brace yourselves!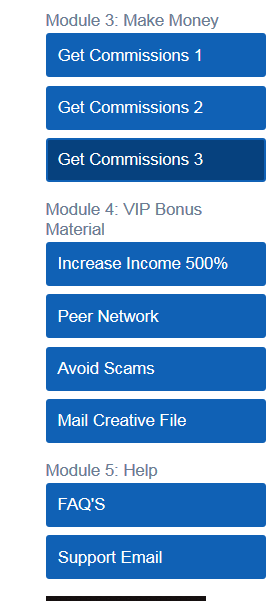 Module 3:
There are 3 things here, all of which are supposed to be paid traffic generation tools. Each of them is promoted by Justin and he makes money if you buy it. By his viewpoint, if you buy traffic from these sources, you'll make more money promoting either his 12 Minute Payday or any other program/product you sell. 
Get Commission 1: You are referred to a program called Infinite Leverage System which is another traffic generation program. It's free to check out for 7 days.
Get Commission 2: Some sales video popped up here and offered me some more paid traffic options:
Get Commission 3: This one was unavailable. They said it wasn't working.
So with module 1 and 2's up-sells, our new total is 5 and don't forget, we still have 1 module left and yes there will be more things to buy there.
Module 4: 
Increase Income 500%: Just a referral to a program called Pure Leverage, a pyramid scheme in my opinion. And it will cost money to join this program not to mention their up-sells which again Justin will make money for. 
Peer Network: You get to connect to ad swap places where you get traffic from other email list owners. You can use that list to promote programs to people. But there's also a price to this:
You'll be asked to pay either 1 month for $29.95, 6 months for $179.95 or 12 months for $359.95. Nothing this program ever pitches is free…
Avoid Scams: I got a laugh out loud at this because not only does it say the right ways to avoid scams, but the irony is the hypocrisy behind it because the whole 12 Minute Paydays actually breaks these very same things you're told to avoid! It's a scam telling you how to avoid scams…
Then guess what? Another link, to another low rated program by me! This one is called Affiliate Millionaire Club.
Mail Creative File: There's a download here which I didn't look at but it looks like a program which has emails you can send out to either people you'll do ad swaps with or possibly to your email list. 
One more thing to mention:
Remember I said I only got 1 squeeze page?
Well if I purchased an advanced membership (as stated by the training videos), I would have access to 15 and when I signed up to get the autoresponder, I'd get 60 days or automatic follow up emails which would be sent out to people who would sign up to me.
As a regular member (which I am), I only get 1 follow up email which will be sent out. You're led to try and buy the advanced membership because it will help you make more sales.
Pros:
Let's see. I guess the videos are easy to follow?

Well you really can do this without having a website, but there's limitations to this as you can really get organic traffic…
Cons:
No actual training available on how to attract visitors to site.
Tons of up-sells being offered and no alternative provided.
I wouldn't be surprised if the paid traffic sources recommended by this program yield 0 results. You aren't in control of whose coming to your squeeze page and that's a problem. 
Final Rating: 12 Minute Payday
Red Flag (Huge scam!)
1 out of 10 stars. Nothing but up-sells. A waste of money and business practices I'd never endorse.
My final thoughts:
After going through everything inside the member's area, there is NOTHING legit about this program. In fact when I started going through the site, I originally felt like giving this program 3 stars, but as soon as I saw up-sell after up-sell and every module just repeating the same cycle, I knew right away, there's no way that would hold!
Altogether we have 10 offers within the members area, if you include the ads on the top right and bottom left hand side. Are all of them optional? Yes. 
But the problem with this program is again that you're never given any free training on getting traffic. You're pushed into believing that you can only make money by paying for traffic (which isn't true at all!) and this forces you indirectly to buy these things. That's the scam being run here. 
So in the end what is 12 Minute Paydays? It's a program which even for it's smallest price of entry ($9), just gets you instructions on how to do stuff which you could have done on your own:
Free squeeze pages exist. Free instructions on how to set up autoresponder exist and even how to make a free site. Just do a search for it. Seriously try it.
And if you subtract those things (let me say this again) everything else in this program is just an up-sell so you really get nothing that's valuable when you join first join. 
Plus I've also made the argument that just because you pay for traffic using the offers in this program, doesn't mean it'll end up working out. I can find a lot of holes in these methods, but the biggest is that Justin is referring you there and after seeing how worthless his program already is, how can you be sure you can trust his recommendations?