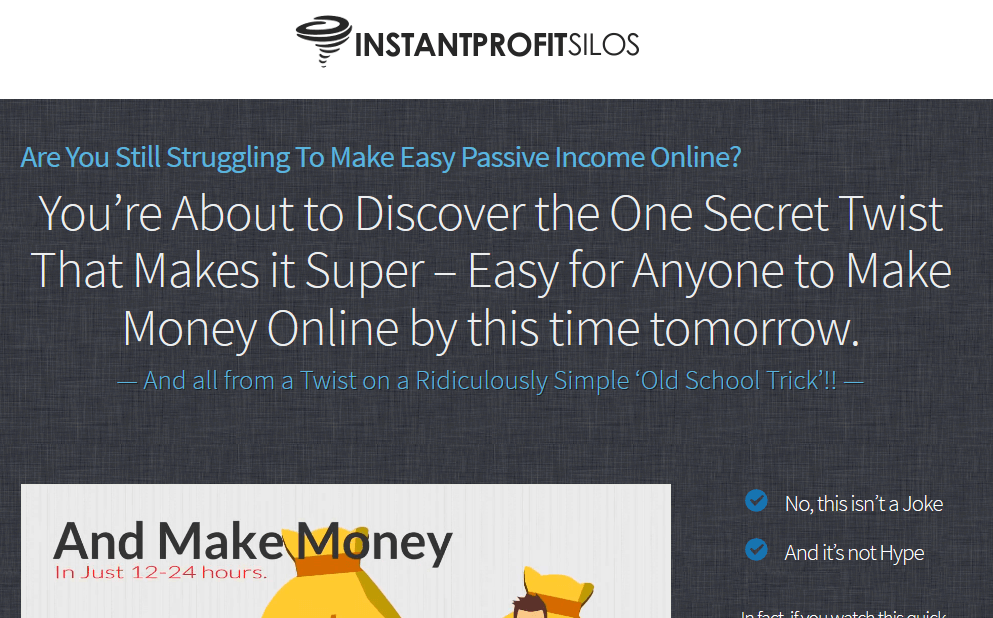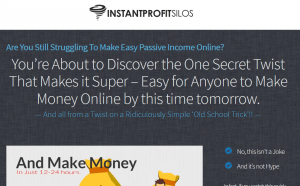 In this review, I'd like to examine Instant Profit Silos and give you my take on whether or not you need to use it, or if you can just make silo sites on your own (and I lean towards the latter).
Quick Report on Instant Profit Silos:
Creator: Mark Bishop.
Price: $21.40 + 1 up-sell (About $20)
Overall Rating: 5 out of 10 stars (Green, legitimate program)
I am not promoting this product to you, but I do give it my thumbs up. Like I said, in this post, I will go over everything you need to know and expect from it as well as if it's for you.
I purchased and went through everything Instant Profit Silos has to offer and I must say, I was pretty impressed. Going into this, I was pretty skeptical with the sales page as I had a pre-conceived notion of what to expect, but Mark Bishop did a good job of explaining this program and the overall realism of making money online through it's methods is pretty sound. In other words, it's very possible to work and I will personally be trying it out. 
Instant Profit Silos in a nutshell:
You learn to find hot niche markets Mark basically labels as "embarrassing topics" where people are too worried about talking about, going to a doctor to and absolutely need to find a solution, so they go online.
You then learn to promote relevant products to these people through PPC marketing on Bing ads, a network which I personally have used and continue to do so. 
A summary of how Instant Profit Silos work:
1) Find a niche topic of people that are embarrassed to talk about. For example:
It could be a health issue such as acne, skin condition, or something related.
Basically something that makes people VERY self conscious. It is pivotal to make sure you get this right because people who fit the category we're looking for here are more likely to buy products from you. 
I have examples of at least 50 affiliate marketing niches here you can check out for reference.
2) Create a 1 page WordPress website (you will need a domain & hosting) that talks about this subject and promotes a specific product (usually from Clickbank) that solves this problem. 
3) Use Bing Ads to make an ad and links to your website. 
4) Get visitors to your site who are interested in the subject you're talking about and you could potentially make a lot of money doing this.
5) Rinse and repeat the same formula for other subjects and make money off each niche website you create. 
I actually discuss this exact same strategy for free in this article I wrote on how to build an email list fast.
Inside the Instant Profit Silos program:

Before I get to the components of Instant Profit Silos, I just want to say there is an up-sell after the purchase is made for about $20.  While I hate up-sells and never buy them, I didn't buy this one because based on what Mark was saying in his video, I felt I already understood what this would be about and decided not to purchase it.
If you do buy the up-sell, you get 3 bonus videos on helping improve your sales as well as a website template Mark says has much more potential to make sales. If you choose not to buy it, you can get it after your main purchase. That being said, let me get to what you will find within the main product:
1. There are 4 ebooks covering the summary of what I mentioned above. The main ebook which talks about the whole operation is 14 pages long while the other books go into basic details on how to set up a WordPress website and ads. 
2. There are 10 videos which get into great details on all of the elements I mentioned above. 
You also get case studies and websites Mark illustrates as examples. 
What to expect:
1) You will have to invest money if you're going to try this. There's just no way around it.
What I CAN recommend is a cost less approach to building a simple website without needing any coding experience. This is how I build my own websites. If I were to implement the techniques of Instant Profit Silos, I would use that method to test out the profitability of the site and if it didn't work out, I wouldn't have to worry about that extra money I'd have to spend on the domain and hosting. 
2) Mark recommends at least $25 to start with when you begin advertising your site. I have many years experience with Bing and while that figure is realistic, I would say $50 is a better estimate. 
Now there's no 2 ways around it. If you're going to advertise your site on Bing, you will have to pay for it because it is paid advertising. Mark will show in great detail how to write ads and set up your site so you pay as little as possible.
This is where the "siloing" of the site comes into the picture as you'll set up smaller more detailed pages targeting specific keywords your niche crowd types into Bing when they want to find a solution to their problem.
3) It is going to be gamble. While there is major profitability potential behind what Mark endorses (I do as well), understand that PPC is a gamble and no matter how well you refine your ads and/or pay very little, there is always the chance that someone won't buy.
This means that you MAY likely have campaigns which don't turn a profit and you can lose money. I have had GREAT success with doing what Mark does in the past, but in most scenarios, I didn't turn a profit. But that was me and I wasn't really targeting those crowds Mark talks about.
The good news is that you only need to have 1 successful campaign and you can expect it to provide you with a steady income for a long time (maybe years). Multiply that by a few other successful campaigns and you can make a supplementary or even full income doing this. Here is a personal case study of a six figure 1 page site on that where I did use Bing Ads to make it work.
Pros:
The theory is sound and speaking from experience, this can absolutely work.

Decent-good training provided for all steps of the process.

Mark is pretty up-front/transparent with his sales pitch (aside from the up-sell). 

You can make money doing this. 
Cons:
PPC (pay-per-click) is always going to be a gamble. 

You will have to invest money in order to make it. 

I don't recommend this strategy for people who are on a tight budget.

Here's a better alternative which is Wealthy Affiliate

.

Only covers PPC marketing, not SEO or other things.

I would have liked to see more in-depth training. Newbies might get confused.
Final Rating: Instant Profit Silos:
Green Light (Legitimate program)
5 stars out of 10. Good program and it can definitely work. But it doesn't beat my #1 recommendation, Wealthy Affiliate as it covers all forms of sound online marketing.
My final thoughts:
It's nice to review a program that actually works. Most of the time, I have to put up with scams and/or outdated tactics. Mark Bishop's Instant Profit Silos can definitely work, but I would only recommend this approach to people who have money to spend because it will cost you to find out if it works.
I have had many years experience with Bing ads and a lot of what Mark spoke about resonated with me. That is the ultimate reason I give this program my thumbs up. The only real downside is that I would have liked to see more in-depth training (pictures, videos and training) on things like setting up your WordPress site, making your ads better looking/profitable. Most of the training revolves around you seeing Mark's face and listening to him explain it. Newbies may find it difficult to implement his techniques.
That being said, I will recommend Wealthy Affiliate above Instant Profit Silos because it is more geared towards beginners, those on a tight budget as well as it covers the whole of internet marketing, not just paid advertising like Instant Profit Silos does.
But the program is good! If you have any questions on it, let me know and I will be more than happy to answer!