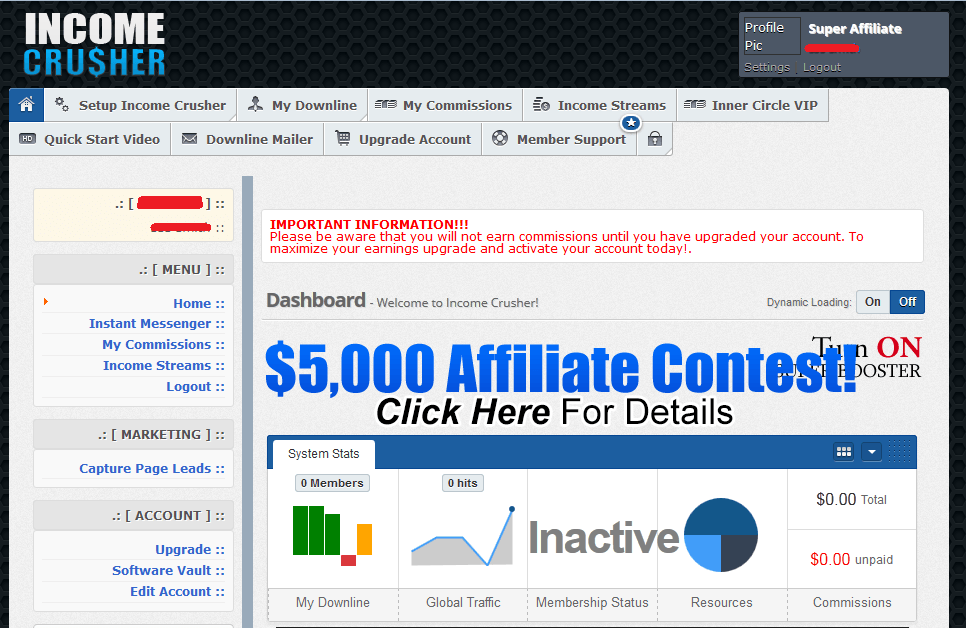 I recently stumbled upon a program called Income Crusher and decided to have a look see. Is the program a scam?
In my opinion, somewhat and that's because to some extent it does what it says it does:
Brings traffic to your website, but at the same time that traffic is unlikely to yield great results. And in this review, I'll be explaining why this is the case.
Income Crusher explained:
It's a system that's supposed to drive traffic to your website. You can sign up to gain free access to the site (but there will be an optional paid service offered). Afterwards you will take you the your members area which I've taken a screenshot off (right).
The idea behind this system is that you're basically paying the program to send visitors to your site/s. You can submit up to 5 links you want the program to work with. There is also an option to promote the Income Crusher program and the way that works is that you're given an affiliate link which you can use as one of your 5 links.
The option of promoting Income Crusher also allows you to build a downline which basically means if people purchase the system from your affiliate link, buy it and/or sign up to the additional offers of the program ,you get paid a certain amount. This is supposedly an MLM type program which if it's really the case is one more reason I will not be recommending this program as I am not a fan of this approach to business.
Moving on:
Ideally, from what I've seen, the system is promoted as being an effortless, push button approach to making money online because all you do is plug in links and let the program bring in the traffic which you then profit off.
Unfortunately in my vast experience of reviewing programs which promise easy solutions like this, I find often times in reality the opposite is true. Such I believe is the case with Income Crusher.
While it is true that traffic is a necessity in succeeding in online business, when I started checking out what Income Crusher does, one very important question arose:
Where is the traffic actually coming from?
This is absolutely imperative to find out because depending on the answer, you will know if Income Crusher does deliver or is a pure scam. From what I've seen, you do get traffic, but I believe it's coming from arbitrary (non-targeted visitors) sources which basically means it won't lead to much success (cold traffic).
You see the problem I see with Income Crusher and any other program which supposedly claim they'll bring you traffic if you just pay for it is that they boast how many visitors you'll get, but at the same time, the quality of those visitors is what truly counts and with programs like these, I don't see there being much. I would guess it's junk traffic.
Let me put this into perspective so you understand:
If you want to get visitors to your site that deals with say helping women lose weight, and you buy one of these programs which promises mass visitors and buy it, what will likely happen is that you'll probably get those visitors, let's say a 1,000 for the sake for the argument.
I'm almost certain out of those 1,000 people that come to your site, how many do you think are people who fit the demographic you're chasing:
Women seeking to lose weight? Probably very few. So what will end up happening (and I've experienced this kind of stuff before) is that most of the visitors will be people who aren't interested in your site's subject and that traffic will go to waste.
Correct me if I am wrong on this, especially if you've used Income Crusher, but I'm almost certain (and this is my opinion) that this is what's going to happen. I see tons and tons of companies advertising how many visitors you'll get and when people allow themselves to be swayed by the promise of huge visitors counts, what usually happens is very few people out of those huge numbers are actually going to yield sales.

Here's another issue that exists with Income Crusher in my opinion:
It's the promotion of this program. I certainly don't believe it works as well as advertised so I would personally never promote it to others. I've seen many people promote this program and I'm certain they were going to profit of it by having potential sign up's become their downline.
Income Crusher provides several up-sells within the member's area such as their Inner Circle which you can earn money from recommending to people. I don't really know how much they offer, but the promotion of this program is built in a way that incentives you to get into it very well.
Whatever the case is and no matter how much it pays, I don't believe the quality of this program is worth promoting to other people and the whole MLM approach I see within it just doesn't rub me the right way and that's mainly because I believe a lot of MLM type businesses are pyramid schemes.
Pros:
You can access the members area for free.
Cons:
The traffic you get to your site is likely not targeted. 

I don't even think this program works anymore. A lot of the videos/tutorials aren't functioning.

No support available at this time.
Final Rating: Income Crusher
Red Flag 
1 out of 10 stars. I will not be recommending this program. Here is my #1 recommendation which is Wealthy Affiliate.
My final thoughts:
At this point in time, Income Crusher's website doesn't really work. You can access it for free and check out the system, but there is no support available (I tried finding it but it says Account not active). 
But even if this program is still in business, I won't ever be recommending it. As I said before, traffic is one of the fundamental ingredients to success online and in my years of being in the business, I know how to get it, with both free and paid methods (see how I do it with Wealthy Affiliate).
However there are programs and services which promise to get you tons of traffic for very little and while that always sounds like a great idea, again, in my experience these places are going to bring you junk traffic or basically visitors who won't be interested in your site. 
If you want to generate targeted visitors to your website, you need to:
Have proper guidance on how to do that. Again,

Wealthy Affiliate

is the only place I recommend for that.

Be fully in charge of your site so you know EXACTLY where the traffic is coming from. 
Income Crusher doesn't provide you with either of these things and I never feel comfortable leaving my potential success in the hands of others. In my experience that approach to business leads to me having less money and less success. 
If you have personally tried Income Crusher and would like to share your experience with it, please let me know below!