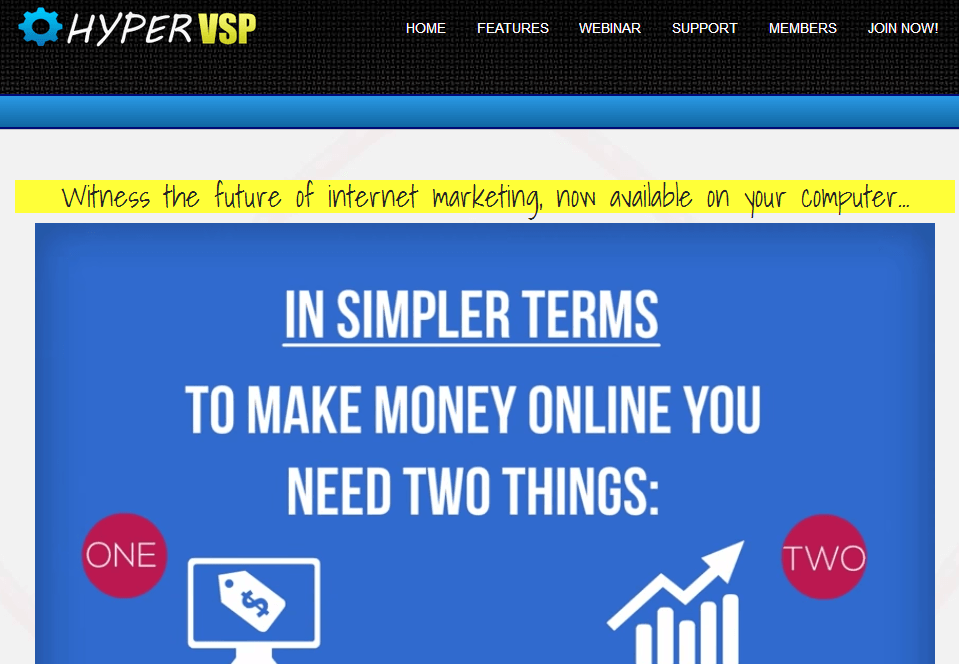 Hyper VSP is said to help solve the issue of traffic generation. But is what it offers really a solution or is there something they are hiding? I'll tell you in this review.
Quick Report on Hyper VSP:
Price: $0, $49.95/month, $297 one time fee
Final Rating: 2 out of 10 stars (Red Flag)
Hyper VSP explained (how it works):
Hyper VSP (Virtual Sales Producer) is a program whose focus is to help automate and simplify the traffic generation process. In simpler terms: 
If you have a website, the #1 focus of that site is to get traffic (visitors), but since traffic generation is "difficult" to come by nowadays (or how they pitch it), they do it for you. What happens is that depending on which pricing plan you purchase which looks like this: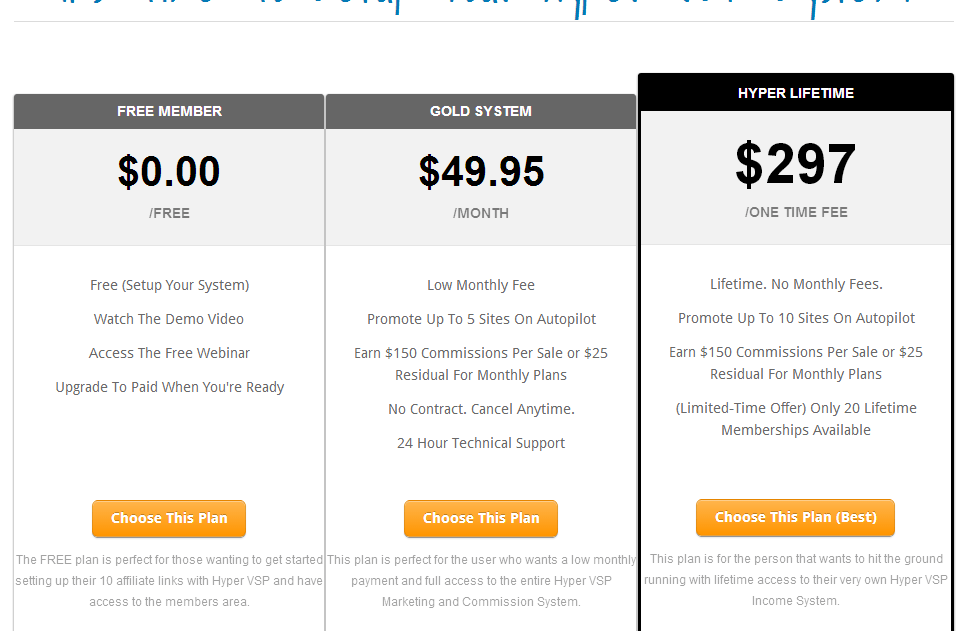 You can advertise anywhere from 5-10 sites and/or affiliate links. What happens then is the Hyper VSP program takes those links and starts distributing them across different networks to get visitors to your site/link. 
The idea is that with automated traffic, you can sit back and let the profits roll in. This is how they sell it to you, but in reality most of the time, you'll be lucky to even get 1 sale. Let me explain…
The reality of using Hyper VSP for making money online:
Before I even looked into it, I predicted this program would not yield much in profit because in every program I've reviewed that's like this, the traffic is junk in that it's not really relevant and most of the visitors being sent to your site/affiliate link are probably arbitrary. 
Was my prediction correct? To an extent yes.
You will absolutely get traffic when using Hyper VSP. Possibly even a lot but the conversion rate of traffic and sales will be very low and that's probably when you look at it from an optimistic point of view. One of the main sources from which I was able to reinforce my prediction was the Warrior Forum which basically confirmed everything I said. 
Even though I don't advise taking advice on internet marketing strategies from there, what I can say is that it's a great place to get an inside look into many products that are on the market. 
You see no matter how many ways programs like Hyper VSP decorate their sales page and promise big numbers with minimum effort on your part, in reality most of the time (in my case every time) it's never as easy as it claims. 
Simply utilizing simple logic, you will come to the same conclusion I did about this program:
We have a program which promises traffic to your website/link. They also say they target the traffic meaning it's based on keywords/niche topics. So if I have a website on training dogs, supposedly, they'll send people interested in that subject to my site to improve sales.
But there's absolutely NO way for a an automated program to specifically find and get the right people to your website. Plus you don't know how they advertise your site. It could be through a crappy link/ad or irrelevant content. I never trust third part sources to do my work for me. In my experience it always turns out bad.
Furthermore, we're missing another piece of the equation which takes away the fault of Hyper VSP: Your website and/or affiliate links. Here's what I mean:
If you're going to use Hyper VSP and directly link people to an affiliate offer, you're probably just wasting your money. I have never seen any success in direct linking when I did pay per click advertising (PPC) and it's always been taught to me that it's better to link to a landing page (on your own site) first, before linking people to an affiliate offer and/or sign up form. 
I hate to make a cliche reference but when it comes to using this program, it really does feel like trying to find a needle in a haystack.
You have a program that's bringing in arguably cold traffic in my opinion (not targeted traffic basically). We can argue about this point, but in my honest opinion it is arbitrary when it's automated. 
You have a website that isn't geared towards the traffic it's getting because it's arbitrary and thus you won't know how to properly tweak. In fact it'll be impossible, because the traffic you're getting is going to consist of a wide range of people. 
Long story short: If you're lucky, you'll make sales. In realistic terms, expect a lot of traffic and little/no conversions. 
Some make the argument that the sales they make cover the cost of membership with Hyper VSP. If that's really the case then more power to them but even in that scenario, I just don't think it's time well spent. You could be having much more profitable projects than focusing all your energy on this.
Pros:
You get traffic.

There is potential for money to be made.
Cons:
The traffic you get is arguably arbitrary and will unlikely lead to good conversions.
Final Rating: Hyper VSP

Red Flag
2 out of 10 stars: It isn't a scam, but I don't believe the results are good either. If you're looking for real traffic generation techniques, you need either proper SEO/PPC guidance. My #1 recommendation is Wealthy Affiliate for that.
My final thoughts:
I never recommend using any third party services to do online marketing work for you. Not SEO companies, not traffic generation places like Hyper VSP and others like it. In my experience, the results are always the same:
Costly services.

Sub-par results.

Usually a lot of traffic with few/no results.
Everyone wants easy money. To sit back, pay a small fee and let the profits come in on autopilot. It's a nice dream, but if you truly want to maximize your success, you have to take the wheel of your online business and not let anyone do it for you. At the very least, utilize proper guidance from a place like Wealthy Affiliate that teach you the BEST ways to do this.
I've said this many times and I have a feeling I'll keep having to say it:
No one is ever going to put in the kind of effort into YOUR online business like you will, so you need to stop looking for these third part places for answers. You may get them, but like I said before, the real potential is only going to come about through YOUR participation.